'Below Deck Med' Chef Says the Job Is Far More Intense Than What Viewers See (Exclusive)
Anastasia Surmava from Below Deck Mediterranean says that the stress and pressure superyacht chefs face is far more extreme than what viewers may realize.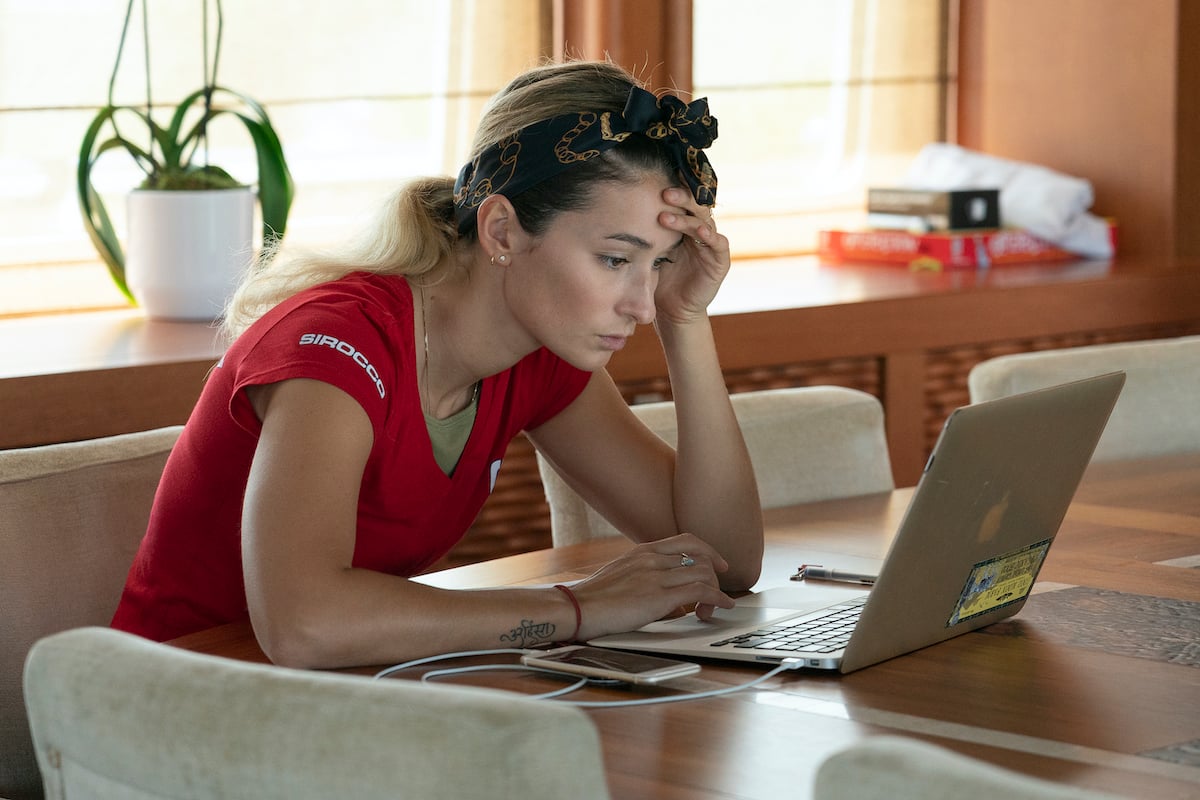 Surmava began as a third stew during season 4 and was promoted to the chef position after chef Mila Kolomeitseva was fired. She rose to the occasion, delivering impressive fare from out of the gate. However, she still struggled, dogged by broken equipment and inexperience as a superyacht chef.
She eventually told Captain Sandy Yawn that she had to step down from the position because she was so anxiety-ridden. Viewers are now seeing chef Hindrigo "Kiko" Lorran ride a similar wave. Although he nailed the six-course meal, he fumbled the following charters. Yawn fired him even though, like Surmava, he's clearly a talented and creative chef. So why is cooking on a superyacht so much harder than working in a restaurant or being a private chef on land?
Superyacht chefs are a one-person department
"The huge thing is you don't have a team," Surmava told Showbiz Cheat Sheet. "You're completely by yourself and you don't have your bussers and dishwashers and your pastry chef. You don't have any support, really. On the bigger yachts, you may have a sous chef and a crew chef. But generally, you don't."
"So you're everything, you're it," she continued. "It's really stressful and you have to be so organized and so good with time management. I think a lot of people watch the show and were like, 'How come you just couldn't get it out hot or on time?'"
RELATED: 'Below Deck Med': Could Chef Kiko Be Getting Fired?
"But oh my God, you are one person trying to cook everything to the correct temperature and then you've got to keep it hot," she said. "And then you have to plate it to this high-end status. All that takes a lot of time. And then you're thinking, 'I still have my desserts to think about, I have this to think about it.' It's a lot."
Superyacht chefs work up to 18 hours a day
"I think it's hard for people to grasp how much work it is for one person," she said. "That on top of working 16 to 18 hours every day. By the end, you're just a broken human being."
Chef Adam Glick, who recently appeared on Below Deck Sailing Yacht and Below Deck Med, announced he officially retired from being a yacht chef. Surmava says the average superyacht chef career is between two to six years. "Six years is really pushing it," she added.
RELATED: 'Below Deck Med': Anastasia Surmava Isn't the Only Stew Captain Sandy Inspired to Be a Yacht Chef
The job goes far beyond the food. "Your galley needs to be spotless," she remarked. "Because if a guest walks in, there is a standard. You must clean your stainless steel every day. Multiple times a day. Your fridges need to be wiped. You have to keep that place spotless because heaven forbid a guest walks in and your kitchen is a mess. It's still a show, you're still displaying. You gotta keep it superyacht standard."
Superyacht chefs must be ready for anything to happen
Surmava and chef Ben Robinson, who took over for her, dealt with broken stove burners. They both had to improvise during the charter and find ways around the broken equipment. Viewers wondered why the engineer didn't simply fix the broken equipment.
"On the show, we have back to back charters, it's crazy," Surmava said. "So the engineer doesn't have time to completely pull your stovetop apart."
While all chefs must think on their feet, superyacht chefs have even more challenges. "I don't think viewers really understand the amount of planning and execution that actually has to go into it," she said. "You are dealing with so many food allergies and this and that. I've had people who were like, 'I don't eat this and this.' I'll put [the food] down and they're like, 'Actually, can I try that?' I'm like 'You literally told me you were allergic to tomatoes!'"
RELATED: 'Below Deck Med': Is Chef Ben Finished With the Show?
"You have to be such an adaptable person with so many tricks up your sleeve," she said. "And you have to be really well rounded. You have to be able to do pastries and you have to do appetizers. And we don't want to be repeating dishes either. In a restaurant, you're going to be on a line and you're going to either be on the fish or you're going to be on fried [station] or whatever it is. But as a yacht chef, if you want to be good, you can't be putting out the same dishes all the time."
Training and experience matter
"If you want to work on a superyacht, you have to have done some sort of culinary school," Surmava insisted. "It's going to really help you beef up your tool pack and your skillset that you can easily fall back on."
But she says even an educated chef shouldn't go from little to no experience to commanding the kitchen on a superyacht. "It all comes down to experience," she said. "If you have been working in a fine dining, Michelin star restaurant for the last five years, you could probably start on a 30- to 50-meter yacht. But if you are line cook or just a home cook like me, it's better to start on a 40- or 70-foot sailing yacht or catamaran for a season or two. Get that kind of experience under your belt."
RELATED: 'Below Deck Med': Captain Sandy Would Love to See More Yacht Chefs Apply for the Show
"Experience in this actual field is probably the best way to gain confidence on bigger boats," she said. For the record, Surmava thinks Kolomeitseva actually attended Le Cordon Bleu. But, "[just] because you go to culinary school, doesn't mean you are going to be a great chef," she said. "A great chef starts in your heart."