'Below Deck Med' Continues to Make History and Hits a New Milestone
Below Deck Mediterranean season 5 continues to shatter records and reach new heights as episode 3 had the highest number of viewers ever.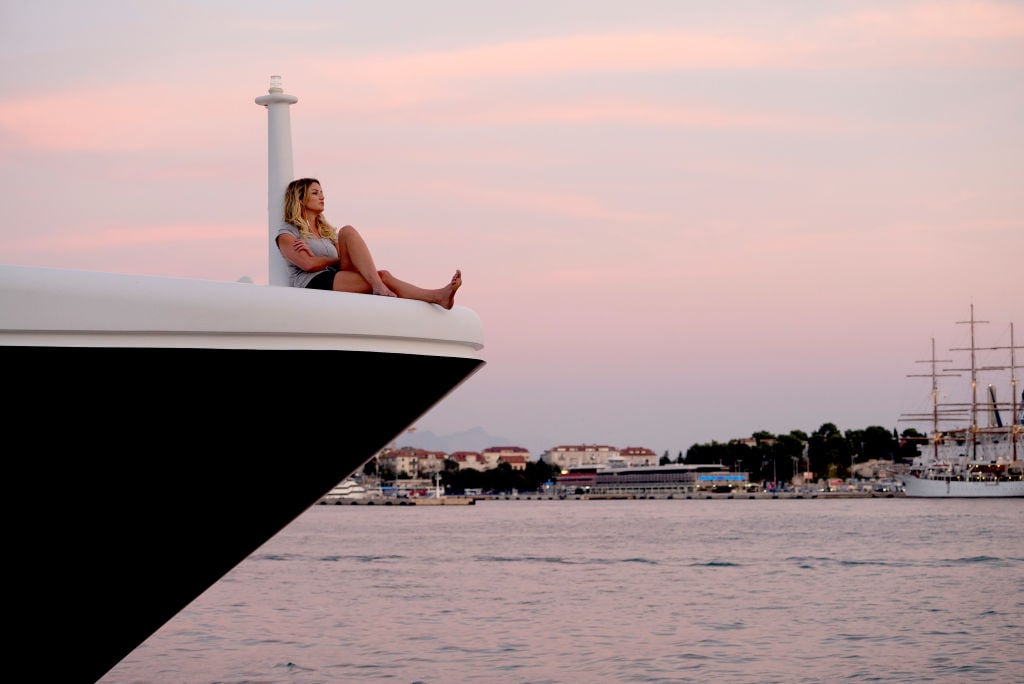 Viewers were certainly interested to learn what would happen with second stew Lara Flumiani as the viewership number shattered records. "S05E03 – 1.735 million viewers (0.58 18-49 demo) *series high in total viewers*," according to Bravo Ratings. "This is the highest number of total viewers #BelowDeckMed has ever had across all 5 seasons."
Ratings records were already broken during the season 5 premiere. "S05E01 – 1.514 million viewers (0.55 18-49 demo) *highest rated premiere*," Bravo Ratings shared.
Season 5 promised to be a historic season
Bravo teased the history-making season in the previews as the franchise finally featured women leading department teams. Bosun Malia White is seen telling one of her male deckhands that the boat is led by, "A female captain, a female bosun, and a female chief stew. Respect that."
Whether planned or not, Below Deck Med season 5 comes off the heels of one of the most testosterone-fueled seasons franchise-wide. Below Deck season 7 featured a cohesive male deck team who lashed out against chief stew Kate Chastain and deckhand Rhylee Gerber. Most of the women on the boat and many viewers felt as though the season descended into the depths of misogyny. Chastain quit the show after season 7.
RELATED: 'Below Deck Med': What Would Rhylee Gerber From 'Below Deck' Have Done If Pete Hunziker Called Her 'Sweetie'?
And while Below Deck Med features three strong women in leadership positions, viewers have still watched one of the deckhands continuously refer to his boss as "sweetie" or "sweetheart." White and Captain Sandy Yawn finally addressed the remarks. But Gerber said it still isn't an acceptable way to address your boss.
"I would have smacked those f**king sunglasses off his face and said, 'Listen here, sweetheart, only douchebags wear white sunglasses so get back to swabbing the deck,'" she said while laughing. Adding, that she is proud of the job White is doing as bosun too.
Ratings could continue to increase
Below Deck tracks a familiar ratings pattern. When a crew member leaves viewer numbers tend to spike. Typically viewers want to know who is leaving and why they are leaving. But then, viewers want to know who is going to replace the departing crew member. Especially if a throwback crew member is a blast from the past.
Below Deck Sailing Yacht got a shot in the arm when deckhand Parker McCown rode off into the sunset and was replaced by Chris Miller. Below Deck season 7 also experienced a similar phenomenon. Deckhand Abbi Murphy quit and deckhand Rhylee Gerber returned. Both times, the series saw a spike in ratings.
RELATED: 'Below Deck Sailing Yacht' Hits Series High After Explosive Fight Between Chef Adam and Jenna MacGillivray
Yawn already indicated that Flumiani's replacement is someone who Ferrier has worked with in the past. Cameras capture Ferrier's expression and it isn't one of delight. Another reason the series sees a jump in ratings is during big drama like crew fights. Below Deck Sailing Yacht saw another increase when chief stew Jenna MacGillivray and chef Adam Glick had an especially explosive fight.
Below Deck Mediterranean is on Monday at 9/8c on Bravo.