'Below Deck Med' Crew and Guests Dish About 5 Strict Rules They Have to Follow on the Show
Below Deck and Below Deck Mediterranean yachties not only have to do their job but also follow a few strict production rules in order to keep the show flowing. But production rules aren't limited to just the crew. Guests share that they too have a few rules they have to follow and one group of Below Deck guests have found themselves back onshore because they stepped out of line.
Charter guests cannot interact with 'Below Deck' production
A few Below Deck Mediterranean charter guests discussed a strict fourth wall rule. Charter guest Terez Lauren said they were not supposed to speak to production even when producers were placing the mic on some pretty intimate parts of her body. "They mic you up," she laughed about it on the Another Below Deck Podcast Patreon episode. "You can't say Bravo," she added.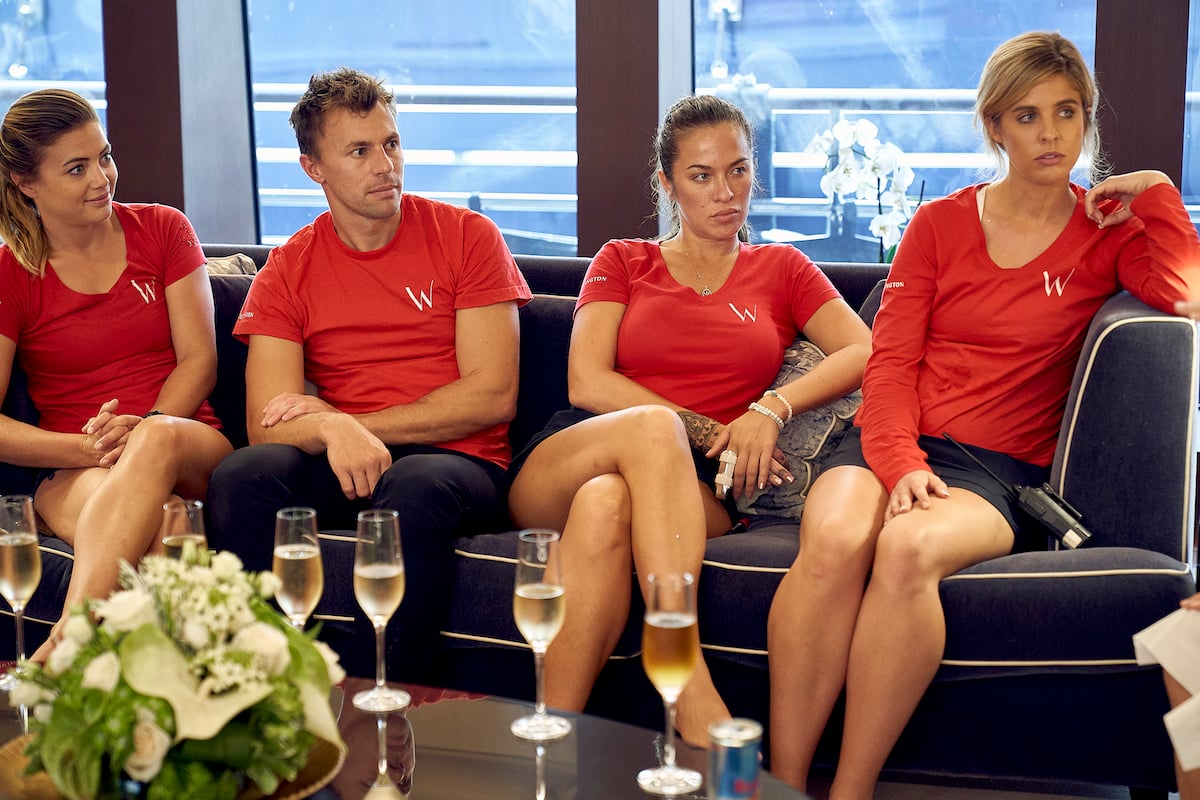 Below Deck Mediterranean charter guest Roy Orbison Jr. recalled how it was the producers who "broke" the fourth wall in his case. "There was no fourth wall because they were like piranha sharks around me," he recalled on the Gangplank Report podcast. "As soon as I picked up the first drink that I was actually drinking, they were jumping out of the closets and they have earpieces. They all have earpieces."
'Below Deck' crew also cannot talk to the production crew
Former chief stew Hannah Ferrier said even though the crew was not allowed to talk to production, she used to sing happy birthday to her favorite cameraman anyway. "The fourth wall when it comes to Below Deck is very, very strict," Ferrier said on her Dear Diary, You're Effed podcast. "Like you're not even supposed to say like 'Good morning.' Or 'Bye' or nothing to camera and audio."
RELATED: 'Below Deck Mediterranean': Did 'Below Deck Sailing Yacht' Smash the 'Sleeping and Partying in a Guest Cabin' Rule Forever?
"Actually it's a funny story because I had one camera guy that was on every single season with me," she recalled. "And basically he would wear this ridiculous pair of birthday board shorts once a year on his birthday. So he could be filming me and I would be like shaking a cocktail, going like, 'Happy birthday to ya!' And he's like filming me going like, 'Hannah!'"
'Below Deck' charter guests cannot play certain music on deck
Below Deck Mediterranean charter guest Lee Percenti, who was with Lauren, recalled how he couldn't play his own music on deck because of licensing issues. "One of the things was the music," he said on Another Below Deck Podcast. "We had dance parties in our room." Lauren said those parties went down "every night."
The reason the guests had parties in their room was "because we couldn't play music," he said. "We're all loving music …" A podcast host said that the licensing issue was probably the main reason why they couldn't play music on camera.
RELATED: 'Below Deck Mediterranean': Terez Lauren Says She Was Prepared to Leave a $100,00 Tip for the Crew (Exclusive)
"We had one song for the wedding that we paid for," he added. "For the rest of the night, I thought they were gonna make us look weird because we'd go in our room and shut the door. We'd open it and be like, 'Hey we'd like eight espresso martinis. Thanks.' Shut the door. And go back to the dance party."
Illegal substances are forbidden for both 'Below Deck' guests and crew
Below Deck Mediterranean Season 5 viewers saw the serious nature of traveling with unregistered medication, even prescribed by a doctor. Ferrier was dismissed when Malia White shared with Captain Sandy Yawn that Ferrier had unregistered Valium and a vape pen on board the boat.
But also, the very first group of Below Deck charter guests were busted for bringing cocaine on their charter. Captain Lee Rosbach was furious and immediately booted the guests from the boat. Executive producer Mark Cronin recalled that the situation was so serious, the crew thought perhaps production had planted the drugs.
RELATED: 'Below Deck Sailing Yacht': Did Producers Think the Charter Guest Brought Drugs on Board?
"Lee kicks them off the boat, and then I stop all the cameras, and we all had to come into the main saloon of the boat," Cronin told Showbiz Cheat Sheet. "And I had to sit everybody down and said 'We did not put drugs on this boat.' Those guys, unbeknownst to us, brought something on this boat that's not cool. I get it. And it's a disaster. And I didn't want to end this charter early. I didn't want this to happen. I didn't know. It's no good to me if we could shut down in the first episode either."
'Below Deck Med' producers won't tolerate violence or aggression
Below Deck Mediterranean executive producer Nadine Rajabi revealed she had to step in and stop a situation from escalating during season 6. "Something happens this season, which we don't show," she said on the Melissa Rivers' Group Text podcast. "Where I've had to go out and stop the situation. So there's a lot of times like that where I will not tolerate that. And it's not OK. It's unacceptable and those are the times when I will step in and go this isn't OK or you've got to let people go in those situations."