'Below Deck Med': Did Chef Ben and Lauren Cohen Date?
Below Deck Mediterranean viewers were likely a little confused when deckhand Bobby Giancola lashed out at stew Lauren Cohen, telling her to go f**k, chef Ben Robinson.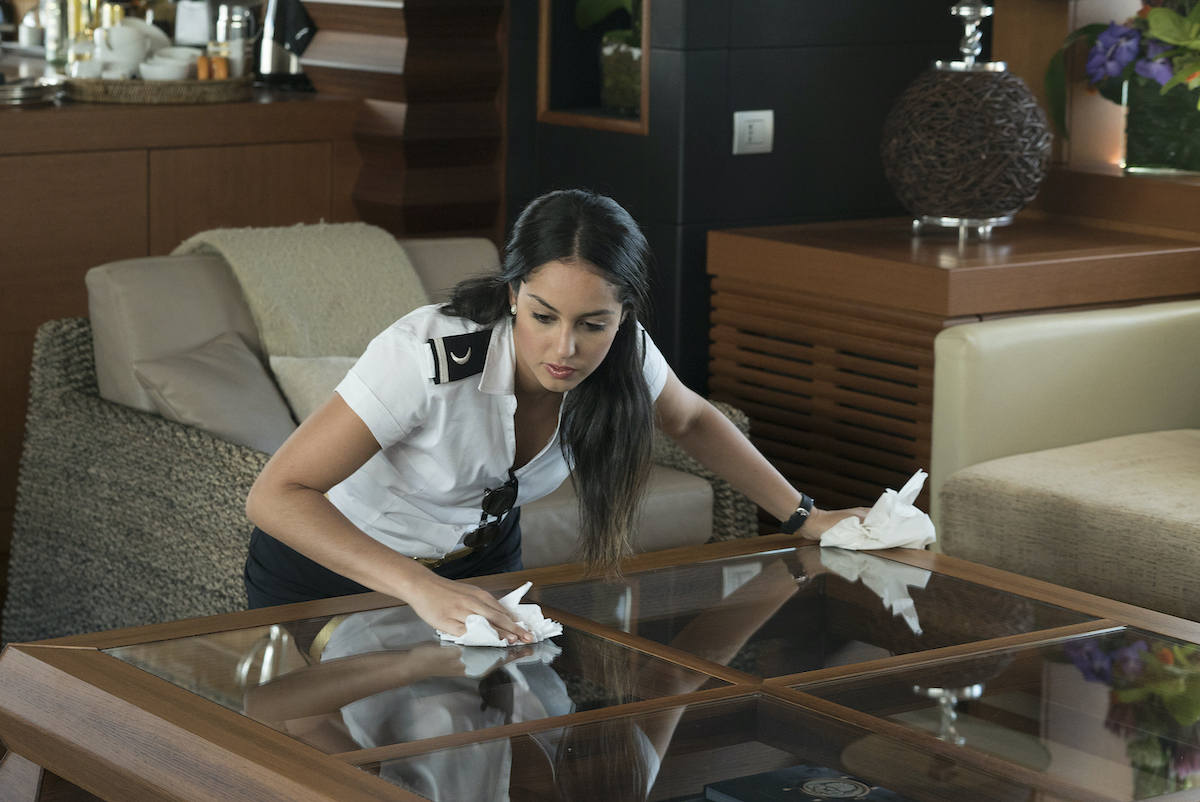 The moment occurred during season 2 when Robinson wasn't on the show. Giancola and Cohen had a tense relationship when he made the sarcastic remark. However, Cohen is later seen Facetiming with Robinson, telling him she missed him.
At the time, Robinson was allegedly dating second stew Emily Warburton-Adams from Below Deck. However, Cohen and Robinson did date. Robinson cleared up viewers' confusion on Twitter. "Hey guys I know this was slightly confusing," he tweeted. "[Warburton-Adams] and I were taking a hiatus…@LaurenBelowDeck, we became friends. She's great. Cheers."
Lauren Cohen considered the relationship to be 'serious'
Cohen explained to Bravo how she and Robinson met. "Before I decided to join Sirocco, I had met Ben out in Fort Lauderdale and we began seriously dating over time," she said in 2017. "When I made the decision to do a season in the Med, Ben and I mutually decided it would be best for me to do the season single. We still remained friends and spoke frequently throughout the season."
She confirmed that the relationship ended and she was no longer in contact with Robinson. Cohen's onboard relationship with Giancola got messy because the two also had a romantic connection at one time.
RELATED: Colin Macy-O'Toole Says 'Below Deck Med' Season 5 Became a Show About Backstabbing
"I did not think there would be any drama with Bobby starting the season," she remarked. "Seeing as we went to brunch together twice (with the new girl he was dating at the time as well as Ben and his siblings) in Fort Lauderdale in the weeks leading up to leaving for Croatia and there were no issues at all."
Why did Cohen and Bobby Giancola have such a messy relationship?
Although Cohen said she and Giancola were in a good place before joining the boat, it certainly didn't stay that way. "Lauren and I had a little fling in the past, and it ended kind of in a weird way. But we hash it out, and we were friends," Giancola told Bravo's The Daily Dish. "So working with her, to me, nothing was awkward. Everything was hashed out, and we were friends. So I don't know if she was awkward in any way, but I was fine."
Cohen shared that the tension between chief stew Hannah Ferrier and Giancola didn't help matters either. "Yeah, the beginning was definitely hard for me," she said.
RELATED: 'Below Deck Med' Deckhand Says He Would Rather Deal With Awful Charter Guests Than the Coronavirus
"It was tough to work and have this tension, pink elephant in the room all the time," she added. "But we got through it, and I think we're just working together. We're not friends; we're just working together, and it's working. So he's on the exterior, I'm on the interior, maybe we'll cross paths for lunch or on our crew nights out, but for the most part, we just kind of like remaining professional, getting our job done, and being cordial."
Cohen appeared on Watch What Happens Live with Andy Cohen and was asked who was better "in bed," Robinson or Giancola. "Ben, hands down," Cohen quickly answered.