'Below Deck Med': Did Chef Ben Introduce His New Girlfriend in a Recent Video?
Chef Ben Robinson from Below Deck Mediterranean may have quietly introduced fans to his new girlfriend when he shot a fun "quarantine" video on Instagram.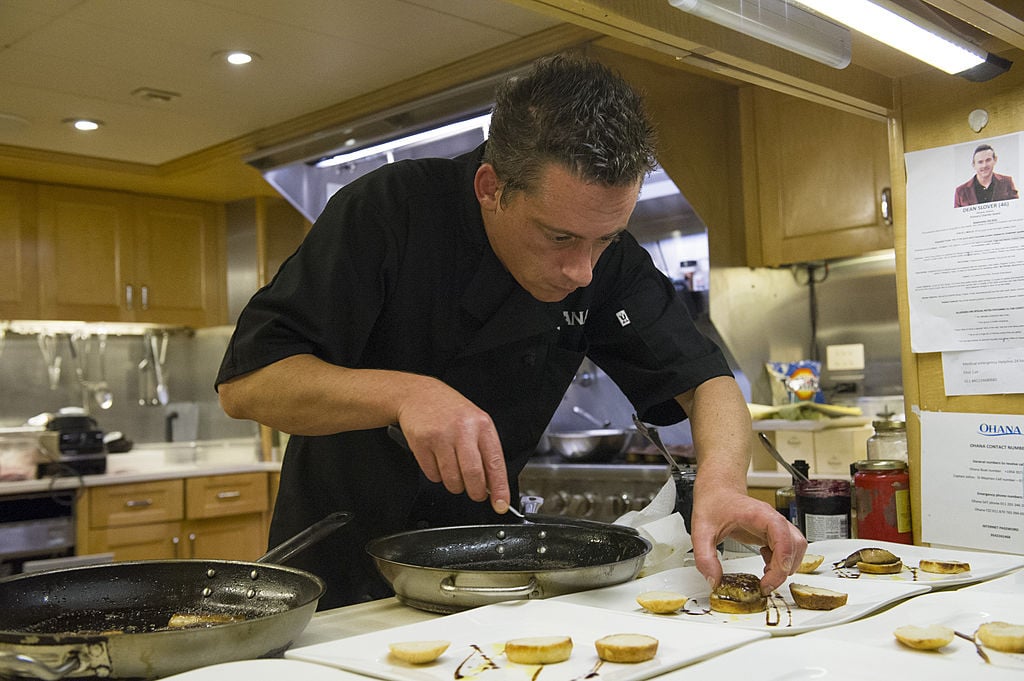 Robinson has been hosting pizza making parties on Instagram Live and a young woman has often been seen in a number of his videos. Robinson has generally kept his love life under wraps. But he recently featured her in his "stay at home" video.
Robinson's fun rap video shows him discussing what he's been making in quarantine. But then jokes about how "since quarantine, she's so mean" as he gestures to the woman standing next to him in the kitchen pouring a glass of wine. The woman says, "He's so mean" and then proceeds to drink directly from the bottle.
She's helping Robinson with his Instagram Live cooking shows
Robinson tagged the woman, Kiara Cabral, in his video. She also appears to film most of Robinson's quarantining pizza videos and even sits along with him when he chats with fans on his Instagram Live events.
Cabral may have let the cat out of the bag in one photo on her Instagram. She was promoting Robinson's Instagram Live events and shared a sweet photo of the couple kissing. "Make sure to watch Ben's instagram lives on Tuesday's and Friday's 8pm est! Starring Moofy and I😉," she wrote.
Her adorable pup "Moofy" is also featured in Robinson's new rap video too. Robinson sits in a chair with Moofy on his lap as the video begins. "Before lockdown laws, it was crab claws, this isolation, where's the crustacean?" he hilariously rapped. He adds that he normally cooks for millionaires and billionaires. Now he's cooking for a "toy dog's appreciation." Looks like Moofy is the lucky recipient of Robinson's amazing fare. The couple ends the video together exclaiming, "Because it's a hard chef's life!"
His girl seems to appreciate fine cuisine too
Cabral's Instagram indicates she loves fashion, french fries, and being nice. She has a dedicated section to her fashion faves but also "food being sexy" where she includes endless photos of favorite dishes.
She's shared various dishes from restaurants throughout South Florida, which is where she and Robinson both reside. Pizza definitely seems to be a favorite, but she also explores other cuisines, plus a number of scrumptious desserts.
Cabral also likely features some of Robinson's dishes too. "Hand made sexiness," she wrote and tagged Robinson in one slide. The photo appears to be homemade pasta delicately topped with shaved parmesan over oil.
Robinson also seems to love her puppy too
Cabral also shared some sweet photos and videos with Robinson and her dog Moofy. In one video, the couple pets the dog. Cabral also shared a photo of Robinson asleep with Moofy sleeping next to him. "They were meant for each other," she captioned the image.
He even drives with Moofy on his lap. She shared a video of Robinson driving around town holding the dog. "Oh sh*t," he says as he tries to steer and navigate while holding the small dog. Later, the couple takes Moofy on a grocery shopping trip. "Date night," she wrote.