'Below Deck Med': Did Robert Westergaard's 'I Love You' Scare Jessica More Away?
Third stew Jessica More and deckhand Robert Westergaard from Below Deck Mediterranean have made it perfectly clear they are no longer dating.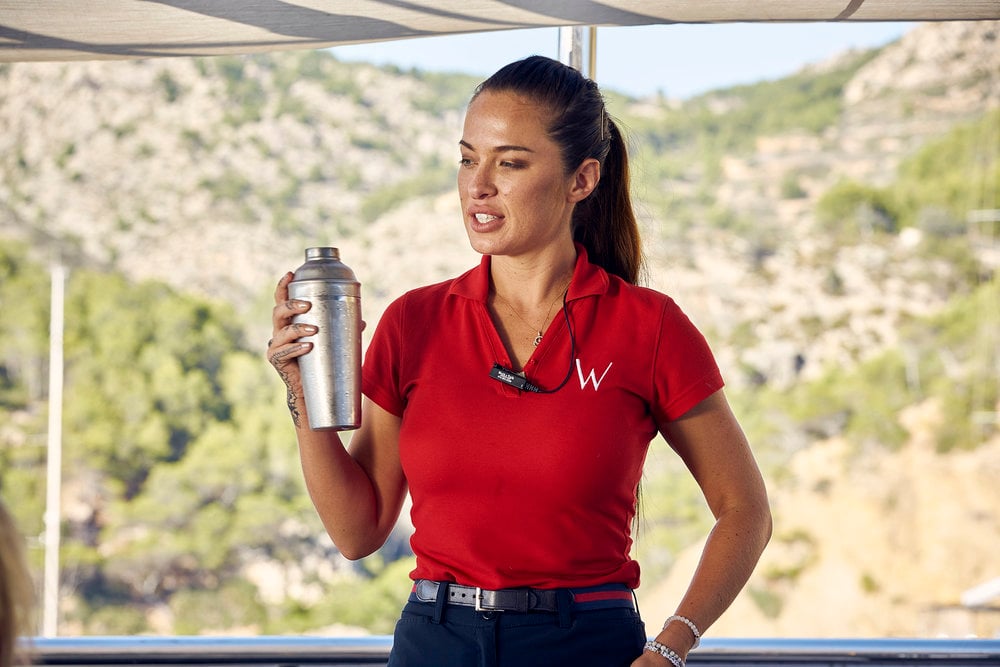 But was it the "I love you" Westergaard said during a recent episode that freaked out More? The couple is seen constantly snuggling and kissing on the boat and More seemed almost giddy to be in a new relationship. However, during a charter guest excursion, Westergaard tells More he loves her.
Then he wonders if saying that after a few weeks of dating seems crazy. "Yeah, kind of," she tells him in a preview clip. She looks completely freaked out in a confessional too. "What!" she says laughing.
Too much too soon?
The couple, who is always snuggling and cuddling on the boat, is doing what they do best while the guests have lunch. Westergaard and More steal away to a private corner where they kiss. More invites Westergaard to spend Thanksgiving with her family too. Westergaard shares in a confessional he feels safe with More.
"I've had this standard since my mother you know," he said in a confessional. "We just understood each other completely. That was the last time I really felt seen. And now with Jess, I feel seen. And heard. Which is nice."
As the couple snuggles he delivers his proclamation of love. But she says nothing, except, "What?"
Jessica More tries to deflect
"I'm sorry if I scared you," Westergaard says to her. The couple sits and More decides to look at her shirt and just say, "Um …" Westergaard is now panicking and recognizes in a confessional More said nothing in return.
The situation is clearly awkward. Instead of acknowledging the comment, More shifts focus to the guests. "Are they ready?" she looks at the guests. "I can't tell." She then walks over to the table where the guests are dining to see how they are doing.
Although More and Westergaard were away from the guests, they know what's up. "Did you finish your romantic date?" one guest jokes with her. "Aww…."
Westergaard and More are not on speaking terms
While some boatmances end in friendship, this one is clearly out to sea. More recently opened up about where her relationship currently stands with Westergaard.
"We don't really communicate," she told InTouch. Adding, "He has a really good heart deep down in there somewhere. I wish him the best of luck but I don't think we'll really be communicating [in the future]."
Aside from the "I love you" there was also the issue with Westergaard having a girlfriend on land. She told InTouch she felt a little misled and confused about what was really happening with that relationship. "I don't know," she said. "[And] I was confused, I was kind of being told one thing. And then hearing another. So I was just trying to figure out what the truth was I guess? While also building feelings for somebody."
Earlier in the season, she hinted at what viewers can expect with the romance. "It will get a little interesting, and entertaining … and steamy," she told Showbiz Cheat Sheet. "It's definitely a 'boatmance' that happened." She added that it was also "intense."