'Below Deck Med': Fans Wonder If Captain Sandy Hires Her Own Crew After Bugsy Drake's Shocking Return
A few fans wondered if Captain Sandy Yawn from Below Deck Mediterranean brought back Christine "Bugsy" Drake just to sabotage Hannah Ferrier.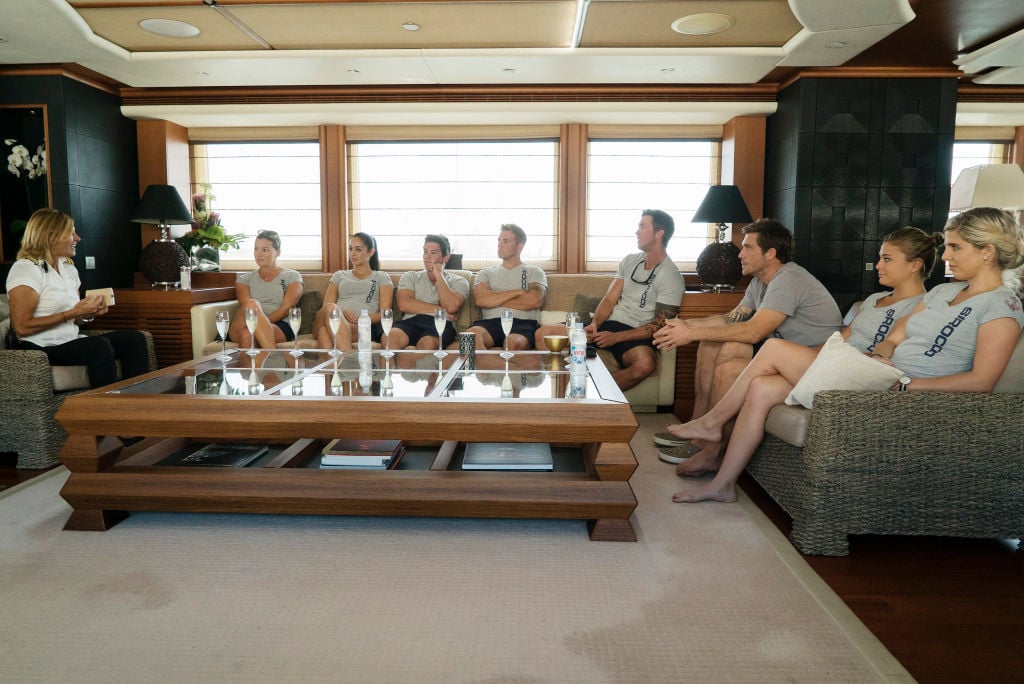 Ferrier looked crushed when she learned Drake would return. But Yawn seemed enthused and happy that Ferrier was going to have a second stew. Bosun Malia White was also thrilled Drake would return as the two became close after working together during season 2.
Fans have often wondered how the series captains hire crew members. Especially when a controversial crew member returns from the past. Last year Rhylee Gerber's return to Below Deck also surprised some fans. Gerber was a controversial crew member who brought a considerable amount of heat during her previous season.
A few people thought the decision to hire Drake was personal against Ferrier
Twitter lit up with several people wondering if Yawn went out of her way to hire Drake to sabotage Ferrier. Drake told Ferrier she thought she was a lousy chief stew when they worked together during season 2. Drake was also a chief stew and the two have a different way of managing their jobs.
But Yawn told fans Drake was not selected in order to hurt Ferrier. "It seems Miss Sandy has an agenda against Hannah," one fan wondered on Twitter. But Yawn replied, "Not at all."
Another person insisted Drake's return was for ratings. "I'm sure it was just for ratings, but you use the hashtag be kind and yet you bringing Bugsy on as a second stew was not kind at all." Meanwhile, Below Deck Med ratings keep breaking records. Season 5, episode 4 had 1.736 million viewers, a series high, according to Bravo Ratings.
Ferrier wished someone would have told her Drake was coming
The element of surprise was dramatic for the show. But Ferrier would have preferred a heads up. Or that she had at least been asked about bringing Drake back.
If she had to pick, she would have brought back Aesha Scott, Anastasia Surmava, Julia d'Albert Pusey, or Tiffany Copeland. A fan tweeted, "Captain Sandy should have given Hannah the courtesy of letting her know the second stew before everyone else. That was rude of her not to do that. She treats Hannah poorly in my opinion. Not cool."
Ferrier agreed. "I 100000% agree. A one-on-one conversation would have been appreciated."
What do captains look for in a strong crew member?
Yacht captains have shared what they typically look for when it comes to hiring their crew. Obviously, that "can do" attitude is a must, but captains also like crew members who play well with others.
Some important qualities include attention to detail, having a sense of adventure, grit, and resilience but also someone who isn't cocky, YA Crew reports. Being a self-starter who is a good communicator is also a plus. Also, manners are extremely important. A neat and tidy exterior is something that captains will take note of too.
Below Deck Mediterranean is on Monday at 9/8c on Bravo.