'Below Deck Med': Does Chef Tom Have More Trouble in the Kitchen?
Chef Tom Checketts from Below Deck Mediterranean seems to hit rough culinary waters with the same charter guests as they complain about being served undercooked chicken.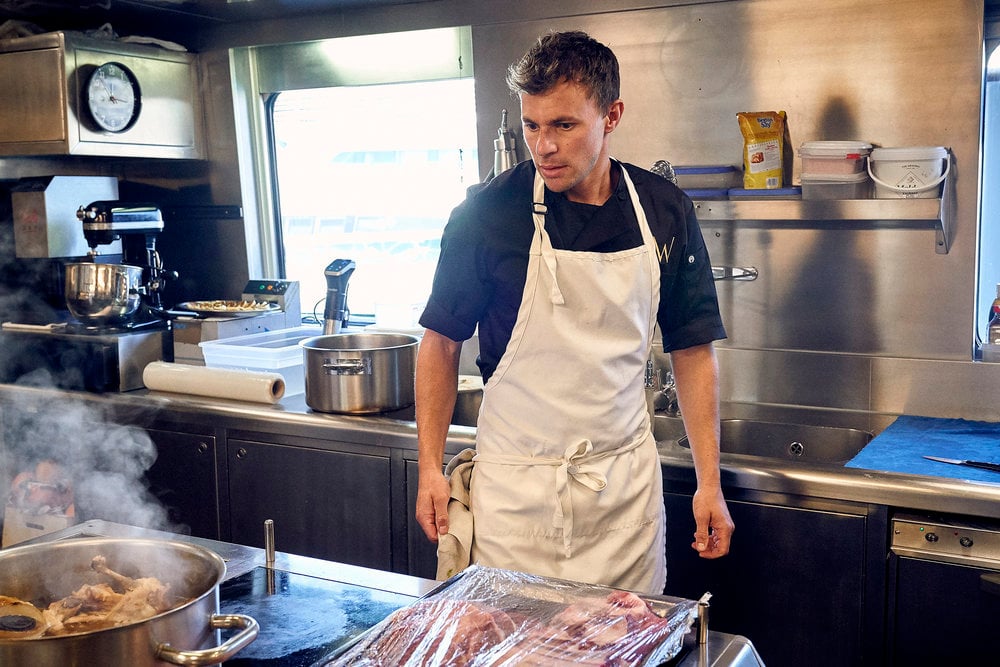 Checketts already dealt with a similar complaint from the guests the night before. They insisted he served them raw lobster. But when chief stew Christine "Bugsy" Drake returned the plates, he told her he poached the lobster and it cooked for two hours. Now he seems to be having Groundhog Day but this time with the chicken.
Only two guests receive the chicken and the majority of the guests are served miso-glazed salmon with broccoli, black rice with squid ink.
The salmon hits the spot (the chicken, not so much)
Drake delivers the dishes to the guests as she is working a stew down this charter. The salmon arrives first and the guests dig in. "Oh that salmon is good," one guest remarks in a preview clip. Another guest is heard commenting that the salmon is really good.
Unfortunately, the two guests who received the chicken don't agree about their dish. "That's f**king raw chicken," one guest exclaims gesturing toward the plate. The other guest who received the chicken is trying to assess if the chicken is raw or not. "If it's chewy then maybe not," another guest tells her. But the guest continues to poke at the chicken unsure if it is cooked.
She thinks the texture seems off. The other guest doesn't hold back. "It's pink like a motherf**ker," he says. He reiterates his statement to the guests showing them his plate. Drake is on the scene at this point.
Chef Tom is off to a rocky start
Checketts was unexpectedly thrown into the chef position. He came to Spain to visit bosun Malia White, who is his girlfriend. But when chef Hindrigo "Kiko" Lorran left the boat, the crew was without a chef. Captain Sandy Yawn was impressed with Checketts' superyacht chef qualifications and begged him to stay for the remainder of the season. He agreed but demanding guests started to stress him out.
He first had to open oysters without a shucker. As a result, oyster shells ended up in the food. Checketts was also tasked with making a last-minute birthday cake. He calmly agreed when Drake told him but complained later to White in their bunk. "This is bullsh*t," he said to White in their cabin. "Have a f**king birthday cake last minute. With just three hours to go. If you're allowed to cook exactly what you want to cook and they don't change anything, then the job is hard enough."
Checketts starts to crack during dinner service when the lobster is sent back. "Too raw?" he asked Drake. "It's fully cooked, it's poached." As he melts down, White takes him aside to talk to him privately. "This is bullsh*t and suicide," he said to White. "I'm good at what I do. I don't need to prove it. I've made a f**king big mistake. I've got way too much self-respect to do this."