'Below Deck Med': Does Lara Flumiani Hold the Record for Shortest Time on the Show?
Lara Flumiani from Below Deck Mediterranean holds the dubious honor of the shortest time on the series. She's also the first cast member to quit.
After going missing on the boat during episode 3, Flumiani calls to Captain Sandy Yawn on her radio and tells her she's not vibing with everyone on the boat. She was ready to walk away after one charter. Flumiani took the interior team by surprise when she bullishly butted heads with both Ferrier and third stew Jessica More.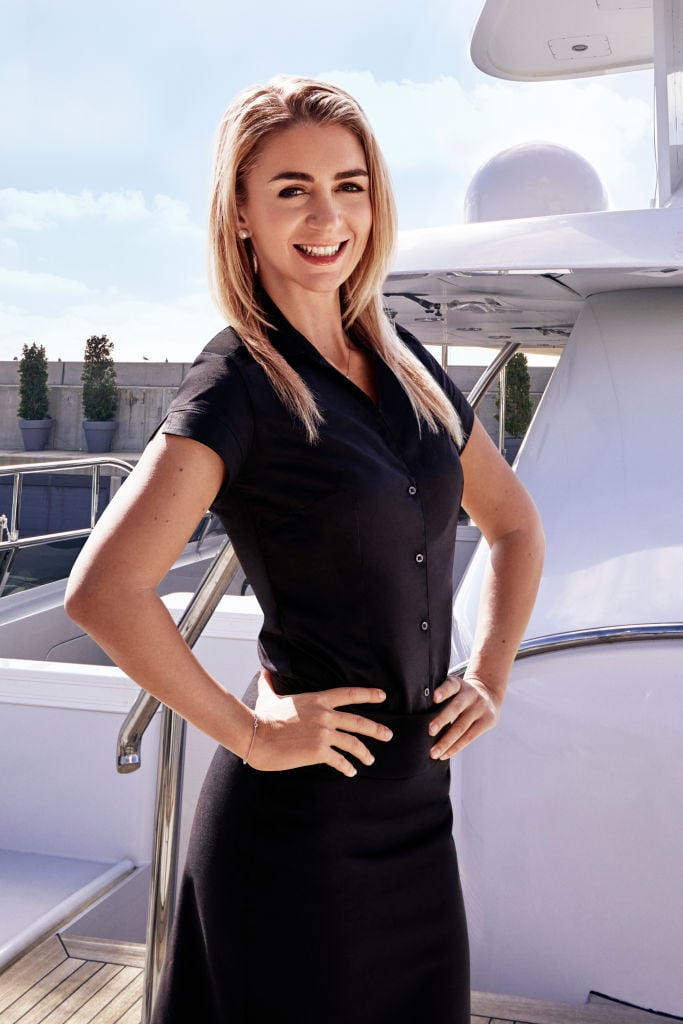 She was even disrespectful to Yawn during a meeting with Ferrier. Yawn told her to try to reset with Ferrier and do her job. Apparently though, resetting wasn't an option and she walked away. Other crew members have quit or were fired in the past. But no one left as quickly as Flumiani.
While Flumiani holds the record for Below Deck Med, other Below Deck crew members were fired after four episodes. This includes Andrew Sturby, Dane Jackson, and Trevor Walker. Don Abenante quit after four episodes and Abbi Murphy left after six.
Chef Mila Kolomeitseva lasted five episodes
Surprisingly, chef Mila Kolomeitseva from season 4 made it for at least two charters before she was fired. She arrived on the boat with food poisoning but when she finally started to cook, the crew (and guests) were horrified.
RELATED: Did Chef Mila from 'Below Deck Med' Get Fired?
Kolomeitseva not only cooked meals from boxed ingredients, like making tacos using Old El Paso, but she also was caught on camera licking a raw steak before serving it to the guests. She knew her number was up after she served slimy fish from a can to Yawn's friend Dr. Jennifer Berman. Kolomeitseva asked for one more chance but Yawn couldn't roll the dice any longer. She only appeared from episodes 1 through 5.
June Foster was dismissed because the crew had too many members
June Foster, also from season 4 was hired mid-season after Kolomeitseva was fired. Third stew Anastasia Surmava showed talent in the kitchen, so Yawn gave her a shot at being the chef. Even though Foster was an eager third stew, she had some issues with her radio. Ferrier would often hear crickets after calling for her. As a result, the mantra, "June, June, Hannah" was born.
RELATED: June Foster Reveals the Emotional Reason She Went on 'Below Deck Med' and Talks Her Exciting New Business (Exclusive)
Foster was hitting her stride just as Surmava started melting down in the kitchen. The stress became too much and she asked Yawn if she could step down. Yawn needed a new chef but she now had two third stews. As a result, Foster was sent home after seven episodes.
Danny Zureikat was the first cast member to be fired (and lasted the longest)
Deckhand Danny Zureikat from season 1 actually lasted 12 episodes. Zureikat crossed the line with a guest, kissing her (he thought) in private. But then he also slipped her a note before she left. Captain Mark Howard gave Zureikat a warning, especially after Zureikat was busted for taking more photos from Instagram than working.
RELATED: Where is Danny Zureikat from the first 'Below Deck Med' Today?
Zureikat tried to make it and was even forced to hand his phone over when guests were on board. But by episode 12 he was fired. The crew ended up finishing the season a man down and he was not replaced.
The season is still young and more drama is to come. Below Deck Mediterranean is on Monday at 9/8c on Bravo.