'Below Deck Med': Hannah Ferrier and Anisha Ramakrishna From 'Family Karma' Were Rocking the Same Dress?
Did Anisha Ramakrishna from Family Karma seem to be wearing a dress that looked a little familiar? According to Hannah Ferrier from Below Deck Mediterranean, Ramakrishna's confessional look is very familiar.
While locked down in quarantine in Australia, Ferrier noticed that she and Ramakrishna may have been wearing the same dress on Bravo. Or at least a dress that was extremely similar.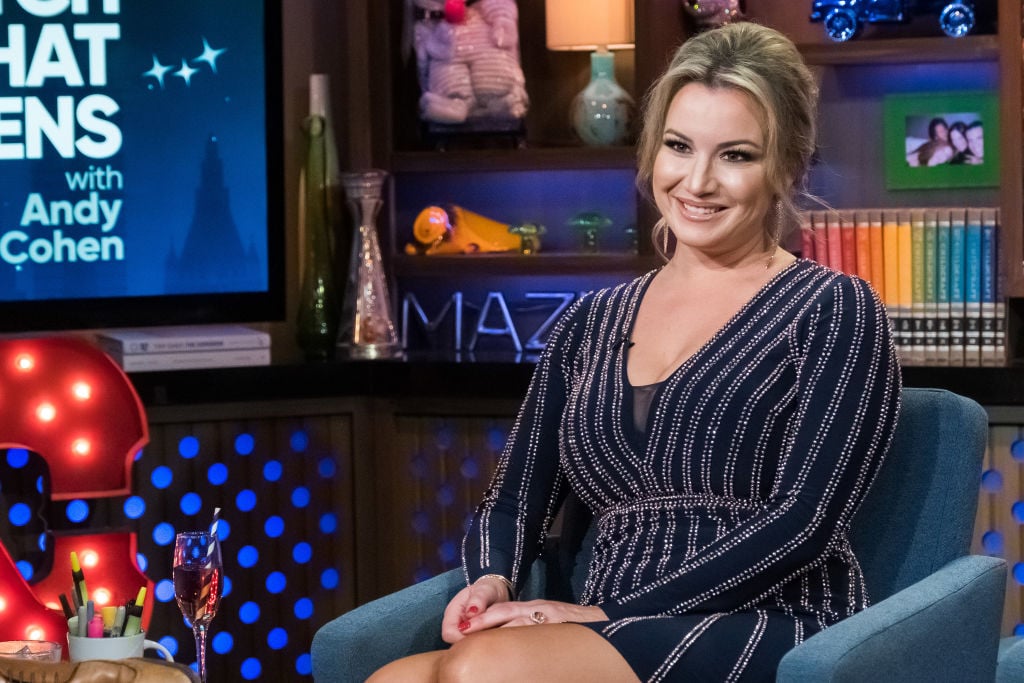 Ramakrishna rocked a smart, form-fitting dress, distinctly studded with crystals in her confessionals. The v-neckline dress is long-sleeved and is seen in most of Ramakrishna's confessionals. Ramakrishna has another amazing look where she wears a full-length, short-sleeved black dress too.
Both ladies rocked the style
Ferrier must have happened upon a photo of Ramakrishna in the dress. She shared to Twitter that she wore the same dress when she appeared on Watch What Happens Live with Andy Cohen. "I already wore that dress on @BravoTV," she tweeted along with a photo from WWHL and Ramakrishna's confessional screenshot.
Ramakrishna saw the tweet and had to laugh. "#LMFAO," she tweeted. "There's so much I wish I could say not about Hannah but about this dress." Of course, that caused fans to beg to find out more about the dress. "Now I really want to know," one fan wrote.
How did Ferrier realize they both wore the same dress? She blames quarantine boredom. "Haha haha. And sometimes we are just bored AF in quarantine," she tweeted in her thread. Adding she hasn't watched Family Karma yet but caught the photo on the Bravo Instagram account.
Similar style, but a different color?
Upon first glance, the Bravolebs appear to be wearing the same dress. The beading trends in the same direction and the v-neckline dress is fitted with the waist accentuated by beading too. However, the dresses have differences.
The neckline on Ferrier's dress appears to be more plunging and has sheer black material across the bottom of the neckline. Also, Ferrier's dress seems to be of a shorter length too. The dress Ferrier wore on WWHL is also a midnight blue color. Whereas, Ramakrishna's dress is emerald green. Either way, both women looked stunning in the dress and fans are here for it.
"Both ladies looked lovely in the dress. No need to make it into a competition," one person wrote on Ferrier's Twitter thread. However, some fans wanted to play "who wore it better" with fans coming down on both sides.
Wardrobe crossovers happen
Ferrier and Ramakrishna wore similar dresses on Bravo but on totally different occasions. However, sometimes people notice when other Bravolebs wear similar (or the same) outfit in their confessionals.
Last year Dorinda Medley from The Real Housewives of New York City and Erika Jayne from The Real Housewives of Beverly Hills appeared to wear the same leopard print in their confessionals. Bravo's Style & Living shared the comparison, citing the women even wore their blonde hair in a similar style too. The ladies topped off their look with gold hoop earrings, which made the comparison too hard not to share.