'Below Deck Med': Hannah Ferrier and Kate Chastain Both Love Laundry Because It Gets Them Away From Guests and Crew
Although the laundry room is typically a third stew domain, chief stew Hannah Ferrier from Below Deck Mediterranean admits that she loves this task.
She's not the only chief stew who prefers alone time in the laundry room. Chief stew Kate Chastain from Below Deck also shared that she loved the laundry room, mainly for the same reasons as Ferrier.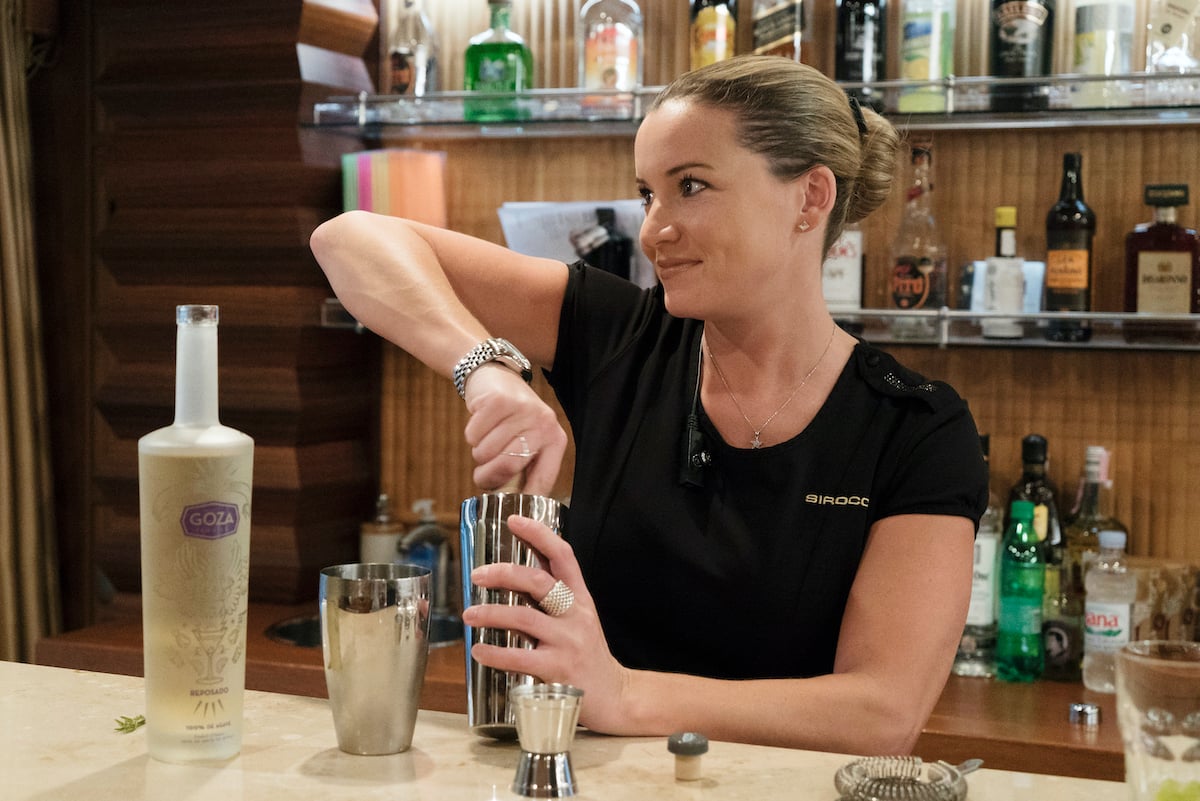 "I LOVE my time in the laundry! No guests – no crew," Ferrier tweeted during the latest episode. Ferrier had that awkward greeting with Christine "Bugsy" Drake while in the laundry room. Ferrier went in for a handshake and Drake opted for a hug.
Kate Chastain says the laundry room is like her own 'private clubhouse'
Chastain offered more insight into why she'd prefer to be hidden in the laundry room instead of on service or dealing with the crew. "First of all, you're away from the guests and the crew," she shared during the Below Deck After Show. "It's like your own private clubhouse. You get to play music. On a yacht, everywhere else, no music. You're in your own zone. You're in your own clubhouse. You are away from … [insert person's name here]."
"It's very gratifying. You are like, take it out of the dryer, fold it," she continued. "That's done! It's just … it's zen. It's like a rock garden. It's like a bonsai tree that you trim, but in fabric form." 
Captain Lee Rosbach sat next to Chastain during the segment and fully understood how Chastain felt. "The laundry room everybody leaves you alone," he said. "It's alone time."
Laundry may be the one thing they agree on
Ferrier and Chastain used to have a friendship but no longer speak. Chastain was initially coy about what happened with Ferrier. She mocked Ferrier's tablescapes on Twitter and when someone asked her why she was being shady, she shared that she and Ferrier were no longer friends.
Chastain eventually shared that Ferrier talked about her behind her back. The gossip got back to her and she reached out to Ferrier about it. However, that was the end of the communication chain as Chastain said Ferrier ghosted her. "But I messaged her and was like 'Listen, that wasn't cool what you said.' And I had just seen her in New York, she was in town for Watch What Happens Live," Chastain told Heather McDonald on her Juicy Scoop podcast.  
"She has not replied, that was in August," Chastain said. "She never replied to the message. It's like if you're really my friend I'd be like, 'Oh my God, I'm so sorry. I did say that.' Or just answer or deny it! She just never even answered." Ferrier has remained silent about the fallout, except for a few cryptic words on an Instagram story in December.  "Learn to be ok with people not knowing your side of the story," she wrote. "You don't have to prove anything to anyone."