'Below Deck Med': Hannah Ferrier Has a Fairy Tale Baby Shower
Hannah Ferrier from Below Deck Mediterranean was beautifully glowing during her tickled pink fairy tale baby shower.
Ferrier wore a flowing white goddess dress, which was a fitting backdrop for her outdoor pink, flowery shower. She shared several photos from the event, which was thrown for her by some of her closest friends.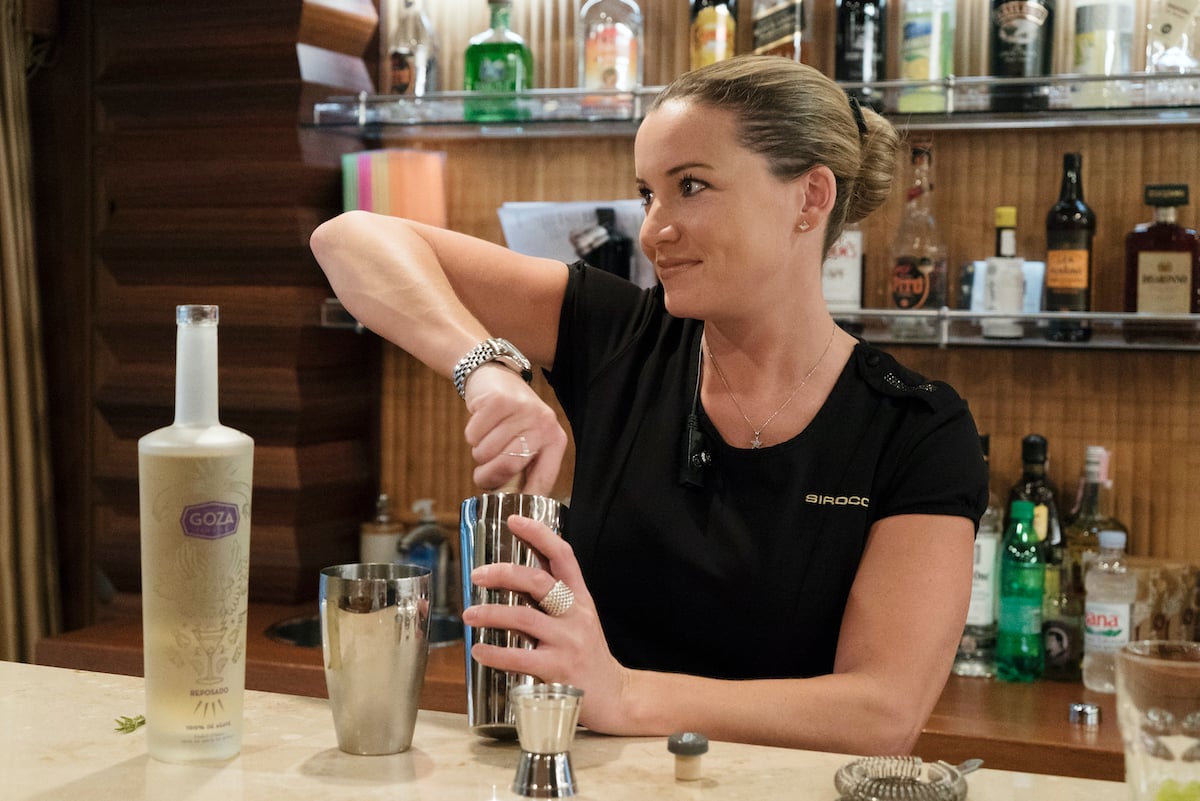 "Baby Shower 2020," she posted on Instagram along with three heart emojis. "My gorgeous girlfriends threw me the most amazing baby shower. I am blown away daily by the people that surround me. Thank you so much to all my gorgeous friends and family who celebrated with me."
Several Below Deck Mediterranean friends commented, including close friends Aesha Scott and Anastasia Surmava. "GORGEOUS ANGEL," Scott wrote. Ferrier replied that she wished Scott could have been at the shower. "You are such a beautiful mama," Surmava commented.
"Absolutely gorgeous set up for an absolutely gorgeous MoMMa!" deckhand Jamie Jason wrote. Current third stew Jessica More added, "Just when I thought you couldn't get any damn cuter!!!!! You are glowingggg!!!"
Hannah Ferrier asked for donations in lieu of baby shower gifts
Ferrier openly dealt with panic attacks and anxiety on the show. She had a panic attack in the middle of night, triggered by close friend chef Hindrigo "Kiko" Lorran's departure. She was filmed taking medication this season, which she said was Advil.
However, bosun Malia White discovered that Ferrier had unregistered prescription valium on board. She shared a photo of the medication with Captain Sandy Yawn. Yawn concluded that between finding the medication and Ferrier's behavior, she could not safely go to sea with Ferrier as chief stew. Ferrier was fired.
Ferrier shared on Instagram she wanted to bring more awareness to mental health and was raising money for one of her favorite charities, Lifeline Australia.
"BABY SHOWER ANNOUNCEMENT!!" she shared on Instagram. "A lot of you have sent me messages asking for my baby register which is so amazing of you. My little one is very blessed that we can provide all they need but in place of that I have set up a baby registry with one of my favourite charities @lifelineaustralia – Lifeline assists people in need with anxiety, desperation and raises awareness for suicide." Ferrier surpassed her goal of $6,000.
Only a few more months to go
Ferrier's baby girl is due in October and she recently shared an ultrasound photo that had her all smiles. "Is she not like the cutest baby you have ever seen in your life? I'm like, 'Oh my god, look at her nose!'" she said in a Bravo digital original, Bravo's The Daily Dish shared.
She added that boyfriend Josh has been by her side every step of the way. "I actually got a little teary eyed the other day because I think I've really enjoyed my pregnancy journey so much because of him," she said. "He'll get up at like 3 a.m. and go and get me cereal. Or if I decide the shirt I'm sleeping in isn't comfortable enough, he has to go and find a specific one in the laundry. He just does everything without batting an eyelid." 
Her pregnancy hasn't been totally smooth sailing. She dealt with morning sickness in the beginning. "I kind of am one of those people that if I'm sick, I give it a day or two and then if it doesn't get better, then I just kind of ignore it and keep going," she told Bravo's The Daily Dish.
"With pregnancy, it's not just you, so you can't do that," she continued. "You can't just say, 'Oh, I'm gonna ignore that I'm feeling like this,' because you're harming your child. So I think that for me was incredibly frustrating, just having been so sick for maybe like two months. There were some times where it was like 10 to 12 days, just 24/7. I don't know why they call it morning sickness. It's very strange because it's not. It's all day. So not being able to control that and not being able to feel better, just my normal life was difficult."