'Below Deck Med': Hannah Ferrier Reveals Her Dream Team and if Baby Ava Will Make a 'WWHL' Appearance
Hannah Ferrier from Below Deck Mediterranean returns to Bravo as she's slated to appear on Watch What Happens Live with Andy Cohen on Monday, March 22.
Ferrier is a guest alongside chef Natasha De Bourg and already answered a few fans' burning questions. One person asked Ferrier who is on her dream team and her response was certainly not a huge surprise. "Anastasia [Surmava], Aesha [Scott] and Julia d'Albert Pusey]," she tweeted in response to the fan's question. "(Not Tiffany [Copeland] because I don't have time for morning sickness). While Ferrier and Tiffany Copeland didn't always gel during season 1, they formed a friendship post-series. Copeland is currently pregnant with her first child.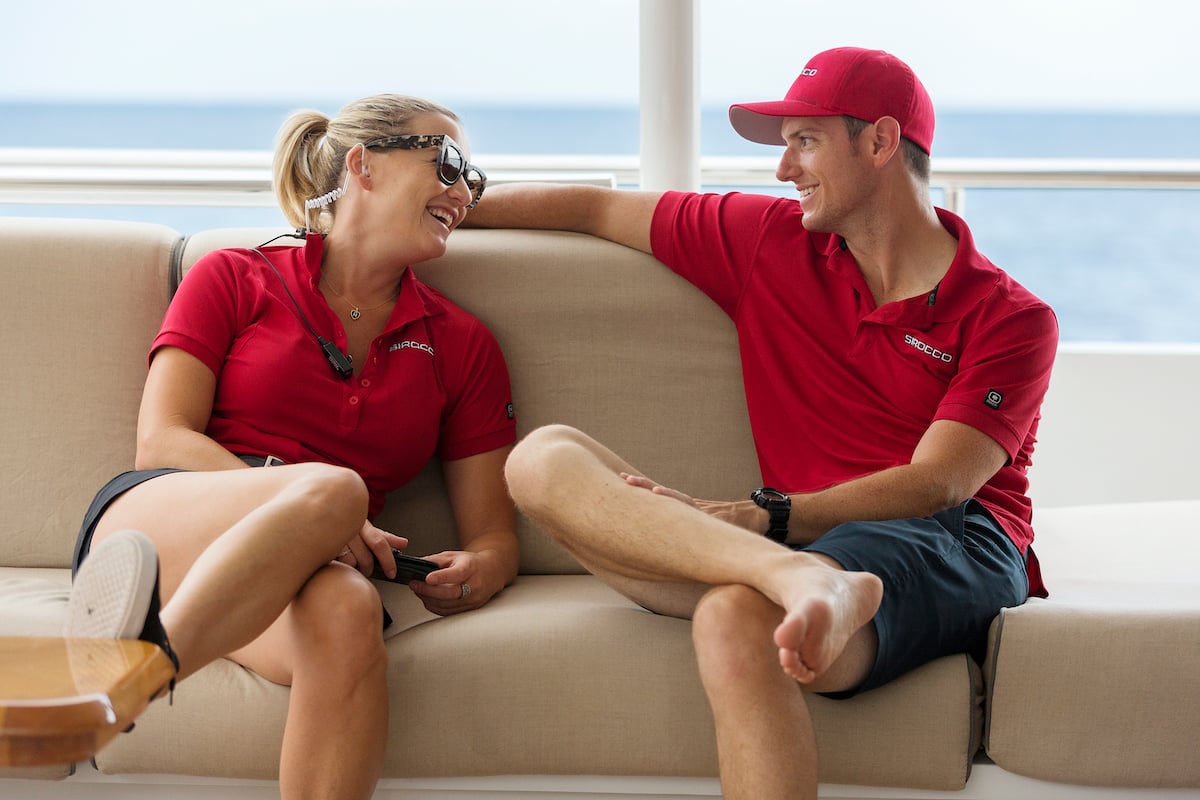 Hannah Ferrier's stew-game is strong
Ferrier quickly formed a close friendship with stews Anastasia Surmava and Aesha Scott during season 4. The trio became fast friends, which sometimes annoyed chef Ben Robinson. He complained they were too busy having a lovefest and weren't working as hard as possible.
Scott returned for another season after Ferrier was fired. She admitted she wasn't entirely sure what had happened but knew Ferrier was not finishing out season 5.
"You saw how we were last season," Scott told Decider. "We were just the absolute best, best friends, it was so nice. It was definitely a let-down. She had told me just before that she wasn't going to be there, but she didn't say why or anything. But it definitely was a bit of a bummer. At the same time, Bugsy was just so lovely. It was quite a nice replacement."
Surmava and Ferrier started a business together too. They launched yacht school Ocean International Training Academy and the business is booming.
Julia d'Albert Pusey and Ferrier formed a friendship during season 1 and d'Albert Pusey came to Ferrier's defense when she saw her pal taking heat during season 2. "Sad seeing my little gem @hannahferrier_ receiving hostility. She's an amazing hard working chief stew! A friend who is generous & kind," she tweeted along with a sweet photo.
Will fans see baby Ava on 'WWHL'?
While Ferrier has shared a slew of videos and photos of her infant, she said baby Ava won't be making her first Clubhouse appearance. "Nooooo. She's waiting for a better offer," Ferrier joked.
Born in Oct., Ferrier's daughter is starting to really interact with her parents. Ferrier recently shared a few moments on Instagram. "Holiday time," she posted along with a photo. "I looked over at my fiancée tonight with baby Ava trying to eat his nose and I have never felt so blessed and happy." Like many mothers of infants, Ferrier tries to eat, but Ava is busy exploring the table.
Baby Ava also found her thumb and Ferrier couldn't help but share an adorable photo. "Today she found her thumb," Ferrier posted along with a photo of Ava sucking her thumb. "I just can't with this kid. Every little thing she does is magic."