'Below Deck Med': Hannah Ferrier Reveals She Never Had a Good Relationship With Captain Sandy – 'We Weren't Friendly at All'
Hannah Ferrier said she never got along with Captain Sandy Yawn on 'Below Deck Med' because Yawn came onto the show already having an issue with Ferrier.
Hannah Ferrier said never had a good relationship with Captain Sandy Yawn on Below Deck Mediterranean because she believes Yawn came onto the show with a dislike of her.
Ferrier said production even had to stop filming 45 seconds into their introduction because Yawn came off as being combative. Ferrier's recent revelation reflects the impression deckhand Bobby Giancola had of Yawn. Giancola also said Yawn didn't like him when she started the show because of his behavior on Below Deck Med Season 1.
Hannah Ferrier said she and Captain Sandy never got along on 'Below Deck Med'
Yawn and Ferrier experienced several volatile moments on the show. But they seemed to work through them – at least that's what viewers saw. "So the way things can be edited," Ferrier explained on the Kyle and Jackie O Show podcast. "It was probably edited in a way where it looks like we were better than we were for the years before that we filmed together. No, we weren't friendly at all. It was every season sitting down with production going, 'How can we get these two working together?'"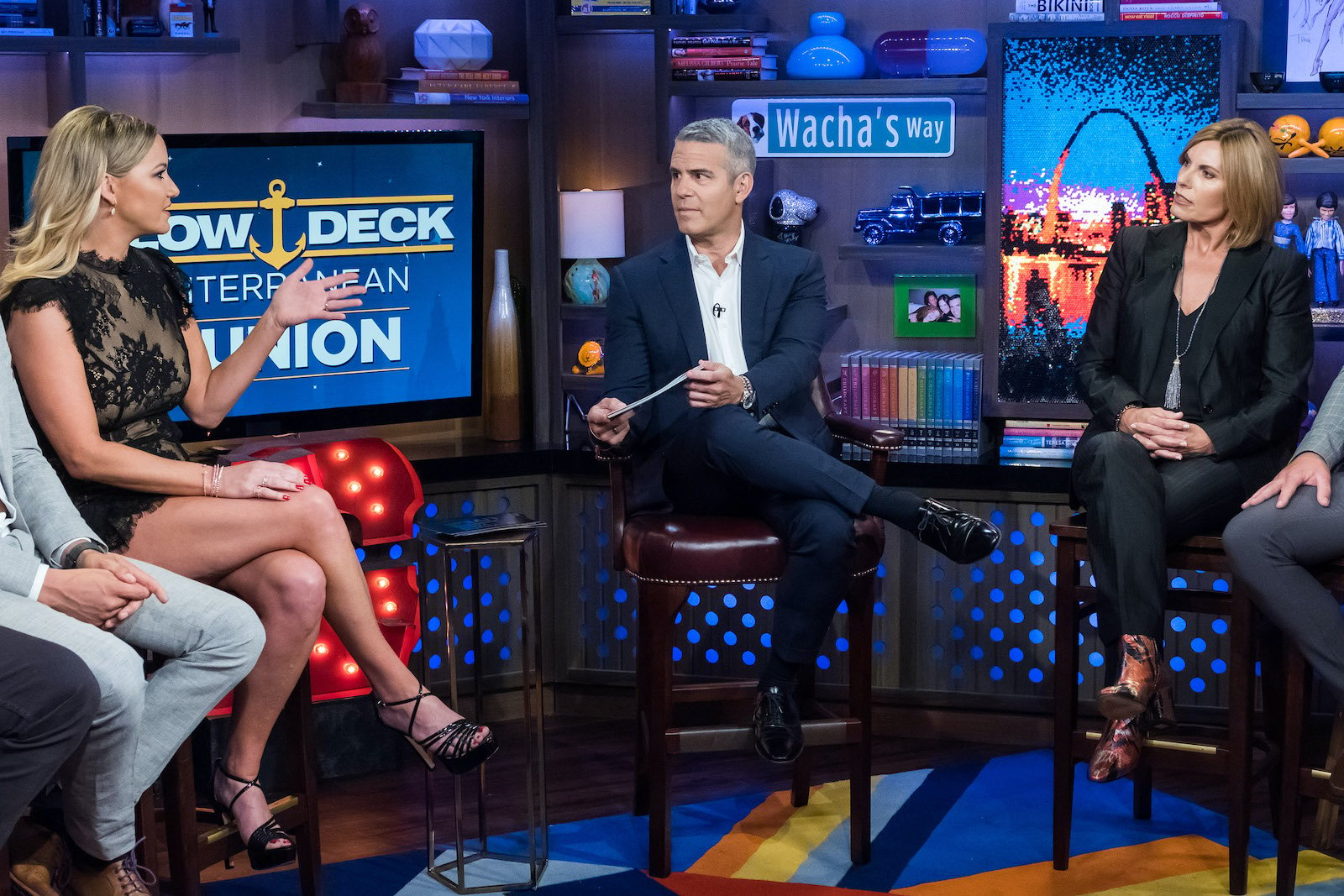 Why did they have issues? "She's a micromanager," Ferrier explained. "But what had happened is she'd watched the show before she came on, and she'd made her decision about me. A few things had happened." Adding, "It's all edited. I think it was like about 45 seconds from our first introduction they had to stop production and be like, 'Sandy, you can't talk to her like that.' Like straight off the bat. It was something where I'd literally pronounced a dish wrong or something when the chef hadn't told me and given me enough notice."
Other 'Below Deck Med' crew members knew Captain Sandy and Hannah Ferrier had a tense relationship
Ferrier shared in the past that her relationship was never solid with Yawn. She recalled to Showbiz Cheat Sheet that producers wanted her to apologize for the infamous "one Coke" off of the boat scene during Below Deck Med Season 3. Yawn was furious Ferrier and bosun Conrad Empson were off the boat with the guests for an extended amount of time. In order to find a resolution with Yawn, producers wanted Ferrier to simply apologize.
"And so I think like production, were basically trying to facilitate a scene where we came to terms with each other so that we could continue filming," she said. "But I was like, I'm not going to get railroaded into apologizing. Like, if there's been some sort of miscommunication. And she's like, 'You said you were going for one Coke and coming back!' And I'm like. 'Yeah because the guests said they wanted one drink and then they decided they wanted to watch the sunset.'"
Empson even witnessed how production had to help navigate Ferrier and Yawn's relationship during his season on the show. "I mean, as you came to the end of our season and Hannah and her had a chat at the end of the season," he recently told Showbiz Cheat Sheet. "Or before What What Happens Live just kind to kind of sort out their differences before they went on camera in front of each other."
Bobby Giancola also said Captain Sandy didn't like him
Ferrier isn't the only crew member Yawn didn't like before she took over on Below Deck Med Season 2. "Sandy didn't like me," Giancola shared on the Below Deck Sailing Yacht's Instagram Pita Party.
"And I was like what the heck, what's going on?" he recalled. "So we would butt heads for a while. Well, then production actually went to her and were like why are you so hard on Bobby right now? 'Oh, I didn't like him on season 1.' And so after that once production kind of vouched for me, and were like, trust me, Bobby is cool. Like what you saw obviously there was a lot of drama on my first season between Danny and I primarily. So after that she was super cool."
He said Yawn actually apologized to him. He remembered she said, "Like I'm so sorry I judged you, for the first season," he said. "And then we've been awesome ever since."