'Below Deck Med': Hannah Ferrier Says Captain Sandy Responds 'Very Well to People Who Kiss A**'
Below Deck Mediterranean viewers know that all is not well between chief stew Hannah Ferrier and Captain Sandy Yawn.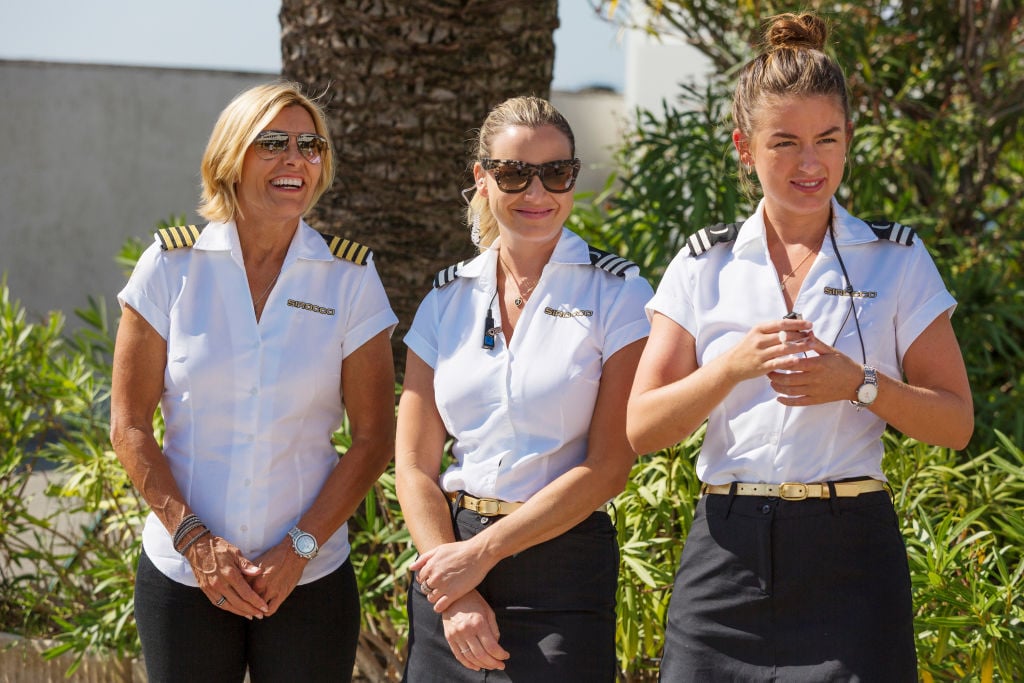 The first episode began with Yawn and Ferrier walking back to the boat as Yawn remarked about how she had multiple opportunities to fire Ferrier in the past. But she didn't fire her. "I could've fired you a long time ago, Hannah," Yawn says to Ferrier. "I could've fired you last year, the year before, and I haven't."
Ferrier shared that she plans to make season 5 her last and it doesn't seem like there is any love lost with Yawn. The yachties threw some low-key shade each other's way with Ferrier insisting that Yawn prefers to work with people who "kiss ass."
Is Ferrier truly finished with yachting? Yawn isn't entirely sure
Ferrier told ET she planned to step away from yachting. "I think I'm probably done," she shared. "I learned when I first started yachting in my very early 20s, you know, I would see these women who were in their late 30s, 40s, sitting at a bar, getting wasted with 20-year-olds living in a tiny cabin, and I was like, I don't want [that]."
But Yawn wasn't entirely sure that Ferrier wouldn't return. "She's said that every season," Yawn told ET about Yawn's assertion she was going to quit. "Do you know how many crews say that? Everyone at the end of the season."
Yawn added, "I don't live in Hannah's mind, thankfully. I don't know. Like, that's up to Hannah. We get out of yachting and we get back into yachting. So many people do."
Ferrier said Yawn likes people who 'kiss a**'
"She said that I wasn't passionate about yachting, which is a difficult one to tackle because I'm not passionate about boats and machines and anchor watches and how things work on boats," Ferrier said about Yawn's assertion last season.
"I am very passionate about making sure that the guests have a good time and that they're never wanting for anything, and I believe I do that. Like, we had the whole last season where we didn't have one guest complaint the whole time," she continued. "Am I passionate about putting plastic rocks and fake flowers on the table? No. It's not my style, so yeah, we kind of butt heads with that. Because what she sees as good table decor, I see as tacky."
Ferrier then says, "I think Sandy responds very well to people who kiss a**, and I'm not good at that. I'm much more of like, I'm here to do my job. I have respect for you as my captain, but at the same time, I do say no to her sometimes, which I don't think goes down very well."
They both agree on one thing
She agrees that yachting is not her passion. "Like Sandy said, it's really not my passion in life," Ferrier said. "I felt like I was coming in a little bit on the back foot. … I really put my head down and worked as hard as I could, and if that's still not good enough, then I'm not sure where I can go from here."
Yawn said, "If someone hates their job and if someone, you know, constantly just goes against authority or… Hannah, I wish the very best. She admittedly hates yachting, so when you have that mix, it's hard to stay focused."
Below Deck Mediterranean airs on Monday at 9/8c on Bravo.