'Below Deck Med': Hannah Ferrier Still Has Unresolved Feelings About Chef Kiko's Exit
Hannah Ferrier from Below Deck Mediterranean may have a bone to pick with Captain Sandy Yawn over more than her own departure. The former chief stew likely wants to discuss how close friend chef Hindrigo "Kiko" Lorran left the boat.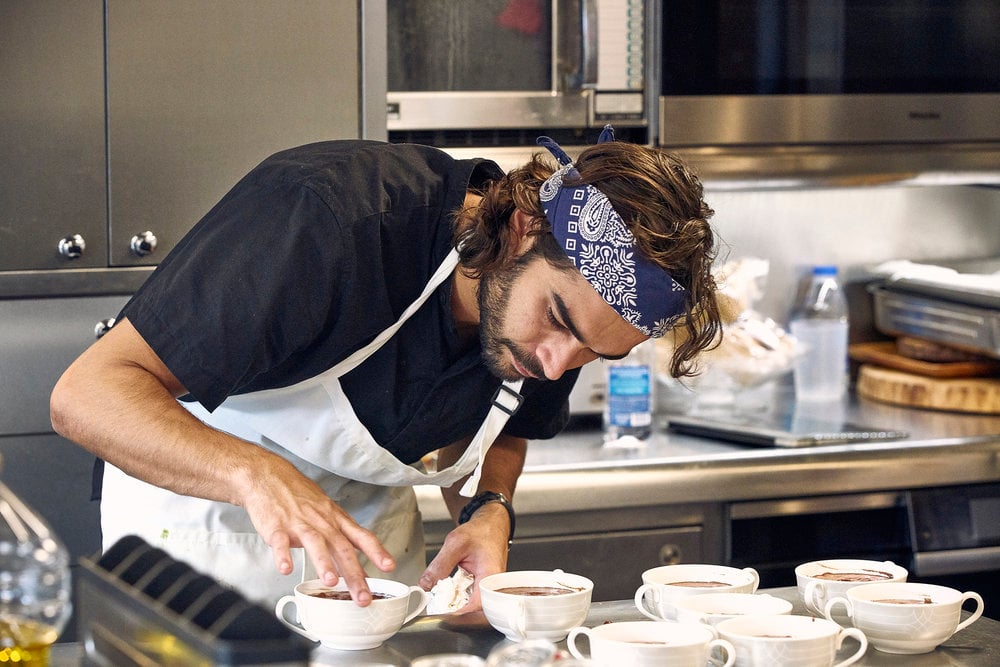 Lorran and Yawn agreed that he would leave the boat after his Vegas-themed meal fell flat. Ferrier helped Lorran create the menu for the meal and was concerned when the dinner turned into a fried food fest. Ferrier wished she would have followed Lorran off the boat at the time.
"I KNOW at this stage of the season my head wasn't in it and I should have quit as the envinment was toxic at best," she tweeted during the episode. "We are taught in yachting to NEVER leave a boat mid season. Lesson learnt. I wouldn't stay in an environment that was pushing me like that again."
Hannah Ferrier wonders why Chef Kiko had to go when other chefs stayed
"I'm just disappointed with how his exit went down," Ferrier said to Daryn Carp on People TV. "Working with Sandy for so many years and seeing the types of behaviors that she accepted, not accepted but gave them a second chance."
I didn't think he deserved to be fired like that for what he did." she continued."Especially when he did so amazing at that 72 plate dinner."
Lorran left the boat in tears, which tugged on Ferrier's (and most viewer's) heartstrings. He quickly became a fan favorite and a close friend of Ferrier's. "This episode is heart breaking for me to watch. I understand work is work but we are still human beings at the end of the day and sometimes you can't keep it seperate," she tweeted during his final episode. "I am forever grateful I met Kiko and can call him my friend."
RELATED: 'Below Deck Med': Hannah Ferrier Admits She Should Have Quit and Wished Chef Kiko Had More Support
Ferrier wants to know why Lorran was fired when former chefs like Adam Glick were allowed to get away with adding onions to a guest's food. Glick was annoyed with a charter guest's request during season 2, insisting food would not taste good without onions.
Glick initially lied that he added onions to the food, despite the guest continuously sending plates back to the kitchen. He finally came clean to Yawn that he purposefully added the onions out of spite. Glick not only remained on the boat, but he returned for season 3. He was also the crossover chef for Below Deck Sailing Yacht.
Lorran may also have a bone to pick with Captain Sandy
Lorran shared with Anastasia Surmava on her Spill the Rosé Instagram Live that although Yawn helped him, she also put doubt in his mind.
"She came to the galley when the vegans left," Lorran said. "And she was like, 'Kiko, we need to talk. We're coming from here and we're going there.' So I thought she would come to speak about a solution or like put me up."
RELATED: 'Below Deck Med': Chef Kiko Says Captain Sandy Put Doubt In His Mind
"And actually when I came to the flybridge, all the cameras were already there, and she was there," he added. "And she was like, 'You don't know [how to] plate. You don't know how to do this. I came from a small boat and you're here.'"
"That's not nice," he added. "And I was already freaking out with the cameras. Am I good enough? So that was the reason that I was already f**ked up. That moment, that exact moment, f**ked my mind."
"Besides that, she was very positive," he said. "Like 'Try Kiko, you are good, you can do it.' I don't know, maybe I would succeed on the whole season. But that's my opinion. I don't have anything against her." He added, "It's just a job."