'Below Deck Med': Hannah Ferrier Would Prefer to Have No Stew Than Work With Lara Flumiani
Hannah Ferrier from Below Deck Mediterranean made it perfectly clear during the first episode that second stew Lara Flumiani brings a lot of trouble this season.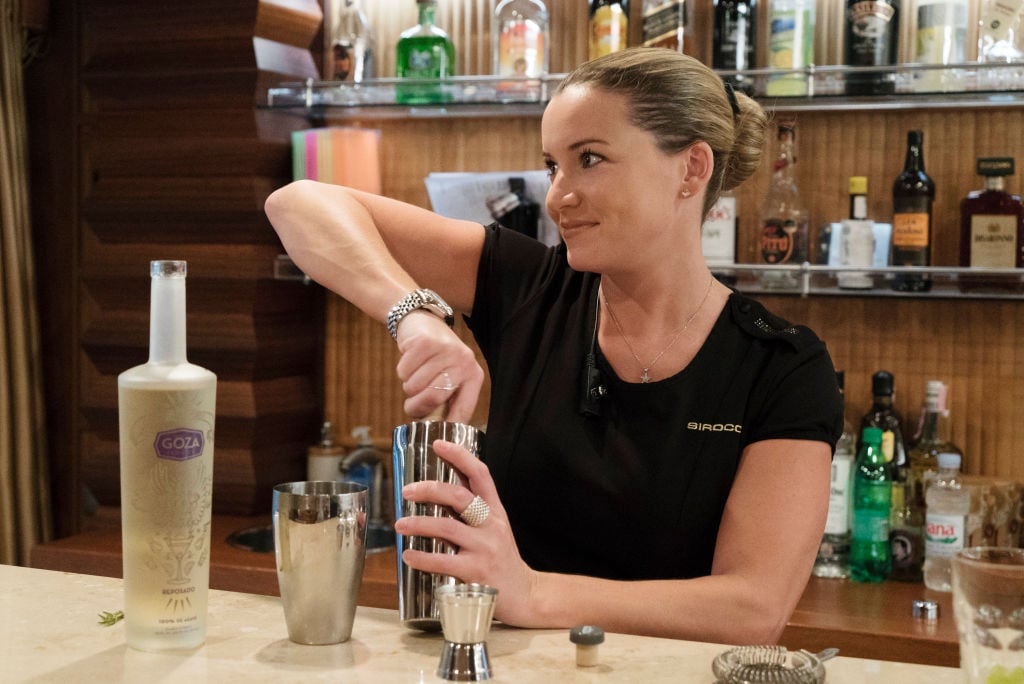 Ferrier and Flumiani started the season with tension when Flumiani essentially tried to gaslight Ferrier over a beer order. Ferrier looked stunned as the second stew insisted that the way Ferrier asked about the order was wonky. Previews also indicate the two clearly don't get along.
Ferrier confirmed during the episode that Flumiani was a source of her stress this season too. In fact, she told one fan on Twitter she would have rather gone through the season without Flumiani. "These days I would genuinely prefer to have no stew then a stew with an attitude like that…," she tweeted.
Ferrier said Flumiani was being passive-aggressive
Ferrier could tell Flumiani was going to question everything she did. So she quickly shifted her to third stew duties like doing cabin turn downs. Of course, Flumiani wasn't happy about the shift, but Ferrier insisted she was just cycling both stews through various duties to avoid boredom.
However, Ferrier could tell Flumiani was making passive-aggressive jabs at her from the jump. "Passive aggressive for sure. I have never had a stew like her before. I felt like I was going completely mad but watching it I realise she was actually that bad…," she tweeted when a fan asked what was happening with Flumiani.
She added that Flumiani also added pressure to her job too. "I was super uptight," she admitted when a fan observed she seemed tense. "It's a lot of stress and pressure and after 12 years in the industry I know what's coming with a stewardess with an attitude like that!"
She's missing Aesha Scott and Anastasia Surmava more than ever
Last season was a complete contrast to this season. Ferrier became fast friends with stews Anastasia Surmava and Aesha Scott. The trio hardly fought and was a united team. "It's premiere day of #belowdeckmed season 5! Tune in to catch me literally tearing my hair out and missing @aeshaand @nastiasurmava like I've never missed anyone in my life!!" Ferrier shared along with a photo.
A fan observed that this was the most nurturing Ferrier has been. But she replied, "Did you see season 4? With Aesha and Anastaisa?? Where we got along so well and worked so well together and I looked after both of them so much? No!?"
Surmava was active on Twitter during the episode, sharing some insights and remarks. She re-tweeted Ferrier's post about the premiere. "The queen has arrived," Surmava wrote. As the temporary yacht chef last season, Surmava honed in on what chef Hindrigo "Kiko" Lorran was dealing with this season.
"I can't wait to see what Chef Kiko creates," she tweeted. Adding, "Chef Kiko describing himself as a "lover chef" pulls at my heart strings." She also lived through the chef mess from season 4 too. "@CaptSandyYawn having PTSD chef problems! I cannot blame her! Chef Kiko seems to be amazing so far," she tweeted.
Below Deck Mediterranean is on Monday at 9/8c on Bravo.