'Below Deck Med': Hannah Ferrier's Net Worth Could End up Being Larger Than What the Typical Chief Stew Makes
Hannah Ferrier from Below Deck Mediterranean may be able to ride off into the sunset with some pretty lucrative deals if she continues to leverage her brand after she leaves the series.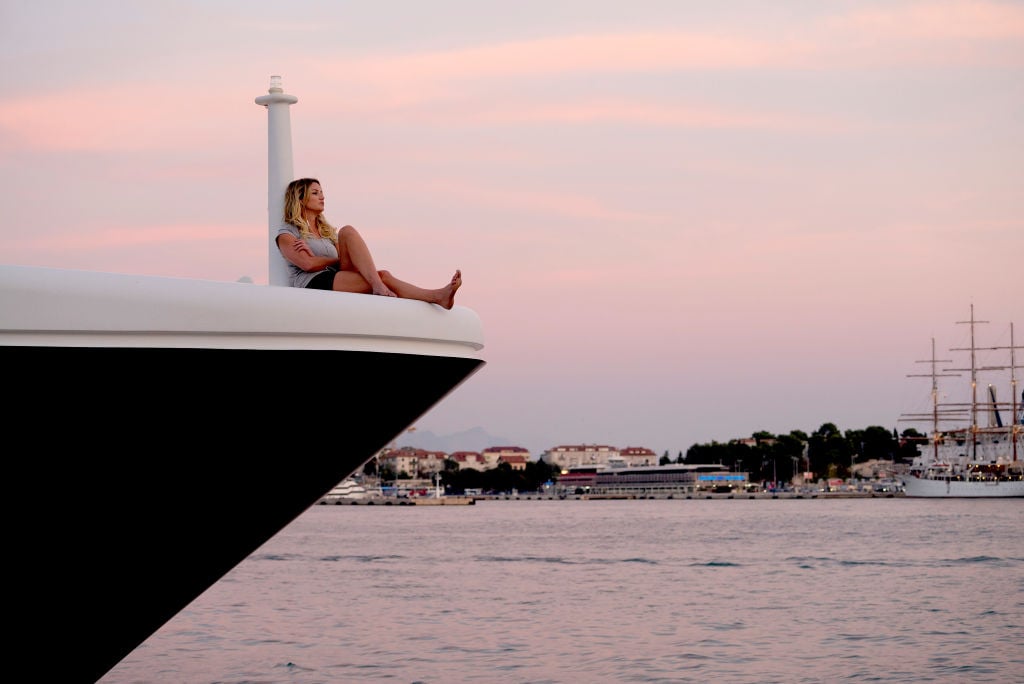 Ferrier has indicated that she planned to make season 5 her last. And while rumors swirled around her departure, she then announced she was five months pregnant. Her baby is due in late October, which is typically when the series shoots.
Like former chief stew Kate Chastain from Below Deck, Ferrier hinted that her time on the series had run its course and she was ready for a new adventure. While she may be stepping away from both the show and yachting, she could keep the money machine running with sponsorships and brand building.
She could leverage her Instagram to make bank
As a new mother, Ferrier may want to stay close to home, especially during those early years. If she remains active on Instagram, she could build a brand to generate a windfall that far exceeds what she was banking as a chief stew on the series.
Some reality cast members have made more than $1 million just through Instagram alone, according to MediaKix. Former Bachelor contestants have leveraged their social media presence to cash in, but so has Teresa Giudice from The Real Housewives of New Jersey.
Scoring sponsorships may be an ideal pathway for Ferrier to generate some serious money. High profile reality personalities like Ferrier could make $5,000 per sponsored post on the low end. But she could make $15,000 for a high paid sponsored post. MediaKix tracked that "top-rated" reality personalities shared up to eight sponsored posts per month. On the low end, that would amount to about $444,000 per year. This is just in sponsored post income.
She could also cash in with appearances and products
Ferrier collaborated on a line of fun wine glasses last year. She announced the line on Instagram along with a few visuals. "Hey guys!!!! Here are the wine glasses you never new you always needed!! You can purchase them @buffalovely716 and make sure to use discount code HANNAH for 5% off all purchases throughout the entire website!!"
She's also active on celebrity video message platform Cameo. Fans can order a personalized video from Ferrier for only $49. Celebrities on Cameo set their own price and earn about 75% of the price, according to The New York Post.
Additionally, Ferrier could join one of the many celebrity tours. Companies like Stars Marketing Group hosts a number of events that feature several Below Deck cast members, including Captain Lee Rosbach, Malia White, and Colin Macy-O'Toole.
Chief stews make about $80,000 a year (in salary)
Chief stews can still make serious bank. Annual salaries range from $42,000 on a small yacht to more than $80,000 for larger boats, according to Crewfinders. But this figure only accounts for salary. Tip money can bolster the base salary much higher.
Ferrier's tip totals were tracked and she's made about $51,162 for four seasons, Decider shared. This averaged to $12,790 per season.
As far as payment to be on show, Below Deck cast members aren't making Housewives or Vanderpump Rules type dough. In fact, they make the bulk of their money in tips seen paid out during each episode and their salary. Production only pays the cast a "small appearance fee," which means brand recognition and development is vital for cast members who want to generate more income.