'Below Deck Med': How Much Money Do Yacht Captains Make and Do They Earn Tips?
Captain Sandy Yawn from Below Deck Mediterranean loves to mentor enthusiastic crew and supports bosun Malia White's journey toward becoming a yacht captain.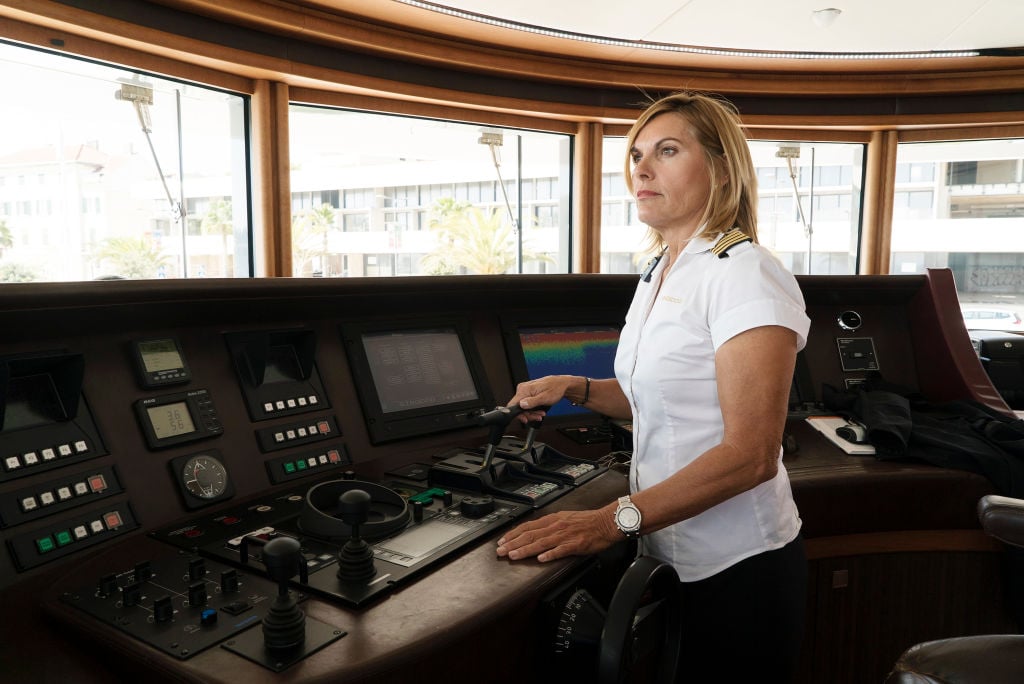 White is seriously on her way as she's been racking up various captain's licenses and is already showing leadership skills. Crew members have shared that yachting is a tough profession. But the industry is hard to break free from because the money is so attractive. Bosun (now captain) João Franco told Showbiz Cheat Sheet he's heard that some crews have made $45,000 in tip money alone in a single season.
While crew members typically track the tips on charter yachts, what about the captain? Do yacht captains also get tips? Plus if they don't is their salary substantial enough that they won't miss that sweet tip money?
The average yacht captain salary in 2020 varies
Yacht and superyacht captains are typically compensated based on the size of the boat. Certainly years of experience, certifications, and overall reputation likely come into play. But the bigger the boat, the bigger the salary.
On the highest-end, superyacht captains commanding 80 meters or larger yachts typically rake in more than $200,000 a year. The Wellington featured on Below Deck Mediterranean is 56.2 meters or 184.5 feet. Superyacht captains at the helm of a 40 to 60-meter yacht typically make anywhere from $96,000 to more than $200,000 a year.
RELATED: 'Below Deck' Cast Members Dish How They Make Bank Working on Yachts
The Below Deck franchise often features a deckhand who shares that he or she is a boat or yacht captain. Deckhand Pete Hunziker immediately let White know he's already a captain. While it is certainly an impressive accomplishment, being a yacht captain can also mean you are in charge of a smaller, 20 to 40-meter yacht. Yacht captains on smaller boats still make bank at $54,000 to $132,000 annually.
Does the captain usually get a tip?
Yawn, Captain Lee Rosbach from Below Deck, and Captain Glenn Shephard from Below Deck Sailing Yacht are never seen receiving tip money. They excitedly share the wad of cash the guests provide but are never seen taking their own stack.
In real life, the captain typically divides the tip evenly across the board to the crew, but whether or not the captain receives tip money is usually up to the captain.
RELATED: 'Below Deck': Are Tips Always Given in Cash?
While the captain does not partake in the tip on Below Deck, he or she may commonly walk away with some of the tip share according to Yachting Pages Media Group. "A yacht captain's salary can be supplemented by any tips left by charter guests at the conclusion of their time on board." This means, "Taking this into account, a captain's take-home pay is generally a lot larger than their contracted salary."
Captain Lee from 'Below Deck' shares his familiar tip policy
Yachties commented about the practice on a Dockwalk thread, with one crew member sharing that the captain would actually keep most of the tip money. Others shared that tips were split evenly, but that also included the captain.
Rosbach shared his familiar policy on the thread. "I do not think it is fair for the Captain to keep the lions share of the gratuity," he began.
RELATED: 'Below Deck Sailing Yacht': How Do Parsifal III's Tips Stack up in the Series?
"On any yacht I have command of, we have a policy that I inform all crew of from the date they start, concerning tips," he continued. "We all share equally. Everyone gets the same amount. If a [particular] crew member is not pulling their weight and really doesn't deserve a full share of the tip I handle it this way. I still divide the tip evenly and the crew member who really doesn't deserve a full share gets something extra in his or her envelope along with their full share, a one way plane ticket home."  
"Everyone who has worked with me knows this policy, and it has always served me well in the past and I see no reason for me to keep money I didn't earn, or to keep crew members to don't pull their share. Thanks for the opportunity to spout off."