'Below Deck Med:' How Much Money Do Yacht Chefs Make?
'Below Deck Med:' How Much Money Do Yacht Chefs Make?
Being a chef can be pretty intense work. If you chef in a restaurant, you generally work on concert with a team that support your efforts. Yacht chefs like those seen on Below Deck and Below Deck Mediterranean may not get that kind of support. In fact, it appears yacht chefs are a one-person show.
The chefs featured in the franchise show how tough chef work can be while working on a yacht. From managing guest demands to not having quick access to a wide variety of ingredients, a yacht chef's work differs greatly from someone working in a restaurant or in a private setting on land.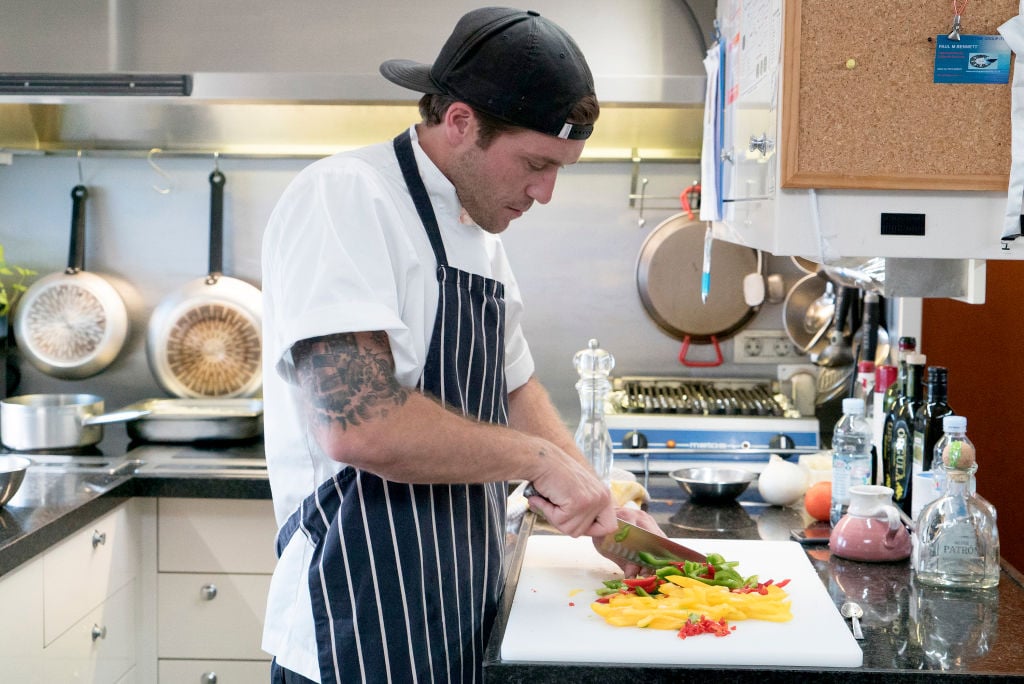 A yacht chef shared with Vice about some of the challenges a yacht chef deals with. Also, tips and the salary are pretty nice, but is it worth it for most chefs?
You have to get creative
An anonymous superyacht chef spoke to Vice about what it is really like cheffing on a yacht. Feeding both the crew (and guests) can be tough in the less bustling charter areas. "Being in these quieter anchorages makes it harder to get food," the chef said. "One of the challenges is keeping enough produce on board for a constantly hungry, hardworking crew." The chef often ventures into town to uncover decent ingredients which can be hard to find.
Also, those tight storage spaces seen on Below Deck are pretty realistic. "Storage is another issue. The boat is a classic replica of a racing boat so finding space is phenomenally difficult. I'm used to having to store my flour and my cleaning products in the bilge—you end up just finding any place to store your stuff."
The chef also told Vice it is true about not getting a break at work. While frown upon on Below Deck the chef admitted to catching a buzz after dinner service. But, "I might leave the boat once every ten days and join the crew for drinks in the main port if I can finish dinner service in good time. Otherwise, it's no looking at my phone, no sending emails. It's 100-percent work when the guests are onboard."
You have co-workers but…
Chefs on Below Deck seem to be shown as a one-person show. But the chef who spoke to Vice said there is support staff. But, in many cases, you may be dealing with a problematic personality. The chef talked about being a galley hand first and dealing with head chefs along the way.
"The head chef turned out to be a raging alcoholic dickhead. Working for him was tough and taught me you don't have to be one of those angry chefs. Like, it is OK if people want to come to the kitchen fridge and help themselves to a slice of watermelon."
But the next chef wasn't much better. "My next head chef, this lovely big Scottish guy, just stopped getting up for work in the mornings. I ended up cooking for all of the guests and my boss said to me, 'See how you do in charge for the rest of this charter.' That's when I went from a galley hand to feeding guests who were paying hundreds of thousands of dollars a week. No pressure."
Chefs do make bank
According to ZipRecruiter, yacht chefs make on average of about $48,090 a year. ZipRecruiter has seen salaries as high as $80,500 and as low as $20,000. But most yacht chefs make between $37,500 to $51,000 a year.
Tip money can be extremely lucrative too. Bosun João Franco told The Cheat Sheet it is possible to make $45,000 in tips alone during a single summer season.  "On charter boats, tips can be as much as €4,000 per person, per week and in some cases even more. We've heard of crew members that rack up €40,000 in a summer season each, just on tips!"
The chef who talked to Vice agrees that even though you work hard, you make a lot of money. "I earn €4K a month, and work nine months a year. I get tips on top of that, like recently when a businessman and his family who flew in and out from London on a private jet tipped me €1000 for ten days. That's not even that much in this game. But all in all, it's more money than I think I will ever earn."
"That said, I know a guy who's a world-class chef working for a Norwegian owner, earning over €100,000 a year and he's only cooking for 2 months. We'll see."
Check out The Cheat Sheet on Facebook!