'Below Deck Med': Is Rob Westergaard's Love Life Interfering With Work?
Rob Westergaard from Below Deck Mediterranean seems to be more distracted than ever after he misses several crucial attempts to help dock the boat.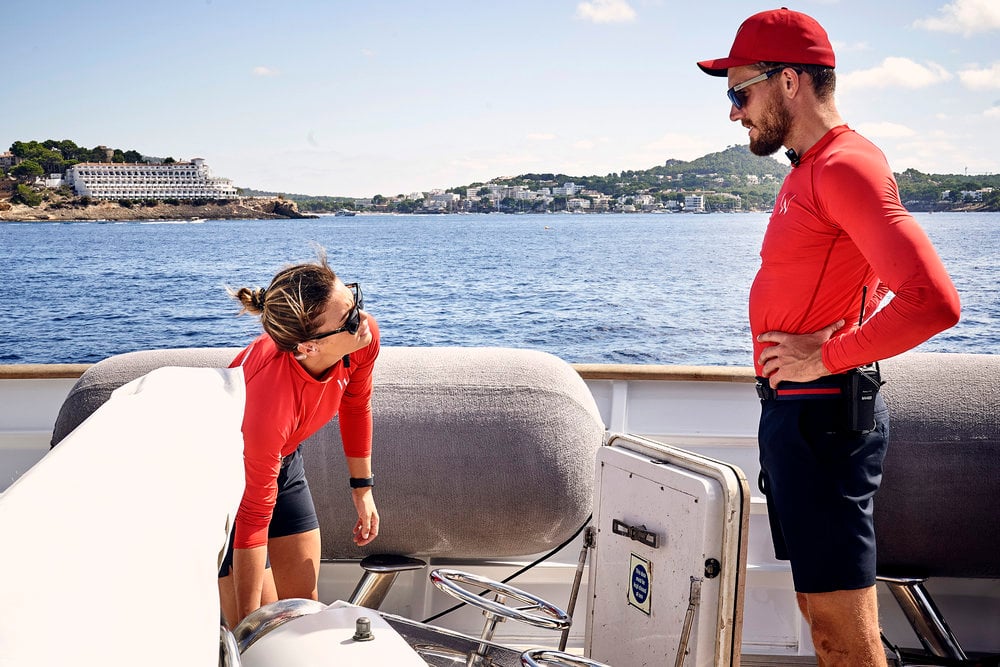 Westergaard and Jessica More's boatmance starts to breakdown after he reveals to her that he's been texting with a former girlfriend. More lets him know she's not happy that he's communicating with an ex, and it seemingly eats away at both of them. More has heart palpitations after a crew swim and Westergaard seems checked out at work.
He even admits to Captain Sandy Yawn he wasn't mentally present on deck after she wonders if he's tired. Of course, Yawn is shocked that he openly admits to being checked out at work. He becomes even more distracted during an upcoming episode when he can't seem to throw the line when it comes time to dock the boat.
Rob Westergaard and Jessica More are no longer getting along
The relationship begins to crumble after Westergaard admits he is texting with an ex. More is frustrated that Westergaard feels the need to communicate with his ex-girlfriend. But Westergaard doesn't understand her reaction.
He asks her if she's "in her head" while the two get ready to dock the boat in their cabin. "What are you talking about," More responds in an upcoming episode clip. He replies that she seems like she's in her head.
RELATED: 'Below Deck Med': Jessica More Reveals That She's Never Been Deceived by a Man Like This Before
More tries to respond but he shuts down. "I don't want to think too much anymore, you know?" he says. "Yes, we should understand one another, you know.
"Then I won't ask and when I don't ask don't think I don't see you," she says. "I just won't ask."
Westergaard is the one in his head now
Although he said he didn't want to think too much about the relationship, Westergaard's head isn't in the game when it comes to docking the boat. He first stops to help More with what she needs to do to dock the boat. Bosun Malia White looks on, appearing annoyed because Westergaard should be in position.
The boat approaches the dock and White directs her deck team to throw their lines. Westergaard throws his line but it falls short. "Quickly, quickly, pick it out of the water," White demands as the boat is nearing the dock but Westergaard's line is not secure.
RELATED: 'Below Deck Med': Jessica More Says She and Robert Westergaard No Longer Speak
Westergaard scrambles to pull the line out of the water while deckhand Alex Radcliffe successfully throws his line. Westergaard finally drags the line out of the water and re-throws it only to miss again. The crew starts to get annoyed as the boat is getting even closer to the dock. "Dropping lines like that is total amateur hour," White says in a confessional. "If she loses her stern coming in there, that's a disaster."
White radio's to Yawn that the crew is still working on the stern line. "I just wanna dock this boat," Yawn says looking out the window. Unfortunately, Westergaard's third attempt at throwing the line falls short as White becomes even more frustrated.
Below Deck Mediterranean is on Monday at 9/8c on Bravo.