'Below Deck Med': Jessica More Says She Was Just as Shocked as the Viewers by Lara Flumiani
Despite being only two episodes in, season 5 of Below Deck Mediterranean already resembles Game of Thrones.
Viewers anticipate turbulence within the hierarchy driven docudrama, but any pushback from subordinates usually builds over at least a few charters. This isn't the case, which may be why Bravo refers to this season as the "most dramatic" ever.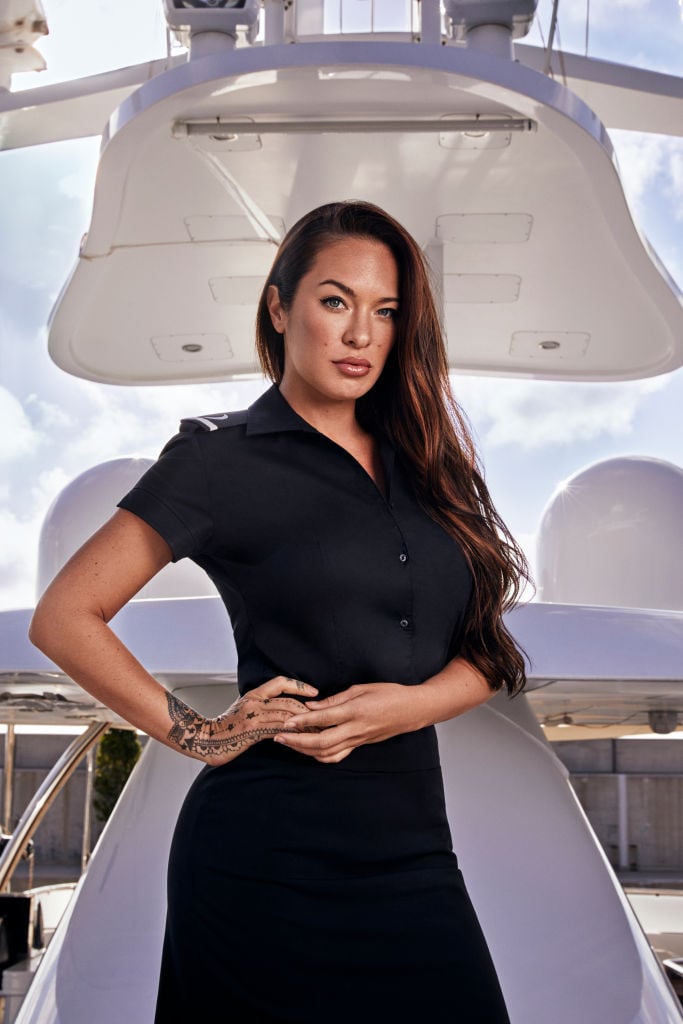 Chief stew Hannah Ferrier has been challenged by second stews in the past. Christine "Bugsy" Drake previously worked as a chief stew and told Ferrier she thought she was terrible at her job. But Drake waited to share her assessment until the end of the season.
This year, second stew Lara Flumiani didn't wait to challenge Ferrier. She came for her on day one of the first charter, shocking Ferrier and viewers. In the crosshairs is third stew Jessica More. More offered her insight into what she witnessed on the boat with Showbiz Cheat Sheet. Plus, she dished about her upcoming romance with deckhand Robert Westergaard.
The crew were just as shocked as the viewers
More bunked with Flumiani but said she had little to no insight into why she came in so hot. "I think we all missed it in the whole world," More said referring to why Flumiani seemed to suddenly turn on Ferrier. "In real time of that happening, that's literally how it felt for myself. It was like 'Whoa, wait, what just happened?' Literally how I felt."
She also shared a small cabin with Flumiani, but couldn't put her finger on what exactly was off. "I bunked with her, yeah, you know I'm kind of energy sensitive so it was a little odd from the beginning. I honestly can't explain her. We had a few interactions, but nothing I can recall. As a roommate, she was fine. Getting ready for a crew night out we interacted and shared the mirror. And she was cool about it."
While More thought Flumiani seemed fine at first, she noticed a change once they got to work. She said Ferrier shared with her what went down in the crew mess. "She told me but I was still learning Hannah," More said. "So I don't really know if she's exaggerating or not at the beginning. Obviously I learned Hannah and I know that she's not when she's mentioning something."
"I could never imagine treating my chief stew that way, ever," she added. "I was really intimidated [by Ferrier] at first. But we had a conversation and I let her know I don't have my set ways of being a stewardess. I am very open to your suggestions and your way of doing things." She says the conversation set the tone for a healthy and happy working relationship with Ferrier.
More said she also wasn't going to take it from Flumiani either
At one point Flumiani argued with More about stew duties, implying that More should handle the cabins during breakfast service. More stood her ground and wanted to take direction from Ferrier, reminding Flumiani they were both handling breakfast. "With me being third stew and second stew within my career, I get ordered around a lot," she shared. "I don't have any issue with that."
"The problem is the disrespect," she continued. "With her, it was the disrespect and I felt like it wasn't coming from a place of serving the guests the best that we possibly could. So I will stick up for myself and I will also stick up for the integrity of the whole crew."
She added that she really bonded with chef Hindrigo "Kiko" Lorran, describing him as an incredible chef who is just as sweet as he seems to be on the show. "He's such a good chef and I couldn't have been happier working in the galley with him," she remarked. "He has such pleasant energy. He's childlike. A ray of sunshine." More added she's still friends with just about everyone from the boat with a few exceptions.
Did her 'boatmance' stay out to sea?
A relationship between More and Westergaard was teased in the trailer and More opened up about the romance. She admitted it was her first "boatmance" adding, "They always say don't screw the crew."
Despite Westergaard being a former model, More says she was more intrigued by his quiet nature. "I like to figure people out," she said. "It really drew me to him because I just found it intriguing him being quiet. And he always looked like there was a lot of things going on in his head. So I think just my curiosity got the best of me and I wanted to figure out what was going on."
She says viewers will see their romance play out this season. "It will get a little interesting, and entertaining … and steamy," she teased. "It's definitely a 'boatmance' that happened." Adding it was "intense."
Below Deck Mediterranean is on Monday at 9/8c on Bravo.