'Below Deck Med': Kate Chastain Plans To Offer More Hot Takes on This Season
Kate Chastain from Below Deck has already offered some spicy and controversial insights into the explosive season of Below Deck Mediterranean. Now she's going to make it a regular gig as she announced a new Bravo series.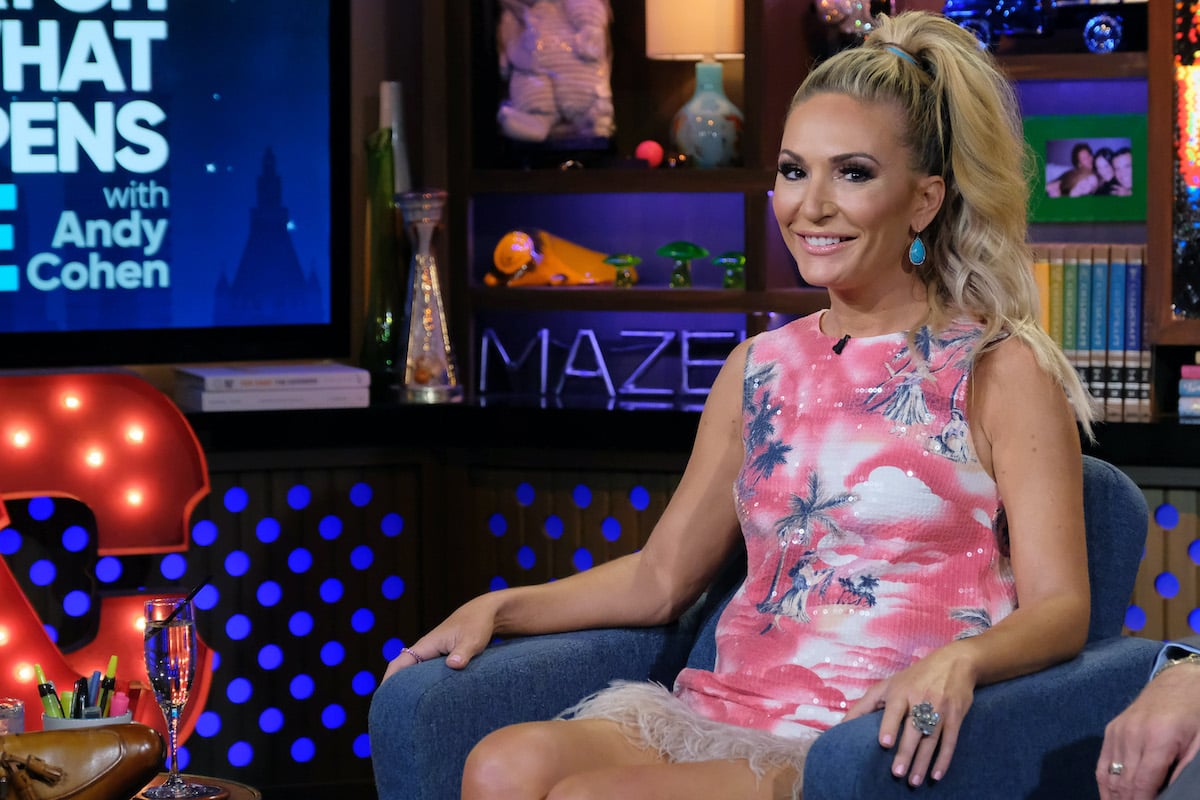 Below Deck Mediterranean Watch with Kate Chastain premieres on Tuesday, September 8 at 8/7 central on Bravo. Chastain hinted that the series was coming on Twitter last week. "I'm getting a lot of tweets asking my opinion re: this season of #BelowDeckMed and I'm sorry…im just not comfortable discussing something I wasn't there for on social media," she tweeted along with photos.
"I prefer televised full episode commentary," she added. "Of the most dramatic episodes. Airing in September."
Kate Chastain has already offered a sneak peek into the series
Shortly before Chastain formally announced the series, she shared a short clip to Twitter. She's watching Below Deck Med, sipping champagne and dropped this bomb. "Tom's a little b*tch," she said shaking her head with a slight smile.
She's likely referring to some of the tantrums chef Tom Checketts has thrown, even though he's only been on the boat for less than 72 hours. Checketts fell into the role as he was merely coming to Spain to visit girlfriend bosun Malia White. Chef Hindrigo "Kiko" Lorran was fired and Checketts arrived almost immediately after Lorran departed.
Captain Sandy Yawn learned that Checketts was not only a professional yacht chef, but he was also in-between gigs. She asked him to stay but he was thrown into the job with little to no preparation. The seemingly calm chef started to spiral after a last minute cake request and food being sent back.
Chastain has also been blunt about why Hannah Ferrier was fired
Chief stew Hannah Ferrier was fired only hours after Lorran left the boat. White sent a photo of Ferrier's unregistered prescription valium to Yawn, leaving Yawn with no choice but to dismiss Ferrier. Yawn said she didn't feel safe going to sea with Ferrier.
Chastain said Ferrier didn't get fired because of the unregistered valium. "If Hannah was a fantastic chief stew, hard-working, good team player," Chastain said on Another Below Deck podcast. "I think they would have been like, 'Okay, you have a prescription and you're such a valuable asset. You did forget to tell us to put it on the ship's roster of drugs. But now we will. Thank God we didn't get caught. Let's move forward.'"
"But I think, she wasn't good at her job," she continued. "Even when she was sober, she still wasn't that good at her job. She wasn't good for morale. To go around telling people 'Kiko was my best friend and now I'm all alone.' Be an adult. You're basically separating yourself from the rest of the crew which is not cool."
Chastain was challenged for her remarks on Twitter. But she shared that there is probably more to the story. "I'm not exactly sure the printed Rx box was on board at the time," she replied to someone who asked about the prescription. "It was never presented. It's just a shame b/c there's a lot more to the story than what aired honestly but it's not my place to make public."