'Below Deck Med': Malia White Insists Hannah Ferrier Was Taking Valium Every Night All Season
Hannah Ferrier from Below Deck Mediterranean asserted that she was taking Advil for swollen feet, but bosun and Ferrier's bunkmate, Malia White says she was instead taking valium.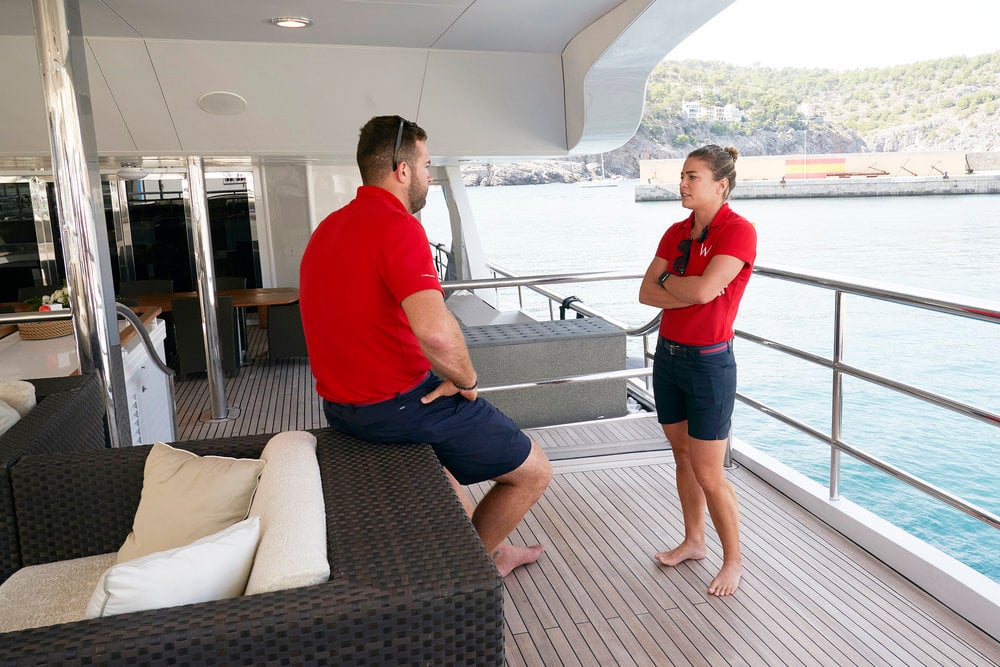 White appeared on Watch What Happens Live with Andy Cohen following one of the most dramatic episodes this season. After fighting with Ferrier over room assignments when her boyfriend is named the new yacht chef, White is seen taking a photo of Ferrier's prescription valium. White then shared the photo with Captain Sandy Yawn.
The episode ended with Yawn confronting Ferrier about the medication. White defended her position on WWHL. "I think in that moment when she asked for valium is when it really hit me that those were the pills that she was taking every night all season," White said. "That's when it became a real serious thing for me."
Malia White says she turned in Hannah Ferrier because she didn't want to lose her license
Host Andy Cohen wondered if White sent the photo to Yawn because it was her duty or because she was upset about the room arrangements. "I already had my bunk at that point," White laughed. "So yeah, it was my duty to. I don't want to lose my licensing."
Prior to the episode, White shared a lengthy Instagram post about the dangers of the crew having drugs on board the yacht. Since the reveal had not occurred, White eventually deleted the post.
"If any crew member suffers from a mental health condition that they require medication for they must disclose that to the Captain BEFORE signing onto the boat," she wrote. "They then under the supervision of Captain or Officer can be given medication as needed and evaluated to see if they can still stand duty."
RELATED: 'Below Deck Med': Malia White Explains That Crew Must Register Prescription Medications With the Captain
"While at sea the Captain is the medical person in charge- any and all medical decisions MUST go through them," she added. "Taking any sedative while on duty is completely illegal and could cost myself, the officers and Captain Sandy all of our licensing."
"Not to mention possible jail time and fines if an incident occurred & a crew member was found to have been on something without authorization," she wrote. "Reporting any incident especially one we witness is all of our job. Yachting is my career- I'm not here to worry about plot twists & TV drama- I'm here to do my job and learn how to become a Captain. Maritime laws are in place for a reason."
Ferrier thinks White's moves were underhanded
Ferrier shared in an Instagram Live that she thought White's actions were both "snakey" and "underhanded."
"I was really disappointed because I felt like Malia and I got along quite well all season," Ferrier said. Adding, "I feel like we were respectful to each other. I really didn't realize that Malia and I were in such a bad place that she would do that. It's just very snakey, very underhanded."
RELATED: 'Below Deck Med': Hannah Ferrier Stands by Her Assertion She Was Taking Advil on the Boat
Former Below Deck Med bosun João Franco agrees that it is the crew member's duty to report substances to the captain. But he shared in an Instagram Live that he would talk to the crew member first. "So my obligation to maintain safety is to approach the person to say, listen, I know of this," he said. "Does the captain know this? Yes, the captain knows of it, and Okay, no problem. Would you mind if we just go and discuss it together? Because I feel that it's affecting your ability to work."