'Below Deck Med': Many Season 1 Crew Members Have Found Love
At least five out of the eight yachties from 'Below Deck Med' found love since season 1.
The relationship status for several yachties from Below Deck Mediterranean season 1 has drastically changed. At least one cast member has already gotten married, two are engaged, one is expecting a baby and even chef Ben Robinson is in a serious relationship.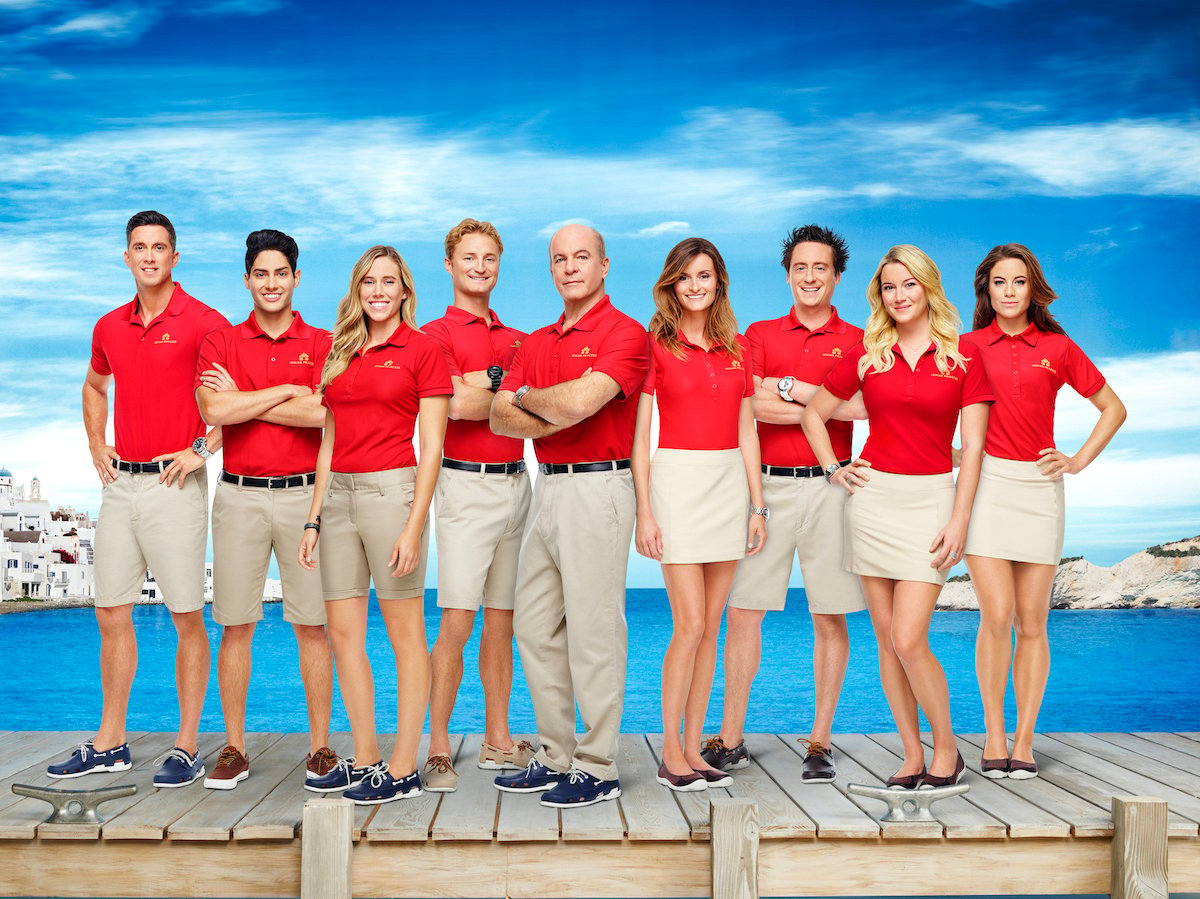 The series debuted in 2016 using Robinson as the crossover cast member from Below Deck. At the time, the series featured Captain Mark Howard at the helm and eight crew members looking for adventure and possibly love. At the time, second stew Julia d'Albert Pusey was in a serious relationship. She's gotten engaged and married since leaving the show.
But, for the most part, every other crew member was single. However in four short years, most of the crew has found love and are either planning for a wedding or even a baby.
Two crew members are engaged
First mate Bryan Kattenburg and third stew Tiffany Copeland both got engaged since leaving the show. Kattenburg shared a photo with his girlfriend wearing her engagement ring in 2019. "March was a great month, but especially because of this moment. Love you giulz! Let's ride into the sunset together! So many adventures ahead!" he captioned the image.
Copeland had a funny story of how she ended up with her engagement ring. She's now a boat captain and found herself dealing with a hurricane and a fire at the marina where she was docked. Her boyfriend met up with her to offer his assistance which is when she accidentally found her engagement ring.
"That night, while watching #BelowDeckMed, laying in bed (also below deck haha), Evan and I took some selfies on his phone. I went to look at them and scrolled one picture too far," she shared on Twitter along with a photo of the ring on her finger. "I saw a ring. Oops! But luckily it was a day earlier than he had planned asking, but at least we have a funny story." 
Hannah Ferrier is pregnant
Chief stew Hannah Ferrier is hanging up her skort after season 5 because she is expecting a baby in October. Ferrier made the announcement after a fan leaked a photo of her growing belly. The fan acted confused and didn't realize the photo was from Ferrier's private Facebook account.
"You posted a photo from my personal Facebook before I had announced it and forced me to announce before I was comfortable," Ferrier replied to the fan on Twitter. "THAT'S why I asked you to take it down."
Nevertheless, Ferrier is thrilled that she is about to become a mother. She and boyfriend Josh are enjoying her pregnancy after a few months of morning sickness. "I always thought people were crazy when they said they enjoyed being pregnant but I totally get it now!! I am absolutely loving everything about it!! From the changes in my body, to the closeness in my relationship, to feeling kicks and movement and I'm especially loving falling head over heels in love 💗💗💗," Ferrier shared on Instagram.
Chef Ben has found love too
Robinson recently shared photos and some remarks about his new girlfriend who he has been in quarantine with in Florida. She was the "camera crew" for Robinson's Instagram Live pizza making parties. Plus he shared a photo of the couple after they spent time relaxing at a local hotel.
"Thank you so much @laplayanaples for an incredible stay! Highly recommend this beautiful beach resort destination in Naples, Fl. Beautiful resort, amazing staff, all around an amazing vacation!" he wrote and tagged her.