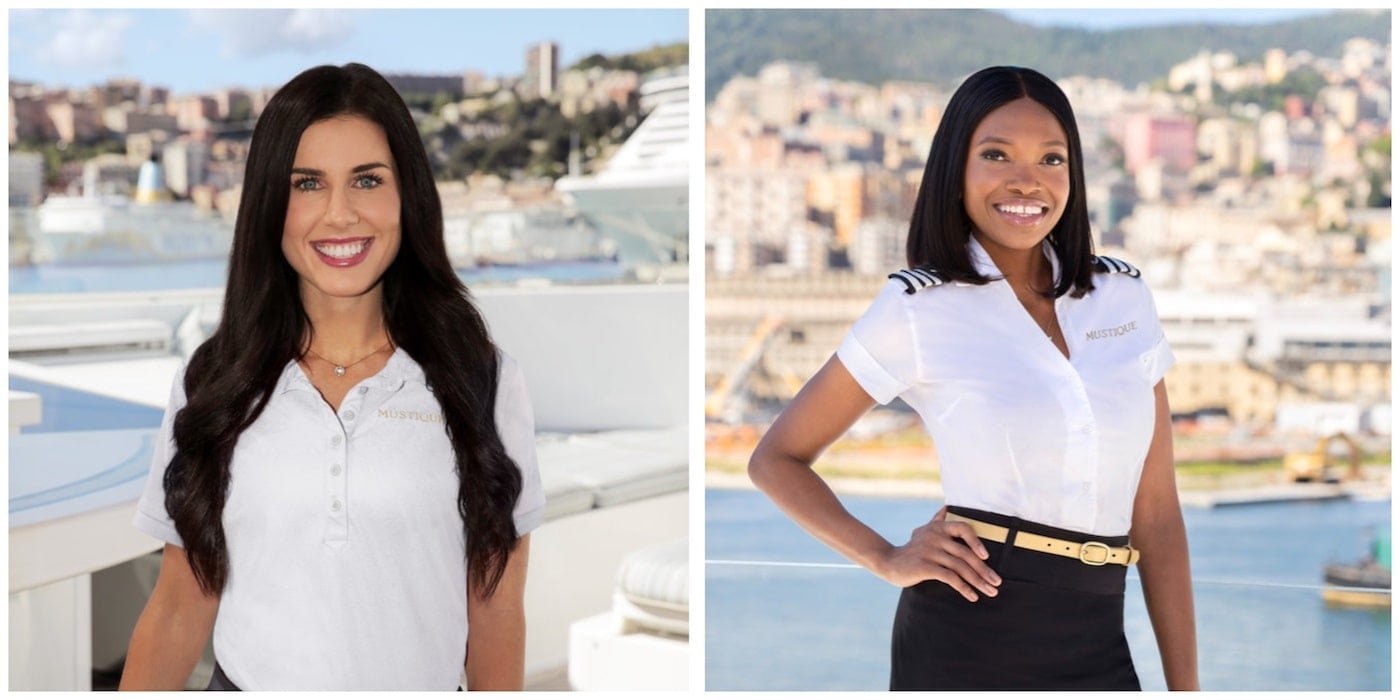 Exclusives / Thanks, I Hate It
'Below Deck Med': Natalya Scudder Explosive Clash With Tumi Mhlongo: 'More Drama Than With Tash' [Exclusive]
Temporary chief stew Natalya Scudder was excited work with Tumi Mhlongo once she got on board – but that all changed once she arrived.
Below Deck Mediterranean chief stew Tumi Mhlongo wasn't exaggerating when she told fans to buckle up for the wildest ride yet. Mhlongo, who was the direct but amiable second stew on Below Deck Down Under Season 1, may have met her match in temporary chief stew Natalya Scudder.
Because Mhlongo was held up in immigration, Scudder temporarily stepped into the chief role. She was excited to meet Mhlongo because she enjoyed her on Below Deck Down Under.
"Her coming on board, I'm actually very excited. I saw a lot of her work from the Australian Down Under season. I saw her table decorations. I'm very positive about her coming. And I couldn't wait to see what she does. I'm actually very excited for her to arrive," Scudder told Showbiz Cheat Sheet.
She was hopeful this season would be less drama coming from the chief stew. Last season, Scudder had chief stew woes when she became increasingly frustrated with chief stew Natasha Webb. Webb became hyper-focused on her fractured boatmance with chef Dave White and an ex-boyfriend she spent a significant amount of time texting.
Unfortunately, Scudder's optimism for a fun charter season went south once Mhlongo arrived on board M/Y Mustique.
Natalya Scudder says her clash with Tumi Mhlongo is more drama than Natasha
Scudder said the tears seen in the trailer definitely had something to do with Mhlongo. "Can't give away too much, but yeah, it's we definitely have a lot of moments and there is a lot of times during the seasons we have ups and downs," she said. "But it's definitely some of the most drama I've ever had, more than what I had with Tash."
"I think anyone can see from the commercial things just get heated," she continued. "The dynamics are weird. We've got a lot of strong personalities here. So lots of big personalities on board and I get along with the majority of them. But also there are people you're naturally just not going to click with. But I really do put in my best efforts to get along with Tumi. As I said, I watched her season. I respected her and I thought she sounded so lovely and I loved her work."
Does Natalya have an issue with moving back to second stew?
Scudder stepped down to second stew once Mhlongo arrived, but insisted that she was happy to move into a lower rank. "I'm happy being in any position because I just think being in a lower position, you're doing your job, but you can relax a little bit more, interact with the crew a bit more," she said.
"Because when I'm chief stew I'm very focused on getting the job done. I'm very serious and I like being a bit more playful and hanging out with the crew. So, step me down. I'm quite happy to stay in the lower ranks."
At the same time, Scudder and Mhlongo had very different approaches to the job, which seemed to fuel the drama. "But it's also very difficult for me to step down. Just because I have been in yachting for eight years. And I have been chief stew on multiple different vessels. So I'm used to managing a team and I definitely know how it should be done. So it was interesting to watch someone else come in and take over that role."
Tumi Mhlongo isn't the only 'Below Deck Med' crew member clashing with Natalya Scudder
Mhlongo isn't the only crew member Scudder will clash with this season. "I clash heads with a solid two or three people this season," she said. Last season, she had a conflict with second stew Kyle Viljoen. Viljoen also returns for Below Deck Med Season 8.
"I'm very welcoming and I love positive energy. But when someone disrespects me or when someone upsets me, I'm definitely not one to sit back and just be like, 'Yeah, that's fine. They treat me like that.' Obviously, I start off as the chief stew. So, I try to be the most respectful when [Tumi] comes on board. And yeah, I just don't feel respect from some people. So I just kind of bite back. And people might say that is like the hierarchy or you are being disrespectful, but I respect anyone until they give me a reason not to and I can't bite my tongue."
She's also learned something from watching her first season of Below Deck Med. "Last season I did let things go on for too long and it got to be like a pressure cooker. Things start to boil and I'm like, it's been a couple of weeks now. And I do feel like I'm like I'm putting in a bit more effort. And then I think I finally snapped. So this season I tried like address things a lot more quicker than carrying on for like multiple weeks into the charter season."
Below Deck Mediterranean Season 8 is on Monday, Sept. 25 at 8 p.m. ET on Bravo.