'Below Deck Med': New Crew Member Leads to Series High Ratings
The new 'Below Deck Med' crew member meant explosive ratings for the series.
Below Deck Mediterranean continues to smash cable rating records as the introduction of a new crew member reached new heights for the series.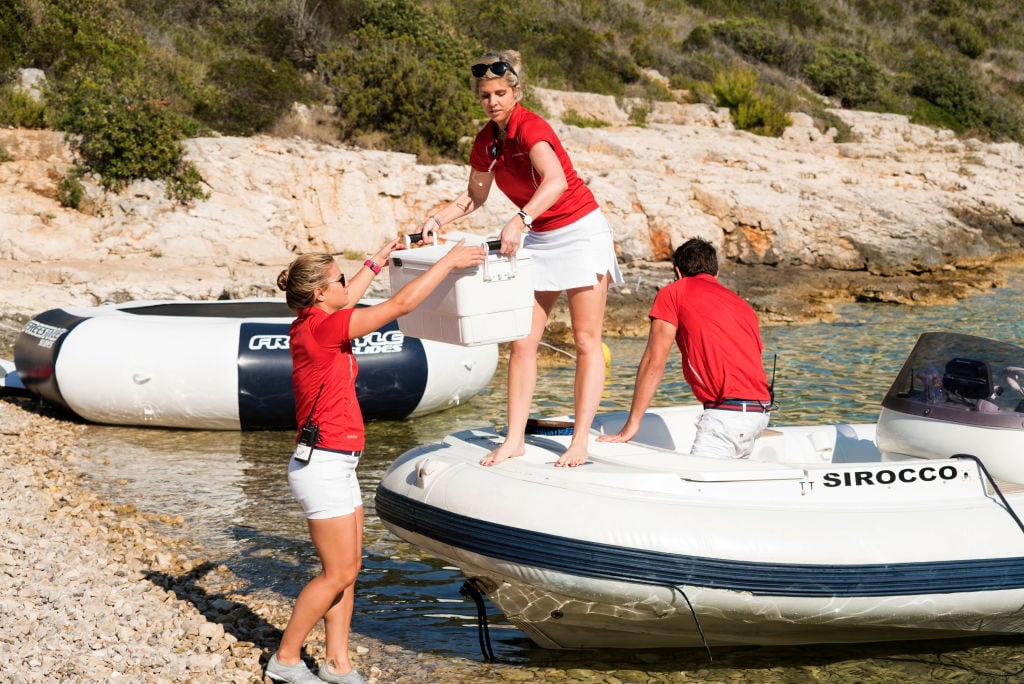 Last week's show broke cable ratings records, but viewers were even more tuned in for the latest episode. Second stew Lara Flumiani stunned viewers when she suddenly quit the show during episode 3. She ended up being on the series for the shortest amount of time of any crew member.
Her departure opened the door for a new crew member. Historically, the introduction of a new crew member typically points to a spike in the ratings. Even though ratings were already extremely high, Below Deck Med bested itself by soaring even higher. Meanwhile, Captain Sandy Yawn has shared that the season is only getting warmed up.
Each episode has outperformed the last
Below Deck Med season 5 began as the highest-rated premiere. "S05E01 – 1.514 million viewers (0.55 18-49 demo) *highest rated premiere*," according to Bravo Ratings. Ratings only grew from there especially as drama mounted for both the deck and interior team.
Viewer focus shifted to the dynamic between Flumiani and chief stew Hannah Ferrier. Flumiani seemed to be determined to strike out against Ferrier and it was only the first charter. Meanwhile, on deck, bosun Malia White dealt with a deckhand who repeatedly referred to her as "sweetheart." He also seemed to struggle with taking direction, which was eventually brought to Yawn's attention.
By episode 3, the series already hit a historic high. "S05E03 – 1.735 million viewers (0.58 18-49 demo) *series high in total viewers*," Bravo Ratings tweeted. Adding, "This is the highest number of total viewers #BelowDeckMed has ever had across all 5 seasons." After an explosive second episode, Flumiani shocked viewers when she suddenly quit during episode 3.
Flumiani's departure ripened the environment for higher ratings
Below Deck ratings typically spike when a new crew member is teased and introduced. So it makes sense that Below Deck Med's high ratings soared even higher in anticipation of who will replace Flumiani.
The introduction of returning crew member, Christine "Bugsy" Drake took ratings to new heights. "S05E04 – 1.736 million viewers (0.63 18-49 demo) *series high*," according to Bravo Ratings. Yawn teased during episode 3 that the replacement stew would be a former cast member. This led some fans to make suggestions, especially when previews showed that Ferrier was less than happy with the chosen crew member.
In true Below Deck form, Drake's identity was not revealed until the remaining minutes of episode 4. Drake's arrival was particularly dramatic, as she was filmed walking up to the boat in a thunderstorm. White is thrilled and runs to greet her. Meanwhile, Ferrier is seen curled up in her bunk listening to motivational audio.
Viewers are likely to remain captivated. Ferrier and Drake had a contentious relationship when they worked together during season 2. While Drake was not defiant like Flumiani, she told Ferrier she thought she was a "lousy chief stew" toward the end of season 2. Season 5 also began with Yawn telling Ferrier she could have fired her in the past several times, which flicks at turbulent waters ahead.
Below Deck Mediterranean is on Monday at 9/8c on Bravo.