'Below Deck Med' Producers Were Shocked With the Amount of Vodka These Charter Guests Consumed
Although the Damon group knows how to have fun, one group of Below Deck Mediterranean charter guests had producers' jaws on the floor.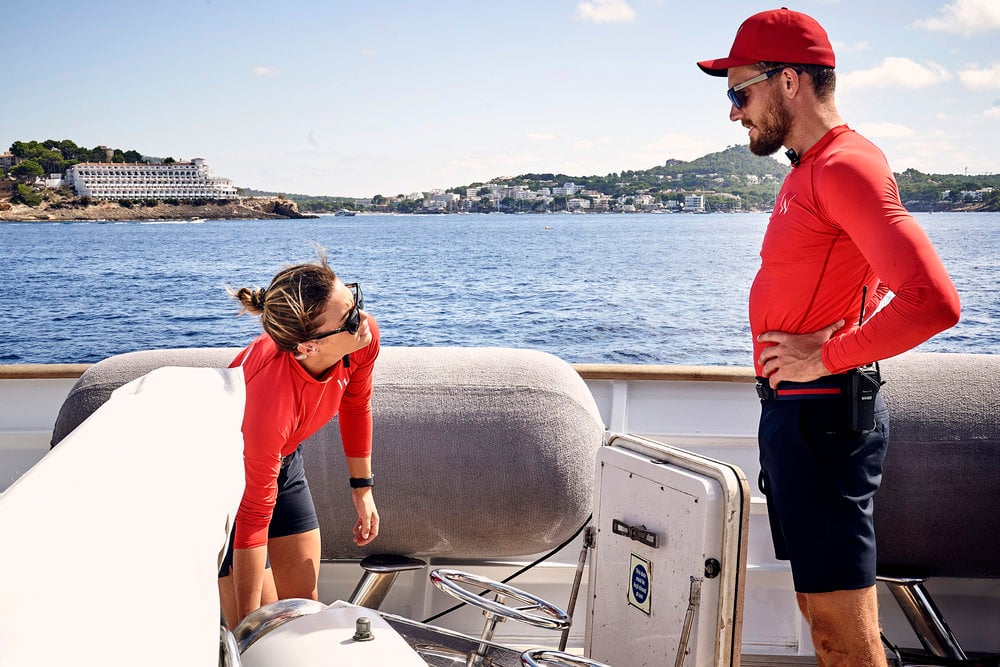 Executive producer Nadine Rajabi recalled the amount of vodka Kenny Novotny's group consumed. Novotny was the infamous guest who requested "no onions" in his food but chef Adam Glick insisted on infusing his dishes with onions on purpose.
"Some people you are like, how are they still drinking and how are they still awake," Rajabi asked during the Below Deck Med After Show. "Like I actually don't know."
Kenny Novotny's group went through more than 20 bottles of vodka
"I think it was season 1 and 2 when Kenny came on, I mean, they went through … I mean I can't even tell you how much vodka they went through," Rajabi recalled. "I've actually never seen anything like it."
Cameras flashback to season 2 and the drunken debauchery. "Wes," chief stew Hannah Ferrier said to bosun Wesley Walton. "I might need to pop off to a liquor store. I thought 20 bottles of vodka would be enough." Walton looked stunned and asked for clarification.
RELATED: Who Were Captain Sandy's Most Memorable 'Below Deck Med' Charter Guests?
Novotny often receives tweets from fans when his episodes rerun on Bravo. "Thanks for the kind words, you can either laugh or cry. I was watching my friends enjoy a once in a lifetime [experience] to be ugly," he replied to a Below Deck Med fan on Twitter.
Producers say they've seen it all
"We've seen everything with drunk guests," Rajabi said. "From people falling asleep on the toilet, which was season 2 on Sirocco, to last season somebody was seasick but they'd been drinking. So they puked on one of our camera people."
The fun-loving group of men from Michigan ended up being overserved at brunch. One guest wandered over to the side of the boat and threw up, hitting a cameraman who was directly below. Another camera captured the cameraman's priceless expression.
RELATED: Captain Lee and Kate Chastain from 'Below Deck' Say This Charter Guest Was Worst Behaved
One of the guests in the Damon party stumbled after having a few too many drinks, dropped her champagne flute and it cut her hand. Bosun Malia White said the guest told her she hadn't really been drinking. "I was like, 'Oh no, I'm gonna get you a sippy cup when you do start drinking,'" White laughed.
The injured guest was on the show last year, but she was with "The Queen of Versailles'" group. Rajabi said the two groups have friends in common and live near each other in Florida.
The 'nuts' ladies were memorable too
Drunk guests aren't the only groups who keep producers on their toes. "Nadine and I were there for what's been called the nuts ladies," Josh Brown, vice president of current production recounted. "Who, you know, we heard about them, we thought, oh a sweet group from the south."
"Obviously they turned out very different," Brown added. This was the first group of guests on season 3. They boarded the yacht and asked for a bowl of mixed nuts, but Ferrier didn't deliver fast enough. They lamented about the nuts, growing increasingly impatient. Later they complained about the food. One guest said, "I'm sorry, my dog eats food like this."
RELATED: Hannah Ferrier from 'Below Deck Med' Dishes About One of the Worst Guests in the History of the Show
"So it's really fun to see how people come on board," Brown said. "They are coming into their vacation. Like different people come into vacations different ways. Some people come in hard like drinking on the way and ready to go."