'Below Deck Med' Season 5 Yacht Is the Largest Ever On the Series
Captain Sandy Yawn from Below Deck Mediterranean gave fans a virtual tour of The Wellington, which is the largest yacht ever to be featured on the show.
Yawn expressed her excitement about the vessel on Twitter, sharing a breathtaking 3-D tour. "So kewl! Explore 'The Wellington' as seen in S5 of #BelowDeckMed," she tweeted. The season 5 vessel is 56.2m, whereas last season's yacht, Sirocco was 47m. Yawn shared that The Wellington is also the largest vessel she's ever commanded.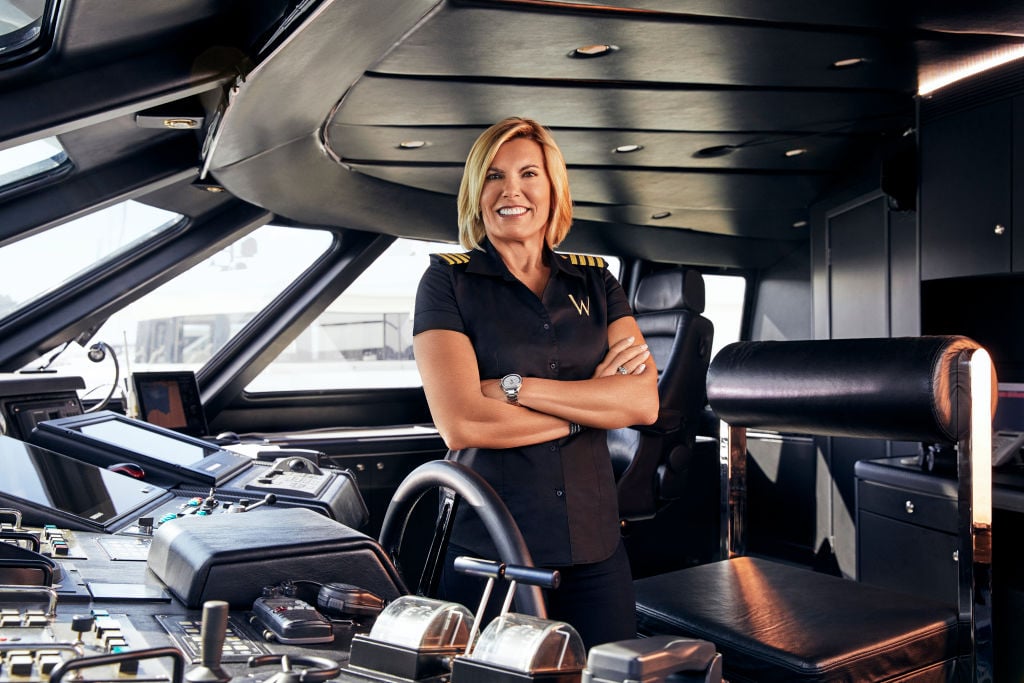 Fans wondered about the crew size too. But Yawn replied, "We have 9!" Nine crew members seem to be the average number for every Below Deck series.
Viewers are in for some serious eye candy this season as the boat is nothing less than total luxury. Yawn gave fans a video tour, sharing where she'll be heading up the tip meetings, plus a peek at the crew rooms — which crew member keeps a neat and tidy bunk?
The main guest areas include a whiskey and cigar room
The Wellington is as about as high-end as it gets. Decked out in magnificent leathers, rich woods, and warm tones, The Wellington offers a number of spacious lounging areas. The main salon has several plush, comfortable couches, which is also where Yawn will hold pre-charter and tip meetings.
Yawn then saunters over to the cigar room. "Everything is cigar themed," she explains during the tour. The yacht includes a glass case containing the cigars and a collection of whiskeys and scotches. "Obviously they spared no expense when it came to this," she says.
Because the Med can include unpredictable weather, indoor dining is vital. The indoor dining area boasts a massive round, rich dark wood table with comfortable chairs surrounding it.
The bedrooms include a 'VIP' bedroom
The master suite has been completely refurbished, Yawn explains. "With mahogany, inlaid leather, and 1920s theme," she shares. "The sheets are Italian. One of these sheets costs about 2,000 euros." That means a single sheet costs more than $2,200 (U.S. dollars).
The master even includes a massive closet and dressing area too. "It's a proper dressing room," she says. "I bet this is her's and this one little piece, this closet here, is his." Of course, the master bath is lavish too. "What I love is each bathroom has different marble, it's really beautiful," Yawn remarks. But wait, it gets even better.
The yacht also has a "VIP bedroom" that includes panoramic windows so you can sleep under the stars. "The cool thing about the VIP is it was once an observation lounge," Yawn reveals. It also has a huge television set underneath the windows. "You can actually see yourself in it," she observes. And jokes, "Some people may like that."
Which crew member has a neat and tidy bunk?
Yawn then ventures "below deck" and first hits the laundry room. She jokes with stew Jessica More that the laundry room is like the Bermuda Triangle. "Some things that go in, never make it back out," she laughs.
As she walks along the crew hallways she stops to show the camera what a neat bunk looks like. "This cabin right here, that's Malia's [White] cabin," she reveals. "Look how nice it is." However, her cabin is in direct contrast to the crew members living directly across from her.
Yawn also shows off the bridge, which is filled with dark leather seating and state of the art equipment. "This bridge is amazing," she marvels.
Bosun Malia White joins Yawn on deck
Yawn meets up with bosun Malia White who she refers to as her "favorite bosun." White reviews the massive number of water toys the guests will enjoy and yes, it includes a huge water slide. Also, "We have a jet surfer for the first time," White shares. Plus a trampoline, which Yawn "test drives."
Although White says the bridge deck aft is "tame" there's nothing tame about the huge cushion area where White says they held their deckhand wrestling matches.
Also included is a commanding grill so chef Hindrigo "Kiko" Lorran can prepare lunch while guests chill in the hot tub. This hot tub has a unique feature too. "It's actually a pretty cool jacuzzi because it has a waterfall," White says.
Below Deck Mediterranean is scheduled to premiere during the summer of 2020.