'Below Deck Med': The Feud Between Bugsy Drake and Hannah Ferrier Started With Flirty Text Messages
Although Christine "Bugsy" Drake told Hannah Ferrier from Below Deck Mediterranean she was a "lousy" chief stew, that's not the only reason the two clashed.
Charter guest Jason Ziegler and Ferrier did some pretty serious flirting during season 2, which ended in a kiss behind closed doors. "Jason and I had a lot of chemistry as soon as he came on board, but it really went against my rules to hook up with a charter guest! But after the few weeks I'd had dealing with the new crew, it was nice to get some positive attention," Ferrier told Bravo.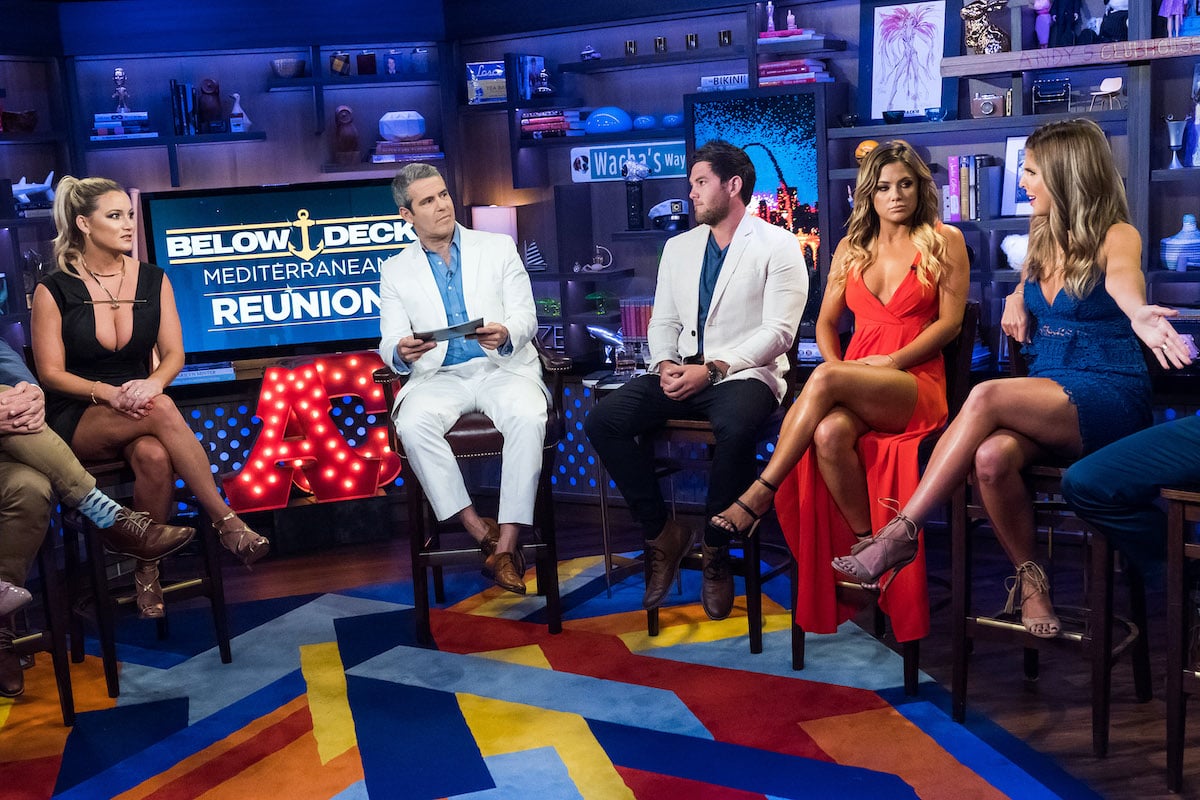 "It was definitely a case of the angel on one shoulder and devil on the other. Despite the obvious chemistry and flirting, once he actually kissed me, I had a realization that this needed to wait until after he had left the boat. So in short – a very quick kiss!" she said.
Ferrier and Ziegler not only exchanged a kiss, but they also exchanged text messages. Unfortunately for Ferrier, the texts popped up on the yacht's iPad, which Drake saw. She shared the uncovered texts with other crew members. Needless to say, Ferrier was not happy.
Ferrier says the messages were exchanged after the charter was over
Ferrier was surprised when she learned that Drake was sharing her text messages with the crew. "To be honest I was in a bit of shock," she told Bravo.
"I can't really imagine reading someone else's texts – let alone a primary charter guest! It's obviously a massive invasion of my privacy, but I was so embarrassed that I was going to have to tell Jason that the crew had been reading his personal text messages for ten hours," she continued. "If they read those texts, what else did they look at on his phone?! All texts were sent after he left the boat so he had done nothing wrong…"
Ferrier kept in touch briefly with the guest, adding that she regretted (but didn't) the kiss. "I wish I had left the kiss until after he had left the boat, and I wish he hadn't dropped that damn iPhone in the water!" she said.
Drake defends her actions (but has some regrets)
At this point in the season, Drake felt as though Ferrier wasn't pulling her weight. So when Drake discovered the text messages, she was heated that Ferrier broke the rules of fraternizing with the guests while she was doing a lot of the work.
"I'm not going to defend myself about reading the messages on the iPad! I found them, I showed Bobby [Giancola], I will own it! The texts should not have existed in the first place," she shared on Instagram, Bravo's The Daily Dish reports.
"The messages were found on the Boats IPad and NOT a personal device- completely fair game. We are in a professional industry and we have a job to do, and that job does not include making out with or texting guests. Throwing your crew under the bus discussing what they felt about the tip to the primary charter guest… Now that's an invasion of your team members privacy! I will not apologize for a single solitary thing… haters hate, and if I really cared.. the amount of sleep I would get would be minimal. I sleep soundly every night."
Drake later tweeted, "Okay guys so maybe the best thing I should have done in the professional sense was go straight to @CaptSandyYawn. I messed up!" Yawn responded that she agreed.