'Below Deck Med': Tiffany Copeland Announces She's Expecting a Daughter
Tiffany Copeland from Below Deck Mediterranean announced she and husband Evan are expecting a baby girl during an adorable gender reveal party.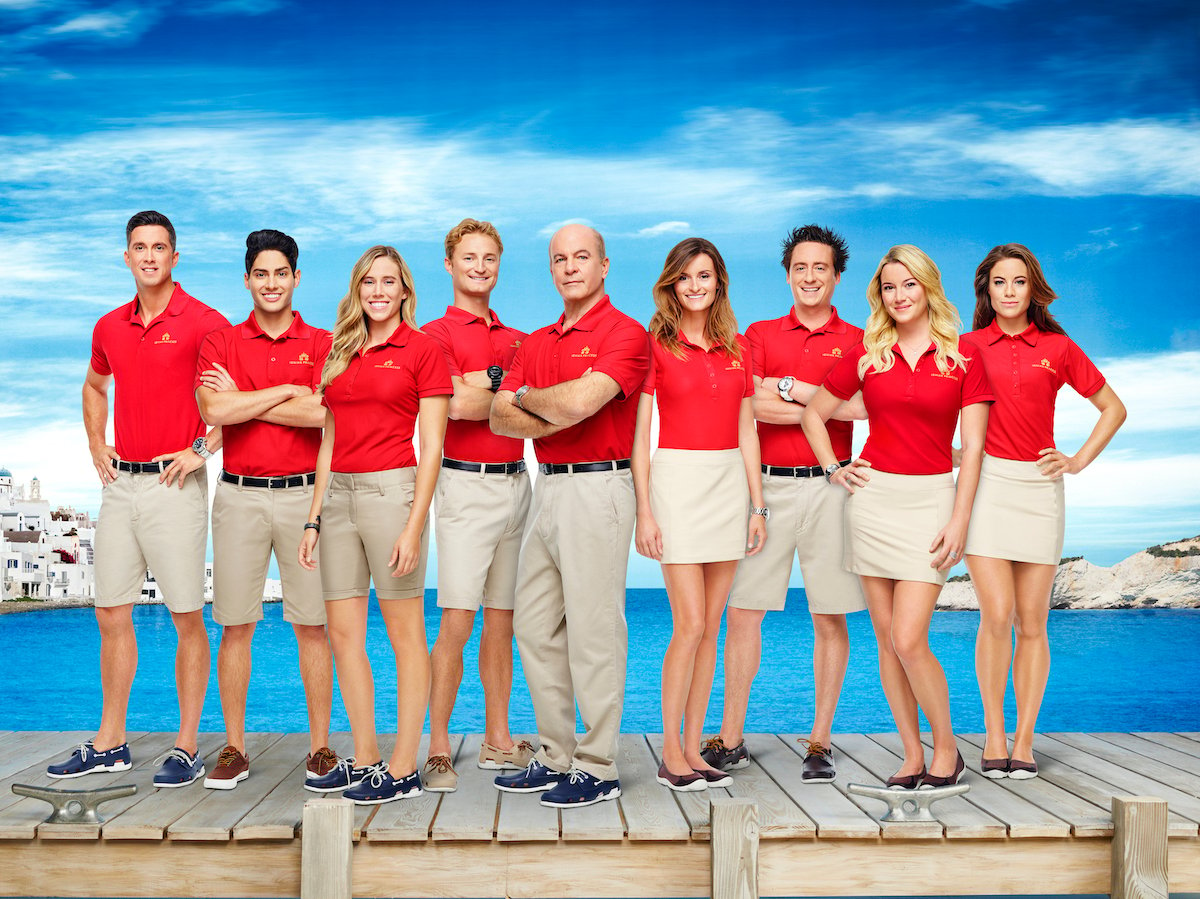 The couple's gender reveal had a sweet yachting theme as they wondered if they were having a pirate or a mermaid. Copeland posted a photo of the half mermaid, half pirate cake on Instagram and fans weighed in. Many thought "mermaid," which was proven to be correct.
"We're having a girl!" Copeland shared along with a photo holding a cute little mermaid tale costume. Copeland is the second Below Deck Med cast member to become a parent. Chief stew Hannah Ferrier welcomed her daughter in October.
Tiffany Copeland announced she was pregnant in January
The couple married in November and Copeland announced her pregnancy in January. She shared a photo of two football team onesies on Instagram along with #HereWeGo. Her next post was a photo of several family members and, "Guess who is having a baby? See ya in the summer!" 
Copeland also shared an adorable photo of her dog laying his head on her belly wondering when a new friend will come out to play.
RELATED: 'Below Deck Med': Gorilla Glue Savior Was Also Jessica More's Surgeon, 'Bless Him, He's the Best'
Friend and fellow yachtie, Adrienne Gang recently tweeted about Copeland's gender reveal. "Yay!!!! Can't wait!!!" she shared on Twitter. "So excited for you and Evan."
She also had a funny engagement story
Copeland shared her engagement story in 2019, which was in the middle of a hurricane. She was trying to move her yacht out of the path of Hurricane Dorian but still found herself getting smacked by the storm. "This past week has been hectic," she shared on Instagram. "I rode out Hurricane Dorian in Virginia on the boat. Broke a piling. No other damage. The next day there was a fire at the marina I was at (no injuries)."
She shared that her (now) husband flew up to Virginia to help her deal with the craziness. "But @evangjones42 flew in that night to help us take the boat to Florida," she continued in her post. Then, adding insult to injury, "The next day, both of our football teams lost."
RELATED: 'Below Deck Med': Captain Sandy Reveals What It Would Have Taken for Her To Fire Chef Adam
Then she revealed how he (sort of) popped the question. "That night, while watching #BelowDeckMed, laying in bed (also below deck haha), Evan and I took some selfies on his phone. I went to look at them and scrolled one picture too far," she wrote. "I saw a ring. Oops! But luckily it was a day earlier than he had planned asking, but at least we have a funny story." 
The couple went forward with their wedding in 2020. Ferrier also sent Copeland a sweet video of congratulations. "I'm not crying, you're crying. @hannahferrier234 sent @adriennegang a video of why she couldn't attend my wedding. Love my #belowdeck fam! #belowdeckmed. Happy I can finally call you 'Mom'!" Copeland shared on Instagram. Now Copeland can add her name to the list of Below Deck Med mothers.