'Below Deck Med': Travis Michalzik Tried to Prepare Viewers Long Before the 'Love Tap' Episode Aired
Although it became the "love tap heard around the world" deckhand Travis Michalzik from Below Deck Mediterranean tried to warn viewers to buckle up long before the episode aired.
Viewers gasped as Michalzik became extremely inebriated and then whacked Anastasia Surmava on the side of the face while she dozed at the dinner table. He seems to giggle as though he thought he was messing around. But the rest of the crew were horrified. So were fans and even Captain Lee Rosbach from Below Deck.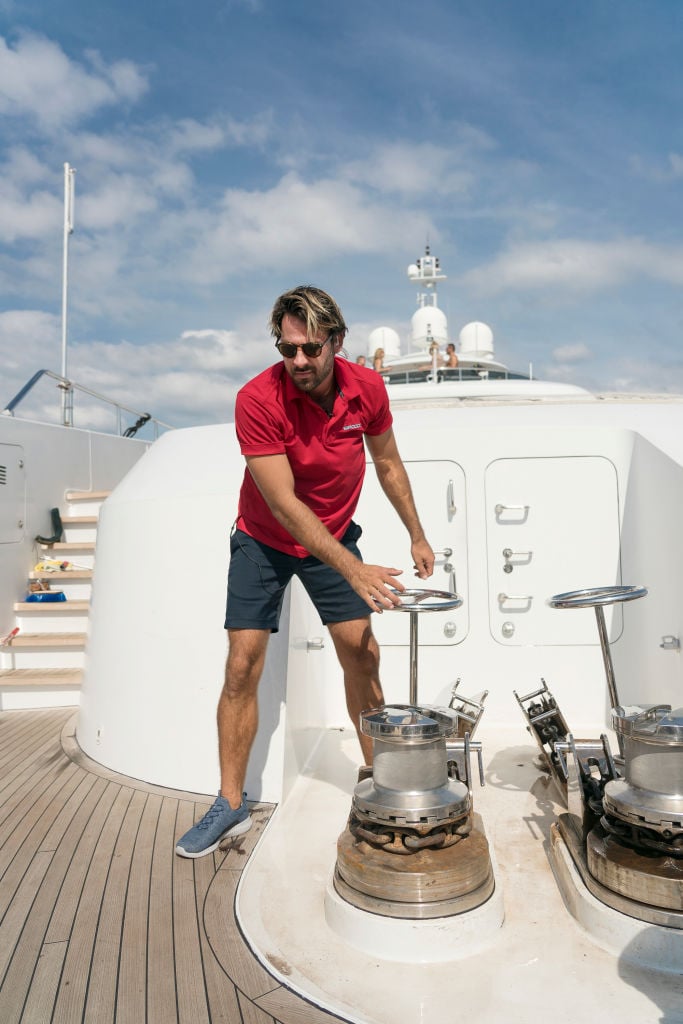 Rosbach tweeted after the episode. "Ok, I've stayed out of this till now. Travis, wow, what rock did you crawl out from under. You are so fortunate that I wasn't there or I would have treated you to a love tap, Capt Lee style. Joao and Colin gave you way more slack than you deserved."
Michalzik knew what was coming
During the dawn of the season, Michalzik posted a picture of himself working in the galley kitchen. He wrote about how viewers should be prepared for the worst (and possibly that slap). "G'day f**kers, just letting you know that I was a total d**khead on a boat filled with cameras and crew, then some sexy folks made one of those reality tv show things out of it," he wrote.
He continued by admitting he was going to be embarrassed. "An episode will be out a week, bulk s**t talk and lols probably. Also as you can see in this delicious pic I f**ked up some gherkins. Embarrassment is only real when shared so get around it and #roast me, doing strange s**t is good for ya. God have mercy on my soul. Xoxo big smooches 4 you all girls and Boiz." His hashtags included #needamedic, #sendhelp and #sorrymum.
Although he was ready for a roasting, he briefly deleted his Instagram account shortly after the explosive episode aired. In addition to Rosbach, a number of fans slammed the deckhand on Twitter. Yawn tweeted that she does not condone this behavior or take it lightly. But Surmava defended Michalzik on Twitter. "I have a lot of love for Trav. He helped me so much when I was in the galley. It was a silly mistake and he didn't mean harm. Forgive and forget."
Michalzik responds on the 'After Show'
The crew addressed the "love tap" during the Below Deck Med After Show. Michalzik explained that the slap likely sounded worse than it felt. And that it was common to get a little crazy and physical amongst his friends. "If I did that to Aesha [Scott] she would have f**king laughed her ass off," he says to deckhand Jack Stirrup. "She would have hit me back." Michalzik added that roughhousing like this is actually part of his culture and how they show love.
And while Scott and Surmava seemed forgiving, chief stew Hannah Ferrier didn't seem to be as at ease. "If that's part of his culture, I'm Australian as well so I really don't understand," Ferrier said. But "You don't push your culture on me. To me, your face is so personal."
Ferrier adds that Michalzk did this without knowing Surmava's past or her experiences. "It is not acceptable to physically touch another crew member in that way regardless," she says.