'Below Deck Med': Travis Michalzik's Tattoo Says It All
This 'Below Deck Med' tattoo illustrates a yachtie's life.
Bravo's Below Deck and Below Deck Mediterranean have thrust the world of yachting into the mainstream spotlight. The show's popularity has given rise to a new batch of prospective yachties who hope to latch onto a life of travel while earning high wages.
Crew members from the series told Showbiz Cheat Sheet about the kind of money crew members can make. Plus they dished about the amazing travel opportunities provided to yachties.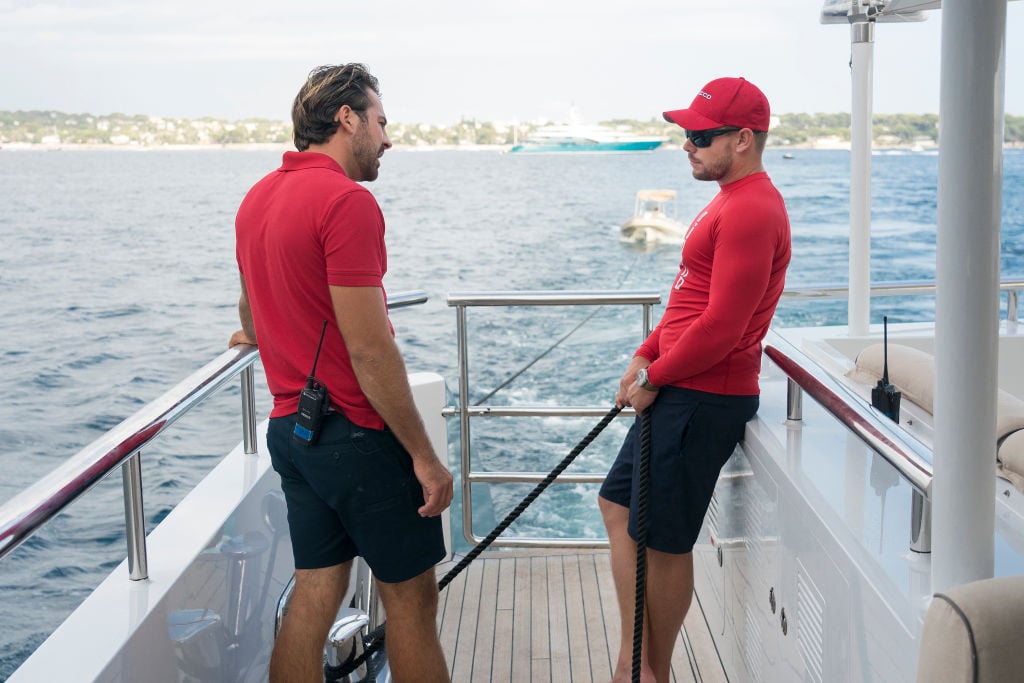 Working "below deck" has a number of challenges. But crew members report that yachting has afforded them awesome travel opportunities they would have never had in other professions. Some crew members have even inked their love of travel onto their skin too.
His tattoo features his wanderlust
Crew members tend to be nomadic individuals, which makes Travis Michalzik's large back tattoo so incredibly perfect. The Below Deck Med deckhand posted a picture to Instagram of a tattoo that spans his entire back and features an outline of the world.
"Are you going to colour in everywhere you've beeeeen!? Here I am sat on a splendid rock in the region I have most felt at home in my life," he wrote. Michalzik is sitting on a rock overlooking a vast expanse of greenery, mountains and the sea.
Since wrapping Below Deck Med, Michalzik doesn't seem to be sitting still (or staying in one place). "I just spent 2 months back in the frothland that is Airlie Beach and the Whitsundays," he continued. Colin Macy-O'Toole wrote basically what everyone was thinking after seeing the image. "Sickkk pic!"
But travel is usually done on your own time
Even though the crew journeys to exotic and beautiful locations, most of the time is typically spent on the yacht. Superyacht crew member Bonnie Muddle wrote an essay about her experience for CNN.
"Yes you are indeed gracing the ports of Monte Carlo, Ibiza, Sardinia, Nice and St Barts but, in reality, the key sights are usually seen through a small round window not dissimilar from the sort you see on Playschool," she wrote.
Muddle added, "Porthole tourism I like to call it. In season, rarely do you have the energy to tear yourself away from scrubbing the porcelain throne to take in the salty foreign air."
Crew members still capture exciting travel experiences
Bosun João Franco told Showbiz Cheat Sheet many crew members do as much sightseeing as possible (and when possible). "On private yachts, there is definitely more free time to enjoy different coastlines and countries," he said.
But, "On the bigger boats, mainly charter, we'd sometimes be lucky to set foot on land in a port we're docked in before we head to the next destination. If we are fortunate enough to get a few days in between charters we would be able to go and venture out." 
Macy-O'Toole notes that his time on Below Deck Med provided him with travel experiences of a lifetime. "I'd never been to Europe so it was pretty exciting when I got the chance to travel through the show too," he said.