'Below Deck Med': What Would Rhylee Gerber From 'Below Deck' Have Done If Pete Hunziker Called Her 'Sweetie'?
Although Below Deck Mediterranean attempts to break the glass ceiling by featuring a female captain and a female bosun, viewers continued to watch misogynistic insubordination oozing from at least one of the male deckhands on season 5.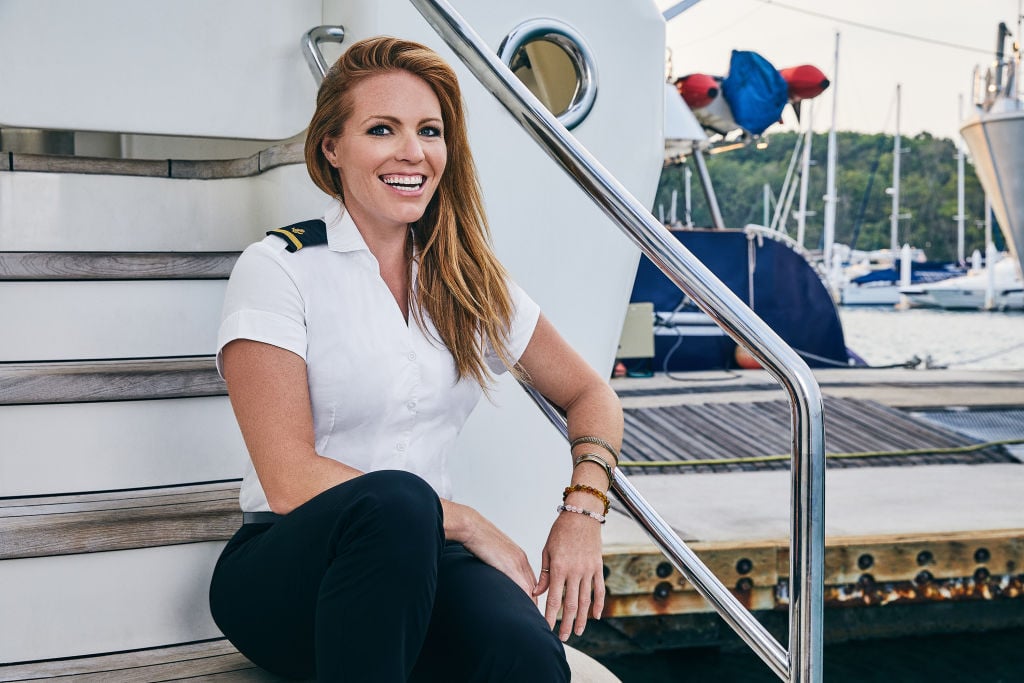 Deckhand Pete Hunziker called bosun Malia White "sweetie" or "sweetheart" not once but many times in a very short period of time. He also struggled to take direction from White too. White kept him in line, but also noted the remark and finally brought it to Captain Sandy Yawn's attention.
The franchise has featured a number of female deckhands, all strong women in their own right. However, Showbiz Cheat Sheet wondered what the latest powerful female deckhand, Rhylee Gerber would have done if Hunziker dropped the "sweetie" bomb on her.
Gerber has some pretty direct words for Hunziker
Although she was laughing with her delivery, Gerber was serious. "I would have smacked those f**king sunglasses off his face and said, 'Listen here, sweetheart, only douchebags wear white sunglasses so get back to swabbing the deck,'" she said if she was in White's position.
She was horrified by the meme Hunziker shared on Instagram only days before he was fired from Bravo. Not only was he fired, but his character and image will also be minimized going forward. "For a man to make a racial slur or a sexist comment in today's world shows his ignorance and only what he is prepared to see," she said. "However accomplishments have no race, no sex and they have no limitation."
RELATED: 'Below Deck Med': Bravo Continues to Fire Cast Members for Racism as Peter Hunziker Is Next to Be Axed
"We live in this world together," she continued. "The longer we listen to one another, the commonality we will find in all our lives. That is if we are careful to exchange with one another life stories and not simply opinions."
White had her own way with how she dealt with Hunziker. "Pete was challenging at first," she said on What To Do With Marshall. "I was pretty shocked to have him call me sweetheart but I don't think he meant it very maliciously. I don't think he meant it to be degrading."
Adding, "I just truly don't think he understood that it was very degrading. I got the question, 'Well why didn't you shut it down right away?' The thing is, for me, I'm already his boss. I know that I'm going to stop it at some point. For me, that wasn't a priority. It doesn't phase me as much as I think it does when you hear it on TV." 
Gerber applauds White's leadership this season
White spent her time between Below Deck Med seasons racking up certifications. She was brought back to lead an all-male team for the first time in the series. In only three short episodes, White has flexed her managerial muscle, being direct when necessary while at the same time still having fun with her team.
Gerber says she is cheering for White from her home base in Alaska. "Oh my gosh I'm so proud to see somebody that intelligent and that self-aware in that position," Gerber remarked. "Not just her role as a female. She's actually taking to heart the position of the boat and trying to garner respect off of that versus that she's a female."
RELATED: 'Below Deck Med': Malia White Reveals Her Big Concern About Deckhand Pete Hunziker
"So that's what I think someone like Malia, we're not trying to be in a certain position because we're a woman," Gerber continued. "We're trying to be respected for that position whether we're female or male. The fact is you're out there and you do a job well and you do what that position calls for, it shouldn't matter."
Speaking of commanding a position, Gerber is now the "deck boss" on the salmon fishing boat she currently runs in Alaska. She's taking fans along this summer too on her YouTube channel.