'Below Deck Med': Where Are Season 1 Alums Today?
Many crew members from season 1 of Below Deck Mediterranean did not return for another season and several no longer work in yachting.
Crew members who did not return after season 1 include Captain Mark Howard, bosun/first mate Bryan Kattenburg, second stew Julia d'Albert Pusey, third stew Tiffany Copeland. Plus deckhands Jen Riservato and Danny Zureikat.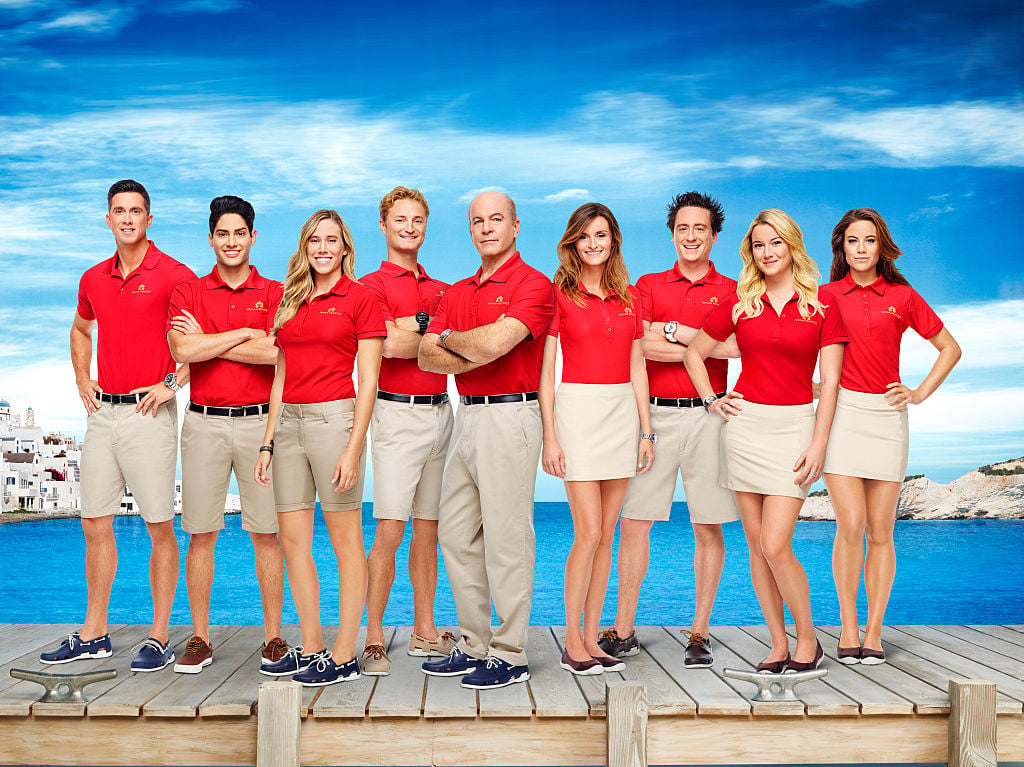 Deckhand Bobby Giancola returned for season 2. Plus chef Ben Robinson and chief stew Hannah Ferrier continue to be part of the franchise. Giancola still works in yachting. "I'm freelancing and working in yacht sales at Denison Yachting," he recently told Showbiz Cheat Sheet. Ferrier is likely to return in her role as chief stew for season 5 and chef Ben Robinson finished season 4 of the series.
Captain Mark sailed off into the sunset
Captain Mark Howard may be one of the more elusive alums from the series as chief stew Hannah Ferrier offered only a few hints about where he is today.
Howard stays in touch with Ferrier when they message each other about once a year. "Captain Mark and I, we send a message maybe once a year, just to touch base," Ferrier told Bravo's The Daily Dish. "I really like him."
Ferrier added that Howard's life off the show is pretty similar to how he ran the boat—chill and likes to fly under the radar.  "I don't really think I knew what he was up to when I was working with him, let alone three years later," Ferrier added. "He was like the opposite of [Captain Sandy Yawn]. He kind of drove the boat and stayed in his cabin, so it was lovely." Other than Ferrier's intel, Howard's whereabouts are a mystery.
These crew members left yachting
Both d'Albert Pusey and Zureikat did a career pivot since leaving yachting. Showbiz Cheat Sheet connected with d'Albert Pusey who dished about launching her own swimwear company.
"Girl Alliance is an inclusive community of empowered females who are unapologetically themselves," she told Showbiz Cheat Sheet. "We strive to be inclusive, portraying women with curves and all … or no curves. We offer quality swimwear for all types of women." She also enlisted the help of several Below Deck alums to model the swimwear too. She married the love of her life and the couple resides in England.
Zureikat refers to himself on Instagram as a "Producer / Actor / Artist / Viral Content Creator." Since leaving the show he's worked on several film projects like video short The Lonely Entrepreneur in 2017. Recently, he was in a zombie mockumentary What Doesn't Kill Us.
Kattenburg also exchanged yachting for media. He has since gotten engaged and is the associate producer at Lemonlight Media. Kattenburg dove into marketing immediately following the show and found his groove with the video production company in South Florida.
They are still yachties
Copeland not only worked her way up from third stew to captain, but she also recently got engaged. She shared the funny engagement story on social media. "That night, while watching #BelowDeckMed, laying in bed (also below deck haha), Evan and I took some selfies on his phone. I went to look at them and scrolled one picture too far," she wrote along with a photo of her engagement ring.  "I saw a ring. Oops! But luckily it was a day earlier than he had planned asking, but at least we have a funny story." 
Riservato may (or may not) still be in yachting. She is active on Twitter and Instagram and recently shared a video of a pretty sweet Rolex Yacht Master II. "Money coming, money going, ain't like you can take it with ya.  #Rolex #yachtmaster2 #dreambig," she wrote. It isn't clear if the watch belonged to her but it certainly seems like she's living her best life. She shares beach photos and plenty of pictures with her pup too.