'Below Deck Med': Why Did Delaney Evans Depart After Only 1 Charter?
Delaney Evans hoped she would become a permanent crew member on Below Deck Mediterranean, but she was cut from the crew after only one charter. Chief stew Katie Flood struggled with her decision to cut Evans, but keeping on board just wasn't in the cards. Why did she decide not to keep Evans?
Delaney Evans couldn't stay on 'Below Deck Med' because of the cabin arrangements
Flood told Evans she had a great attitude but keeping her would be disruptive to the rest of the crew. "You have helped," Flood told Evans. But added, "You haven't been a stewardess before. Things aren't going to be perfect. I totally understand that."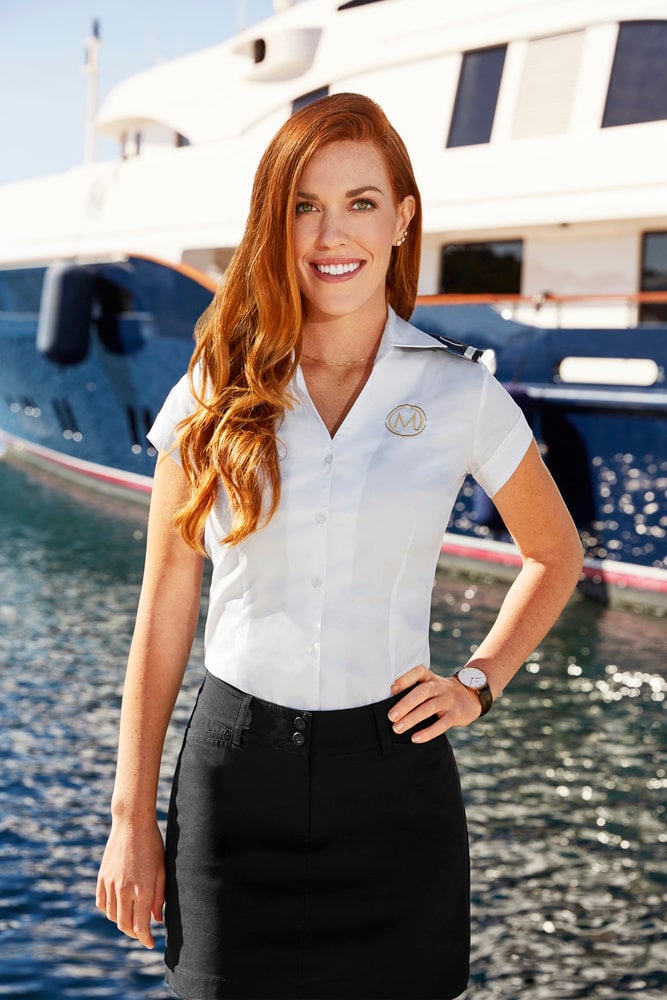 "But a lot of the crew are not happy about the whole cabin arrangement," she continued. "Like to get six people to move all the cabins. Clean all the cabins …" Evans wondered why crew members couldn't just move the sheets they were using into a new cabin. But Flood said the sheet sets were made for the specific bed. "Because they're like different sizes," she explained.
Delaney Evans tried to find a way to stay on 'Below Deck Med'
Evans tried to find another solution. Maybe send the sheets off with other items to be cleaned? But Flood clearly made up her mind. "No, we don't have spare crew stuff," Flood explained. At this point, Flood was ready to make a clean break. "For me, it's causing me more stress than good," Flood admitted. "I feel terrible saying this, but I think it would be best if you finish this trip and we say goodbye."
Evans reminded Flood she did a good job and the arrangement seemed to be going well. But Flood said, "You have. It's not that." Flood said that Captain Sandy Yawn also knew that she planned to dismiss her. Evans continued to try to find a way to stay on the boat, even wondering if Flood should ask the rest of the crew if they want her to stay.
RELATED: 'Below Deck Mediterranean': Captain Sandy Reacts to Lexi Wilson Sleeping While Delaney Evans Worked – 'Not Happy'
"This is what I feel is best for the boat as a whole," Flood replied. And while Evans finally got the message, she didn't seem to understand why she was being let go.
Flood wanted Evans to know there were no hard feelings and asked her to come out with the crew after the charter ended. "Obviously I want you to stay the night," Flood said to Evans. "I want you to come out with us. You deserve it. You really do."
Could Delaney Evans make it as a deckhand instead?
Since Evans leaned toward the deck department, bosun Malia White gave her a shot to help the crew dock the boat. But that didn't go very well. "I decided to put Delaney on the stern so that I could be there just in case," White said in a confessional. "Because I don't know her skill level yet. And that means I can give [Mzi] Zee [Dempers] the opportunity to be on the bow for the first time."
RELATED: 'Below Deck Med': Captain Sandy Shares Why Season 6 Was a Challenge to Make Crew Changes
Dempers did well with his part of docking. But Evans missed throwing her lines. In fact, White started to worry as the boat got closer to the dock and Evans' lines weren't secured. "I need that line across like right now," White told Evans. Later at dinner, White told Evans that she struggled on deck too.