'Below Deck Mediterranean': Alex Radcliffe and Rob Westergaard Were Joking When They Said Malia White 'Fired' Them
Alex Radcliffe and Rob Westergaard from Below Deck Mediterranean Season 5 were joking with Malia White when they said she "fired" them from the show.
But fans thought they were being serious when they both ribbed White about her return without them. White posted that she would be returning for another season and Westergaard wrote, "Congratulations little one! Thanks for firing @alexradcliffe and myself."
Radcliffe also posted about White's return. "Pumped to see this 4"11 badass bosun back in action on a new season of @belowdeckbravo. Btw @maliakpwhite never forget who your favorite deckhand was," he wrote. But fans lashed out, thinking that White fired her former deck team, which prompted White to share that she has no say in who returns.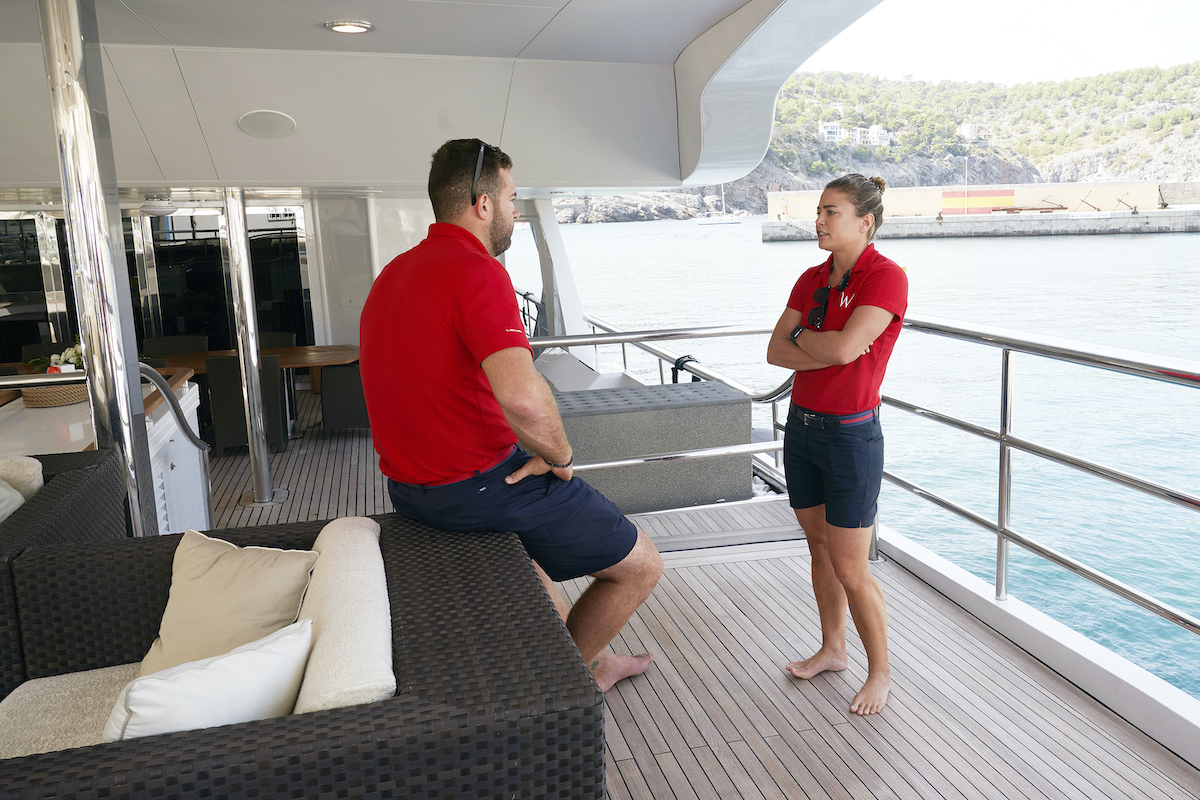 Malia White clears up 'Below Deck Med' rumor that she fired Alex Radcliffe and Rob Westergaard
"Latest rumor: I don't actually have any say over who returns or not," White shared to her Instagram story. "These two didn't get 'fired' by me, lol." White also responded to Westergaard's joke, "Thanks, Rob. Ha ha ha." That's when Westergaard replied, "Hahaha it's a pleasure," he wrote. "You killing it, I'm stoked for you!"
Generally, the show is cast through a collaboration of production and the captain. Below Deck Sailing Yacht Showrunner Jill Goslicky said in a Reddit "Ask Me Anything" that Captain Glenn Shephard collaborates with production to help choose the crew.
RELATED: 'Below Deck Mediterranean' Season 6 Cast Includes a Celebrity Chef, Beauty Queen, and Disney Princess
"It's a delicate decision that's made between us (the producers), the Captain, and Bravo," Goslicky shared during the AMA. "A lot of it has to do with what is going on in that person's life at the time. Do they have compelling reasons for their story to continue on in the show? You've seen some instances where cast members take a season off and then come back, for instance. That's because circumstances are suddenly right for them to make a return."
Where are Alex Radcliffe and Rob Westergaard now?
Radcliffe was working on yachts and is currently in Costa Rica on a retreat. "So today is day 1 of my new journey 'The Reset' I chose to go to Central America to hopefully truly find myself," he wrote in a reflective Instagram post. "I know that sounds corny but deep down for as long as I remember I truly struggle with terrible anxiety and insecurities and by doing this journey I hope I can come out of this experience with more confidence and find a way to deal with my daily struggles. I have no idea what the outcome will be but i hope by doing this journey I can let go everything and not care what anyone thinks of me and I hope I can inspire others to talk about what they are dealing with. No one is alone and today I will try my hardest to be someone's helping hand just like how one of my best friends is doing with me In Costa Rica."
RELATED: Below Deck's Kelley Johnson Says Captain Lee Is 'All About Rules and Safety' After 'Below Deck Med' Season 6 Trailer Drops
Westergaard has not been active on social media. But he shared that he adopted a dog in November and it looks like true love. "Let me introduce you to Pearl," he wrote. "Damn I miss this little one so much. Getting news that she saw a medium that speaks to animals saying 'where is the one who speaks in clicks' who would have thought right?!"
Below Deck Mediterranean premieres on June 28 at 9/8c on Bravo.