'Below Deck Mediterranean': Captain Sandy Teases Huge Chef Drama, Says Chef Mathew Was 'Laziest' and Has 'Biggest Problem With Authority'
Captain Sandy Yawn and chief stew Katie Flood tease big Below Deck Mediterranean chef drama when they implied that chef Mathew Shea brings turmoil to the season. Yawn answered questions about her crew on Watch What Happens Live with Andy Cohen and said Shea was the "laziest" and also had the "biggest problem with authority."
Captain Sandy says Chef Mathew is 'laziest' and has 'biggest problem with authority'
WWHL host Andy Cohen asked Yawn a battery of questions ranging from which crew members partied the hardest to who gets tangled in the most boatmances. Mzi "Zee" Dempers won "biggest partier" on the boat this season. But when it came to who was the laziest, Yawn said, "The chef?"
Cohen asked which crew member causes the most drama and Flood said, "People can make that decision for themselves from what they've seen." Below Deck Mediterranean Season 6 kicked off with a bang when Shea hurt his knee and left the boat to get an MRI. Unfortunately, he left the crew without dinner for the guests. The crew prepared dinner but it was a total fail and the guests were angry.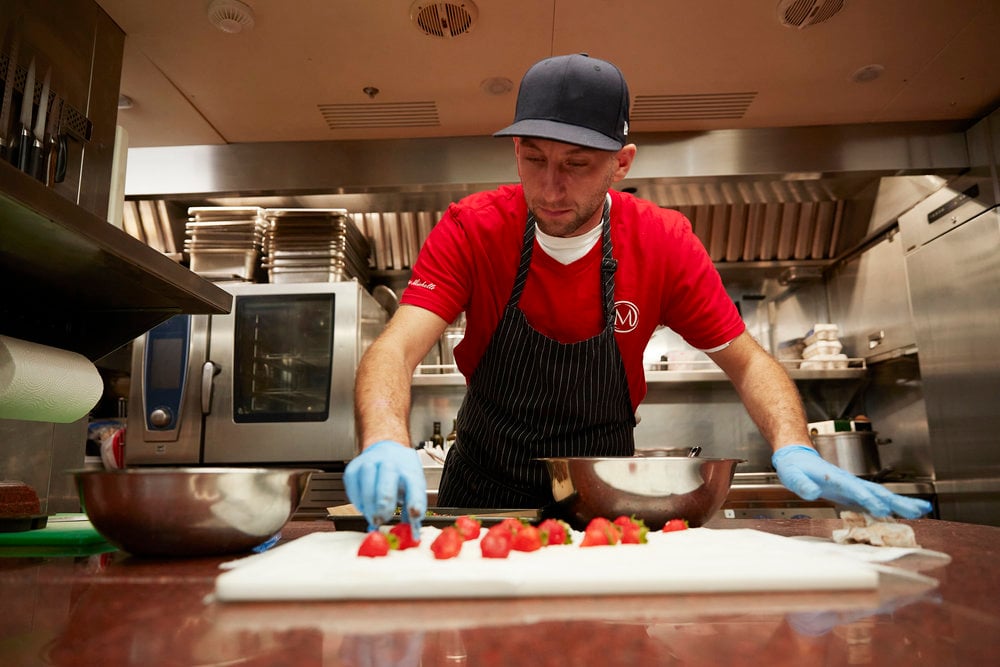 "Who has the biggest problem with authority, Sandy?" Cohen asked. Yawn replied, "The chef?" But then Cohen asked Flood which crew member was the biggest kiss-a– to Yawn and she said "the chef." Flood and Yawn never named Shea by his name.
Katie Flood was annoyed when Chef Mathew left the boat
Flood admitted she was angry that Shea left the boat before the season even began. "Obviously I wasn't happy. I was annoyed. I was pissed off," Flood told US Weekly.
The crew was also in survival mode. "I was worried because at the time it was like survival mode. Like, we have guests on board, they want dinner. We need to just get through this. And then it was like, once we got through dinner, it's like, ok, now what? Like, are we getting a chef? Is he going to be a chef tomorrow? Someone else coming? Like, what the f–k is actually going on right now?"
Shea was supposed to return to the boat before dinner but never arrived. "The end of the day came around and then I was like, 'Now what? Like what's going on?' Because we hadn't really heard much. It was not fun," she recalled.
RELATED: 'Below Deck Mediterranean' Features Some of the Biggest Kitchen Disasters and Meltdowns in the History of the Show
"Obviously it's not something I want to serve to guests, but like I said, we were in complete survival mode. My mentality at that point was like, at least [they are] getting something to eat as opposed to nothing, because that was going to be the other option," she added. "I think their reaction to the dinner is totally warranted. If I was on a super yacht and that's what I got given … Yeah. I'd be pissed too."
Did Katie Flood like Chef Mathew from 'Below Deck Med'?
Previews tease that Shea eventually returns to the boat. Plus, he must have made an impression on the crew for Yawn and Flood to share their observations about how he worked with the crew.
RELATED: 'Below Deck Mediterranean' Season 6 Features the Biggest Kitchen Disaster in the History of the Show
Flood added that she liked Shea. "He's the kind of guy that grows on you," she said. "Like he is so weird and quirky in his own way, but the thing I love about Mathew like he is who he is, and he will not change for anybody,"