'Below Deck Mediterranean': Captain Sandy Reacts to Lexi Wilson Sleeping While Delaney Evans Worked – 'Not Happy'
Captain Sandy Yawn wasn't thrilled when she saw Lexi Wilson taking a nap while stew Delaney Evans worked on Below Deck Mediterranean. Yawn has said in the past she doesn't see everything on the boat and typically views some shocking moments with the viewers.
So when a viewer asked Yawn how she felt seeing Wilson sleep while Evans worked, she replied, "Not happy." Evans joined the boat to provide additional help, so she worked closely with Wilson. Although Wilson trained Evans, who admittedly had no stew experience, she ended up delegating many tasks to Evans.
'Below Deck' captains don't often know what goes on 'below deck'
Like other Below Deck captains, Yawn usually doesn't know what goes down in the crew area or on crew nights off in between charters. "Obviously a tough episode to watch. I see it when you see it. A lot happened that I am not aware of at that time, and a lot more is still to come," Yawn tweeted after the first huge crew fight earlier in the season.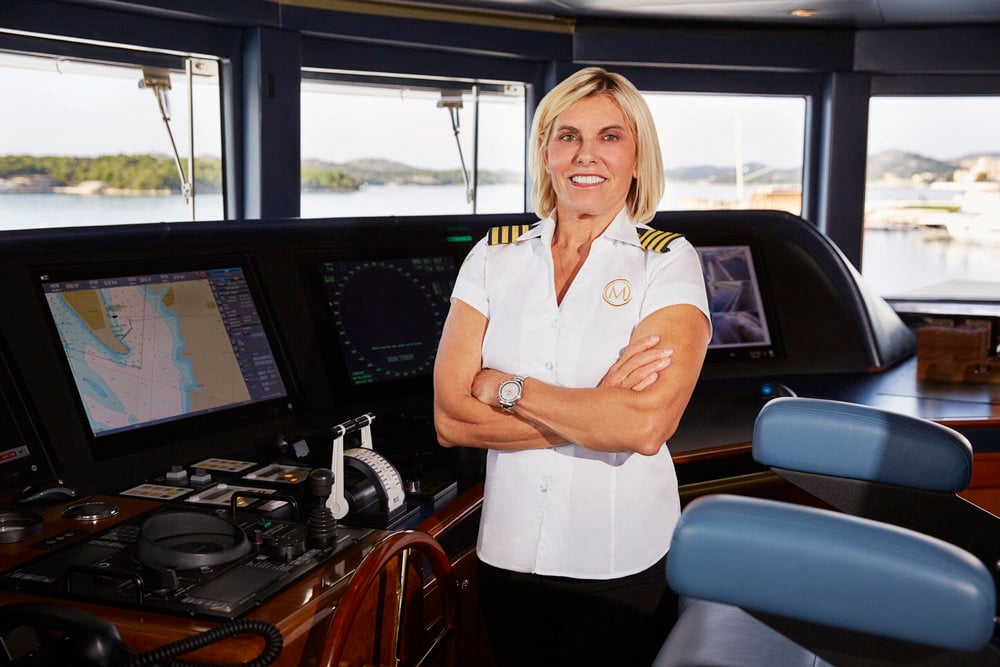 Captain Glenn Shephard from Below Deck Sailing Yacht supported Yawn's comment. "I don't see everything, obviously. I don't see everything all the time. But that's pretty much yachting. There's a lot of drinking, and there's a lot of hooking up," Shephard said about his crew partying during the WWHL After Show. "Obviously, we don't tolerate drinking when we're working, when we have guests on board, but when we're letting off steam in between charters, yeah, it's part of the industry. And hooking up is the same. We're working close quarters. Good-looking people, you know, I mean, it happens."
How did Delany Evans feel about Lexi Wilson?
And while Wilson had her moments of relaxing while Evans worked, Evans had no hard feelings about doing a lot of work. In fact, she thought Wilson did a great job getting her up to speed. "Lexi was actually a great teacher. Honestly, she was patient with me, she wasn't quick to blame. She was super helpful," she said in a video shared by Bravo Insider. "I definitely give props to Lexi for the way she took on the challenge and she helped me out in that situation."
RELATED: 'Below Deck Mediterranean': Captain Sandy Reveals What She Does During the Crew Nights Out
The crew also liked how Wilson supported Evans. "I was actually really happy they were getting along so well," chief stew Katie Flood said. "I felt like just because of what happened, I guess Lexi was isolated." Wilson verbally and physically attacked the crew earlier in the season after a night out.
Evans added, "We had fun. We had laughs, and we had banter. We got the job done. It was good."
Why did Lexi Wilson stay on the 'Below Deck Med' boat?
Viewers will have to wait to see if Evans or Wilson remain on the crew. But Flood said the decision about whether or not to keep Wilson was not up to her. "She is the captain of the vessel and I respect that," Flood said during an Instagram story Q & A. "So whatever she says goes. So I did my best to find a way to deal with the Lexi situation. And do what was asked of me. It was hard as you all see but that's how you grow."
RELATED: 'Below Deck Med': Captain Sandy Shares Why Season 6 Was a Challenge to Make Crew Changes
"The decision [to keep Wilson] was never up to me," Flood added. "I tried my best to keep the boat moving as charters went on, I wasn't happy about it, but just put my head down and kept going. Also, all the crew was asked to try to move forward, so that's [what] we did."