'Below Deck Mediterranean': Chef Ben Reveals How He Juggled Crew and Guest Meals and His 'Secret' Hack
Chef Ben Robinson from Below Deck Mediterranean and Below Deck can understand why chef Mathew Shea is stressed about juggling meals and shared the secret trick to making crew food. "That's the thing about being a chef is you kind of have to think about your next moves," Robinson said on Below Deck Galley Talk. The Below Deck Galley Talk crew laughed at how Shea groused about having to prepare crew lunch in between charters. But Robinson said the job is much harder than what people may understand.
Chef Ben shares his 'Below Deck Mediterranean' crew food hack
"Sometimes what I'd do is make extra lunch and call is crew brunch," Robinson said to Kate Chastain. She said, "Yeah, I remember that. I was onto you."
He laughed, "Yeah, that was a good trick."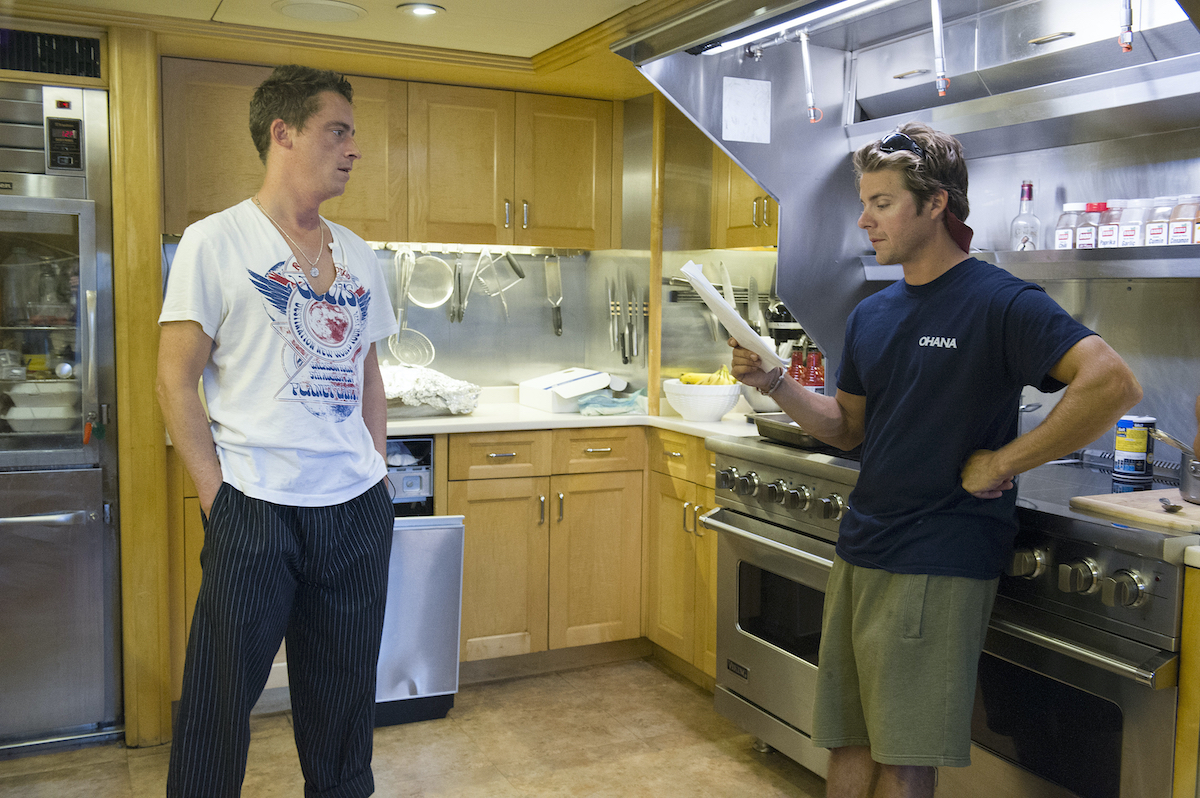 While Robinson never crabbed about having to cook for the crew, he said juggling the meals was a challenge. "To be honest, I don't think anyone understands anything about the job," Robinson shared with Bravo. "Just to set the record straight, we are in charge of budgeting, cleaning, purchasing, provisioning obviously, all of the menus, all of the clients' likes dislikes, and all of the crew — and there's one of us. So, if you think I'm a little frustrated, then that's probably why."
'Below Deck Med' chefs admit the job is tough
"There's not a lot of people in the world that can successfully do that job really well," he added. "It's really tough. It's a tough position — hence the turnover in that position this season. You have to have the experience. You can be smart." He added, "You can be educated. But if you don't have the experience, you probably will fail."
Anastasia Surmava from Below Deck Mediterranean Season 4 was a third stew but also the yacht chef. She told Showbiz Cheat Sheet the yacht chef job on Below Deck is extremely intense. "The huge thing is you don't have a team," she said. "You're completely by yourself and you don't have your bussers and dishwashers and your pastry chef. You don't have any support, really. On the bigger yachts, you may have a sous chef and a crew chef. But generally, you don't."
Chef Adam sometimes skipped crew food on 'Below Deck Mediterranean'
That means instead of having someone else make crew food, the executive chef has to handle the job. Chef Adam Glick from Below Deck Mediterranean (and Below Deck Sailing Yacht) admitted he sometimes forgot to make crew food.
"This season on the show, I think my greatest challenge is balancing my desire to impress these guests, satisfying them, but also feeding my crew properly," he told Heavy about season 3. "I got so hell-bent on feeding these guests and improving myself in that regard … I would definitely make up for it with big, lavish meals for the crew, but there were definitely some lunches that they had to make themselves, with bread and cold cuts. I'm there to feed them and I need to remember them sometimes."