'Below Deck Mediterranean': Chef Mathew Admits Watching Duska Cook Surf and Turf Was Difficult
What was worse than having a panic attack on Below Deck Mediterranean for chef Mathew Shea? He said watching assistant chef Duska attempt to tackle a complicated surf and turf meal while he was off the boat was extremely difficult. Shea took full responsibility for his absence from the first dinner during the initial charter. But he also couldn't help but see all the ways that first meal went sideways too.
Watching Duska cook on 'Below Deck Med' was harder on Chef Mathew than his panic attack
Shea white-knuckled his way through viewing that first meal. "Watching them cook that dinner with the sous chef, Duska, was harder to watch than me having a panic attack," he told Bravo's The Daily Dish. "And that meat they cooked in the pan with no oil, that was meant for, like, braising. It was like a slow cook crew meat, not like meant to be seared and sliced. It was awful. And the shriveled oysters with nothing on them."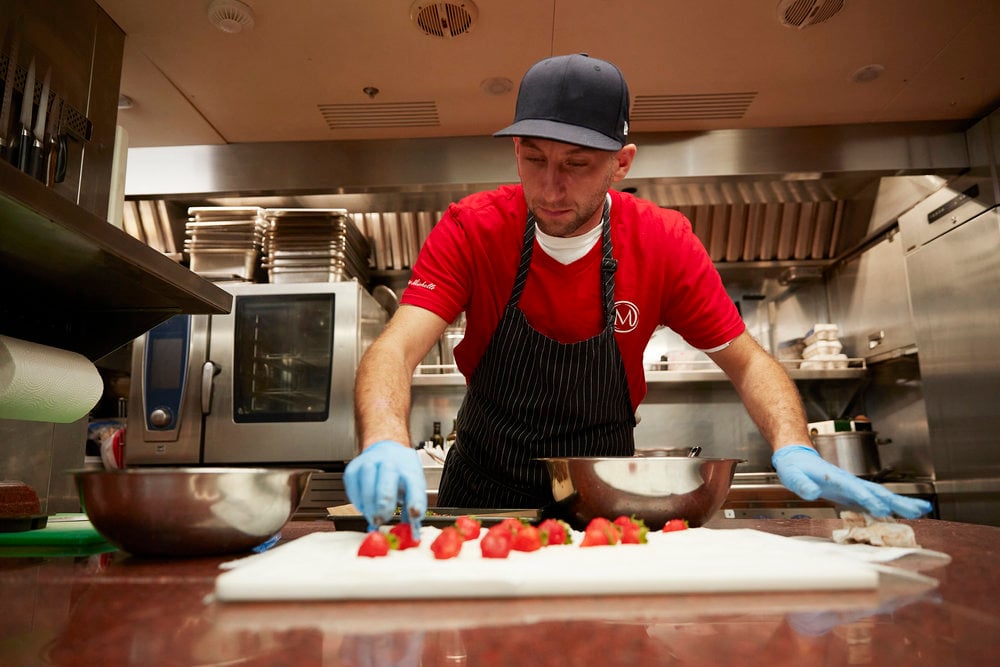 Captain Sandy Yawn called a neighboring boat for chef assistance when it became clear that Shea would not return from having an MRI that evening. Shea told Yawn he had injured his knee before the first charter and required an MRI, which he had done after the guests boarded the boat. He was supposed to return after lunch but never came back until the following day. "Yeah, I feel horrible," he said. "I should have come back that night. When I saw that dinner, I felt bad, and [I] understand why they were upset with me."
Chef Mathew says the surf and turf meal was the wrong choice for that night
The crew was initially relieved when they learned a chef would arrive on the boat to help them cook. But they were then thrust back into panic mode when they learned that Duska couldn't cook lobster (and could barely cook the steaks).
RELATED: 'Below Deck Mediterranean': Anastasia Surmava Says Captain Sandy Supported Her, but Would She Work for Her Again?
"If someone had asked me what I think Duska should do, I would have let her look around the fridge and ask her to cook her, like, specialty Croatian dish," he said. "Like, giving her surf and turf was the wrong choice [laughs]."
Surf and turf wasn't supposed to be served on 'Below Deck Med' the first night
The guests who ate Duska's meal said the surf and turf spread was supposed to be served for the wedding and not on the first night. "I have to add that they didn't read our preference sheet," charter guest Terez Lauren said on a Another Below Deck Podcast teaser clip. "Because had they actually read it, we asked for steak, surf, and turf, on the wedding night. We were eating this and were like, 'This is the wedding night food, yo!' Like y'all could have made us nachos and it could have been OK. And here's the wedding night food getting butchered!"
Co-primary, Lee Percenti said he was ready to take over as chef that night too. "I offered to cook and I said, 'Hey, I really don't mind if it's just the one night.' I really don't mind," he said. "You got lobsters, you got oysters, you got steaks. We'll make sh–t happen. We've been doing it for eight days. I don't mind doing this. It's better than just butchering these poor lobsters. All you had to do is open those oysters, put some olive oil, salt, pepper on them."
RELATED: Below Deck's Chef Ben Is Probably Not Going to Save the Day on 'Below Deck Mediterranean'