'Below Deck Mediterranean' Chef's Nerves Got the Best of Him, 'Below Deck' Alum Observes (Exclusive)
Below Deck alum, Adrienne Gang shared on her new Gangplank podcast that chef Mathew Shea's nerves likely got the best of him during the first episode of Below Deck Mediterranean Season 6. She mused about the first episode but has deeper insight into not only the production side but also what it's like to be a yacht chef. Gang was the chief stew on Below Deck Season 1 but has also been a longtime yacht chef.
Why was Chef Mathew so frazzled on 'Below Deck Med'?
Showbiz Cheat Sheet wanted to get more insight into why Gang thought Shea was so frazzled. Shea did not sleep the night before the charter, but instead went over menus and tried to organize the galley kitchen. He hiked up and down the winding staircase and apparently injured his knee in the process. The next morning he told Captain Sandy Yawn he was "freaking out" and injured himself to the point where he thought he needed an MRI. He left the boat shortly after the guests arrived and has yet to return.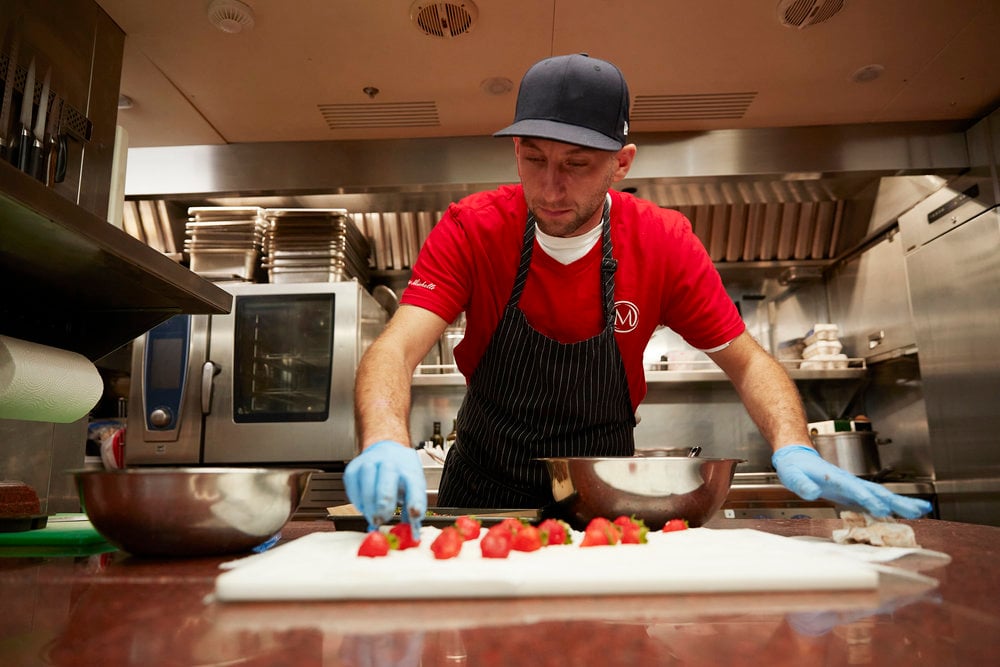 Gang said it comes down to not only the high octane job but also doing the stressful position while on camera. "Simply, nerves," she said. "I've talked to some cast who think they are ready for the cameras and the production team only to get there and their nerves get the best of them. I remember feeling that way the first couple of days and just thinking 'WTF am I doing!' But then you get so busy doing your actual job that you forget about it."
Did Chef Mathew over-order the provisions?
Gang can practically provision in her sleep but said provisioning is not an exact science either. "Hard question to answer in this case," she said about Shea's provisions. The crew (and Shea) looked stunned when a semi-truck showed up with provisions for the first charter.
"Did it look excessive? Yes," she said. "But, did production tell him that to reduce the crew's exposure to Covid that he could only get a couple orders for the season? That would explain a lot. Also, he's not given the preference sheets in advance, so he has to be prepared for anything the guests could ask for."
RELATED: 'Below Deck Med' Producers Recall This Red Flag Moment With Chef Mila
Covid-19 (coronavirus) certainly made the season far dicier than in the past. Once Shea left the boat for the MRI, Yawn couldn't simply pluck another chef off of the roster. Crew members had to quarantine for seven days prior to joining the boat, but she needed a replacement chef immediately.
How do 'Below Deck' preference sheets compare to yachting in the 'real world'?
Viewers see the crew reviewing the preference sheet in what appears to be only hours before the new charter begins. Gang said she gets more than a few hours to plan her menus, in fact, she often gets preference sheets weeks in advance.
"Typically I get preference sheets weeks in advance," she said. "When I'm unlucky I get them a day in advance or not at all if it's a last-minute booking. Usually, my process is to send a preference sheet and a basic 7-day menu with breakfast, lunch, and dinner plus hors d'oeuvres."
RELATED: 'Below Deck': Which Charter Guests Had the Most Outrageous Requests and Preference Sheets?
"I tell the guests to print it and take a pen to it," she continued. "Circle what you like, cross off what you don't, and write other ideas in the margins. If you just say to them 'tell me what you like' it's a bit overwhelming for most. At least with a basic menu that shows my culinary range, it helps them get their food request juices flowing."
Catch more of Gang and her behind-the-scenes insights on her podcast, Gangplank Report, "Your life ring in a sea of Below Deck podcasts."