'Below Deck Mediterranean': Courtney Veale May Have Worked on a Magic Johnson Million Dollar Yacht Vacation
NBA Hall of Famer Earvin Magic Johnson is known for his lavish, multi-million dollar yacht vacations and Below Deck Mediterranean stew Courtney Veale may have worked on one of them. Veale shared a photo with Johnson on Instagram and she is rocking a toga. "Didn't think at the start of this week that my pic with @magicjohnson would be whilst dressed in a toga," she wrote. "Love how I look a normal height in the other pics but like a child next to him! (PS; the wine was a prop not for drinking unforch)."
Is Magic Johnson on 'Below Deck Mediterranean'?
A viewer asked Veale if perhaps she was sharing a teaser photo from the season. But she replied the photo with Johnson is a little more current and he's not going to be a charter guest on season 6.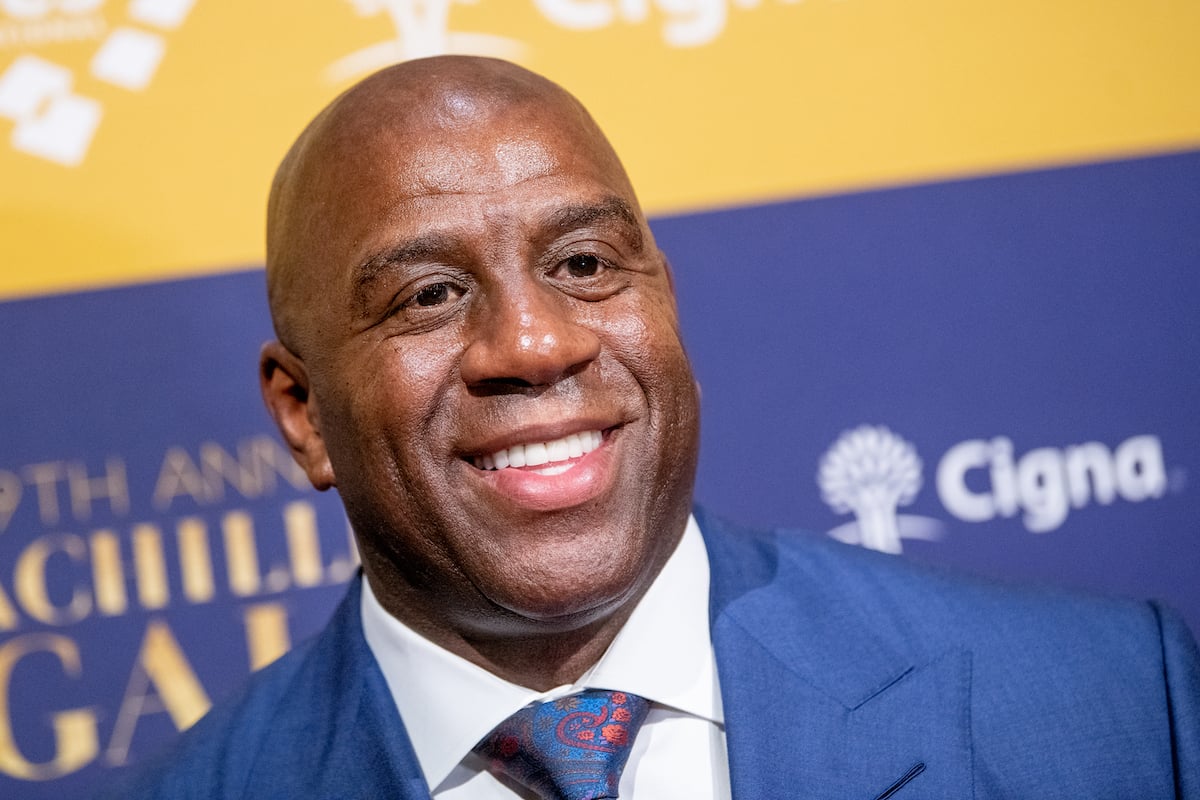 But summer means yacht vacations for Johnson. He kicked off summer travel in Greece aboard a yacht. "My first day in Greece!" he shared in late June. Johnson even found time to pump iron on deck and showed off his guns in a video. Johnson, his wife, and friends spent time in town, exploring cities.
"Beautiful day in Zakynthos, Greece overlooking the city with two of our best friends on this earth who we love dearly," he wrote. "We visited St. Denis (Agios Dionisios) Church today, the largest church in Zakynthos Town. Saint Denis passed away at the age of 75 on December 17th, 1622 and the priests said a special prayer around his tomb."
Magic Johnson is known for dropping millions on his yacht vacations
Johnson goes big when he's on a yacht vacation. In 2019, he chartered mega yacht Aquila, which is a 281-foot boat that can comfortably accommodate up to 28 guests. The ship is INSANE …" TMZ Sports reports. "It's like a floating mansion/hotel all in one — with a crazy gym, dining room area, movie theater, hot tub, massive outdoor deck, 2 massage rooms and its own NIGHTCLUB!!! The ship officially fits 12 guests and has a crew of 28!!!"
RELATED: 'Below Deck Mediterranean' Season 6 Courtney Veale's Disney Princess Background Is Eerily Similiar to Being a Yacht Stew
For context, Lady Michelle, the current Below Deck Mediterranean superyacht is 180.6 feet and has enough room for 12 guests. Aquila was one of Johnson's most expensive yacht vacations. He paid about $700,000 per week on a yacht vacation in 2017. The ship, Siren is also a mega yacht at 241 feet.
Johnson dropped about $1 million per week for his mega yacht vacation aboard Aquila, which included L.L. Cool J., Rodney, and Holly Robinson Peete, TMZ Sports reports.
Will any famous faces appear on 'Below Deck Mediterranean' Season 6?
Viewers may not be treated to a Magic yacht voyage but Roy Orbison Jr. returns this season. Orbison appeared as a charter guest during season 5. This time it appears he really lets it all hang out and gets pretty drunk at dinner.
RELATED: Below Deck Mediterranean's Katie Flood Reveals Where Guests Hide From the Cameras
At one point during the dinner, Orbison removes his shirt. "Did you see how sh–tfaced he is?" one of the stews is heard asking the rest of the crew.