'Below Deck Mediterranean': Has the Crew Ever Had to Make Dinner for Charter Guests?
Below Deck crews have been stuck without a chef and had no choice but to prepare dinner for the guests. In some cases, the guests were unaware the chef had gone MIA.
Below Deck Season 3 and Below Deck Mediterranean Season 4 had a gap in the chef role and fortunately, both crews had a trained culinary expert who was the third stew. Chef Leon Walker from Below Deck was fired mid-charter, which is something Captain Lee Rosbach tries to avoid. But Walker's negligence in maintaining a clean oven resulted in a kitchen fire and Rosbach had no choice.
Captain Sandy Yawn from Below Deck Mediterranean fired chef Mila Kolomeitseva after numerous shocking culinary fails. Kolomeitseva was fired in between charters but the crew was still going into the next charter without a chef. Which stew prepared a successful meal and who ended becoming the yacht's chef?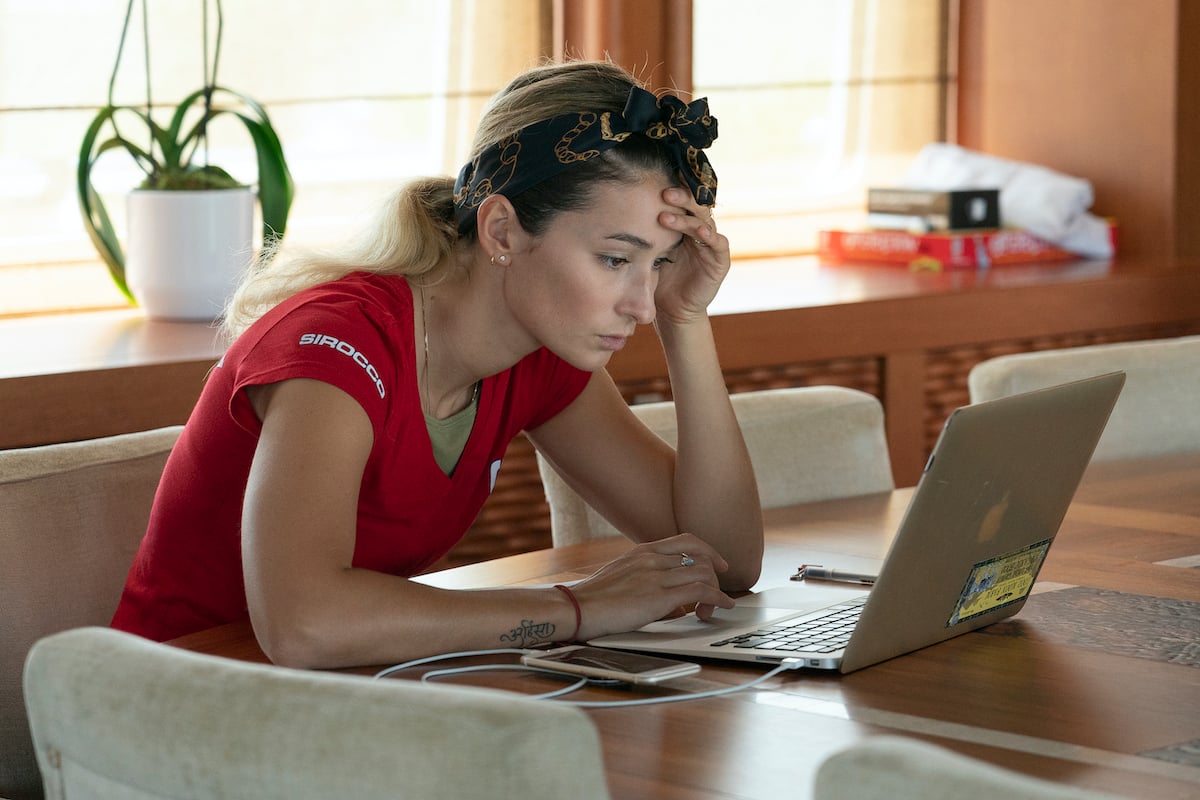 'Below Deck' Season 3 and the oysters with grenadine
The Below Deck crew reluctantly asked third stew Raquel "Rocky" Dakota if she could step in after Walker was fired. The guests were in town and Rosbach bought them lunch, mainly as a way to stall for time. And while Dakota said she went to culinary school, she already planted doubt in the crew's mind after the crew dinner she made had raw chicken.
Unfortunately, the crew had no choice but to ask Dakota to step up to the plate. Her appetizer of grenadine and oysters sent the primary to the bathroom to vomit. Chief stew Kate Chastain later tried the combination at a local restaurant. Her review? "I wanted to give Rocky the benefit of the doubt but…."it's like a chemical reaction of badness" just no," she tweeted.
RELATED: 'Below Deck Mediterranean' Season 5: How Did the Season End and Will Any Crew Return for Season 6?
Horrified and worried, bosun Eddie Lucas muscled his way into the kitchen to help cook the steaks as the rest of the crew pitched in. Thankfully, no one else vomited for the rest of the meal. Although the store-bought cake got slightly crushed in transit, the guests seemed to be none the wiser and said they enjoyed the meal.
Anastasia Surmava is the 'Below Deck Mediterranean' Season 4 chef now
With Kolomeitseva out, Yawn needed a replacement yacht chef – fast. Yawn had third stew Anastasia Surmava act as Kolomeitseva's sous chef and knew she had a culinary background. So Yawn asked Surmava if she would consider being promoted to the chef position. While Surmava agreed, she admitted to being nervous and worried, especially after bosun João Franco made his own concerns abundantly clear at dinner.
Surmava's first group of guests included an aspiring pop singer, Ashley Brinton, and her family, who said the food was spectacular. "The food was amazing," she said. "So glad we had Anastasia as a chef. We had no idea that she wasn't the chef for the other charters!"
RELATED: 'Below Deck' Sizzle Reel: Why Did Producers Keep Live Lobsters in a Hotel Bathroom? (Exclusive Series)
The crew received a healthy tip and Surmava continued as yacht chef until Johnny Damon's group had a few complaints about the food not being "five star." Surmava finally approached Yawn and said the pressure was too intense and she'd prefer to go back to being third stew.
"The huge thing is you don't have a team," Surmava told Showbiz Cheat Sheet in 2020. "You're completely by yourself and you don't have your bussers and dishwashers and your pastry chef. You don't have any support, really. On the bigger yachts, you may have a sous chef and a crew chef. But generally, you don't."
"So you're everything, you're it," she continued. "It's really stressful and you have to be so organized and so good with time management. I think a lot of people watch the show and were like, 'How come you just couldn't get it out hot or on time?'"