'Below Deck Mediterranean': Deckhand David Pascoe Jokes He's 'More Fried Chicken Than Fine Dining'
Below Deck Mediterranean deckhand David Pascoe defended his culinary skills after being thrown into the deep end, having to suddenly cook dinner for the charter guests. "Received tonnes of DM's relating to my lack of culinary skills in the galley," he tweeted. "Just because I work on a super yacht doesn't mean that I'm about the high life, I'm more fried chicken than fine dining. Deckhand, not a sous chef… I can clean dishes and boost moral, not cook."
David Pascoe had the worst job when it came to the dinner
Pascoe ended up with the dubious honor of having to kill live lobsters for the meal. "They're not alive are they?" he wondered as he removed the wet towel covering the lobsters during the first episode. "Oh! Hello boys!" Of course, the lobsters are alive and moving.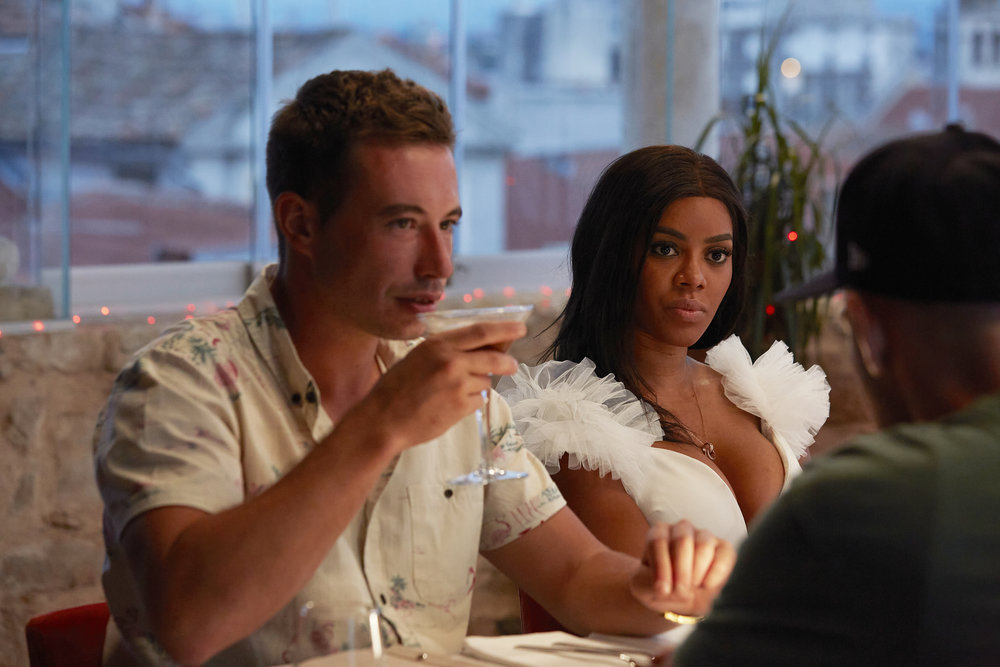 Captain Sandy Yawn was in the galley kitchen preparing the oysters. "I'm not really a pro on lobster," he admitted to her. She suggests he "Google" it. Pascoe is on his phone smiling but looked pretty nervous with what he was watching on YouTube. Yawn leaned over to view the video and looked horrified by what she saw. "I'm not really like a hunting type," he admitted in a confessional. "Back home I don't shoot rabbits or nothing."
Even Captain Sandy seemed worried about how to kill the lobsters
"There's no way I could do that," Yawn said as Pascoe wrestled with how to move forward with this dinner. "I should not be in here," Pascoe said in a confessional. "What am I doing in here?"
Nonetheless he bravely moved forward, suggesting he could put the knife in the back of the lobster. "I could do 'em, I'm pretty sure the blade's meant to go in…" he remarked. Then Yawn talked into her phone, "How do you kindly kill a lobster?" She laughed while shaking her head.
RELATED: 'Below Deck Mediterranean': Captain Sandy Surprises Fans With a Shout out to Chef Adam
Google confirmed what Pascoe thought and he is stuck having to kill the lobsters. "Savage!" he was heard exclaiming as Yawn and stew Courtney Veale cringe. "This is the worst I've ever felt about myself," Pascoe said.
Duska to the rescue?
The crew procured an assistant chef, Duska, from a neighboring boat. They thought maybe Duska's expertise in the kitchen could allow them to float by, but … Duska cannot cook lobster. "Lobsters … I try," she said to Yawn.
Pascoe turned around, "You know nothing?" He looked stunned as Duska confirmed she had no knowledge of how to cook the lobsters. "I put my heart and soul into just murdering all these f–king lobsters," he said in a confessional. "And then the chef turns up and she can't cook lobsters!" He laughed, "F–k!"
RELATED: 'Below Deck Mediterranean' Season 6: Does Chef Mathew Quit Before the Season Gets Started?
Pascoe aka "Lobster King" ended up doing more prep than cooking, but he pitched in as much as possible. Yawn grilled the lobsters, Veale made a huge salad. The crew made a lot of food but the guests hated it, despite giving it their all.
Below Deck Mediterranean airs on Mondays at 9 pm ET/PT. New episodes will be available on Peacock one week early on Mondays.