'Below Deck Mediterranean': Mzi 'Zee' Dempers Spills Why He Was so Nervous to Join the Deck Team (Exclusive)
Like Daisy Kelliher from Below Deck Sailing Yacht, deckhand Mzi "Zee" Dempers from Below Deck Mediterranean comes from a family of yachties, which added a little extra pressure on him when he joined the show. But coming from a family in yachting wasn't the only reason he was a little frazzled. He joined the show as a green deckie and was more than a little nervous to work for bosun Malia White. What was his experience really like on the show and what can fans expect?
Why was Mzi 'Zee' Dempers nervous to work for bosun Malia White on 'Below Deck Med'?
Dempers was familiar with the series and knew White ran a tight ship when it came to her deck team. "I think for me, I think I was really scared in terms of like watching previous seasons," he told Showbiz Cheat Sheet. "Malia came off as a relatively harsh sort of person." Dempers soon found out White was nothing like what he imagined. "But as a person, she was incredible," he exclaimed. "She's super, super incredible. She really sort of gave everybody a chance and put her trust into us."
Plus, Dempers felt he learned more about yachting during the six weeks of shooting than in another yachting setting. "I definitely felt like I learned huge amounts," he said. "And I'm so, so grateful for the experience. It really was an amazing, amazing time, such incredible individuals. It taught me a lot about myself and I guess sort of like believing in yourself and trying to work towards a better direction. So I feel like it was all fairly positive."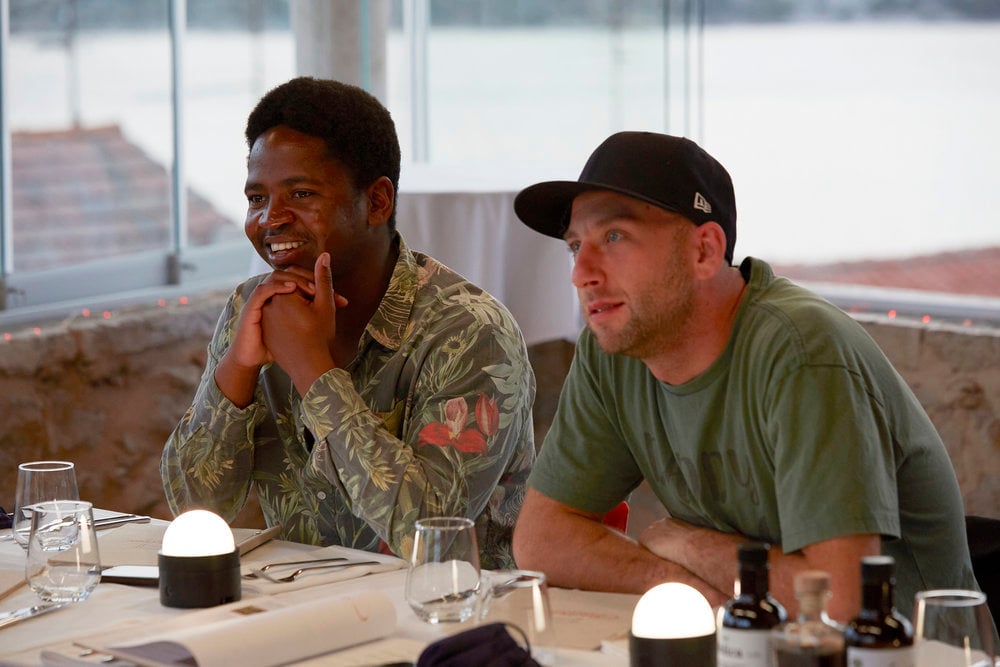 Being a green deckie on 'Below Deck' ain't easy, Mzi Dempers worried
Going into a new job is nerve-racking enough. But being somewhat new to the industry and on a reality television show made Dempers nervous. He said his inexperience heightened his awareness that cameras tracked his every move. "It was quite difficult to get used to," he said about having cameras on him while doing his job. "It's a big change from your normal day-to-day life and I think obviously going into it, not having that much experience, added a lot more pressure as to everything that I did.
"I mean, I guess you can go on a boat and be relatively green, but you're not having the pressure of the camera being on you all the time to watch, you know, when you necessarily make mistakes or do something wrong," he pointed out. "So I think that that pressure added a lot. But at the same time, I think it makes you learn a lot faster."
RELATED: 'Below Deck': These Yachties Were Fired Because They Were Too Green for the Show
While some crew members eventually forget cameras were on them, Dempers said he was always aware they were rolling. "I think you sort of want to watch what you're saying," he said. "You obviously have a lot of emotions running through you all the time. So you just sort of are just being cautious, I guess. And I don't think that feeling of it really goes away because the camera's always there. But at the same time, you are super, super busy. Then you can forget about moments, but then you just sort of get back in the mindset that it is happening."
Mzi 'Zee' Dempers made some good friends on 'Below Deck Med'
Even though Dempers was on alert when it came to cameras and how he performed on deck, he said the season was filled with fun and lots of love for the crew. "It was great," he continued. "I mean, obviously, the whole supportive deck team too. Like we didn't even have a 'd–khead. So it was smooth sailing, which is great. We all got along relatively well." He added that he bonded with his roommate Lloyd Spencer. "Because we basically live together," he laughed. "So I probably was closest with Lloyd but also the deck team, everybody as a whole, I think we all got along super well. We cherish each other so it was great."
He also shares a kiss with stew Courtney Veale … so does he have a boatmance this season? "I can't give spoilers," he laughed. "I think that all unfolds on the show."
RELATED: Below Deck Mediterranean's Hannah Ferrier Reveals Her Wildest Guest Request Ever Occurred During Season 5 (and Did It Pay Off?)
Below Deck Mediterranean Season 6 kicks off on Monday, June 28 at 9/8c on Bravo.