'Below Deck Mediterranean' Season 3: Where Is the Cast Today and Who Are Now Parents?
Below Deck Mediterranean Season 3 viewers met a fan favorite, a "soon-to-be" crossover cast member, and a deckhand with his eye on becoming a captain. With the exception of Captain Sandy Yawn, no one from season 3 will return for season 6 and many have started new careers. Plus, two cast members have since become parents.
Chief stew Hannah Ferrier's life has changed significantly after leaving during season 5. She's become a mother and is engaged to Josh Roberts. She also started a podcast and opened a yachting school with friend and former cast member Anastasia Surmava. But Ferrier isn't the first crew member from season 3 to become a parent …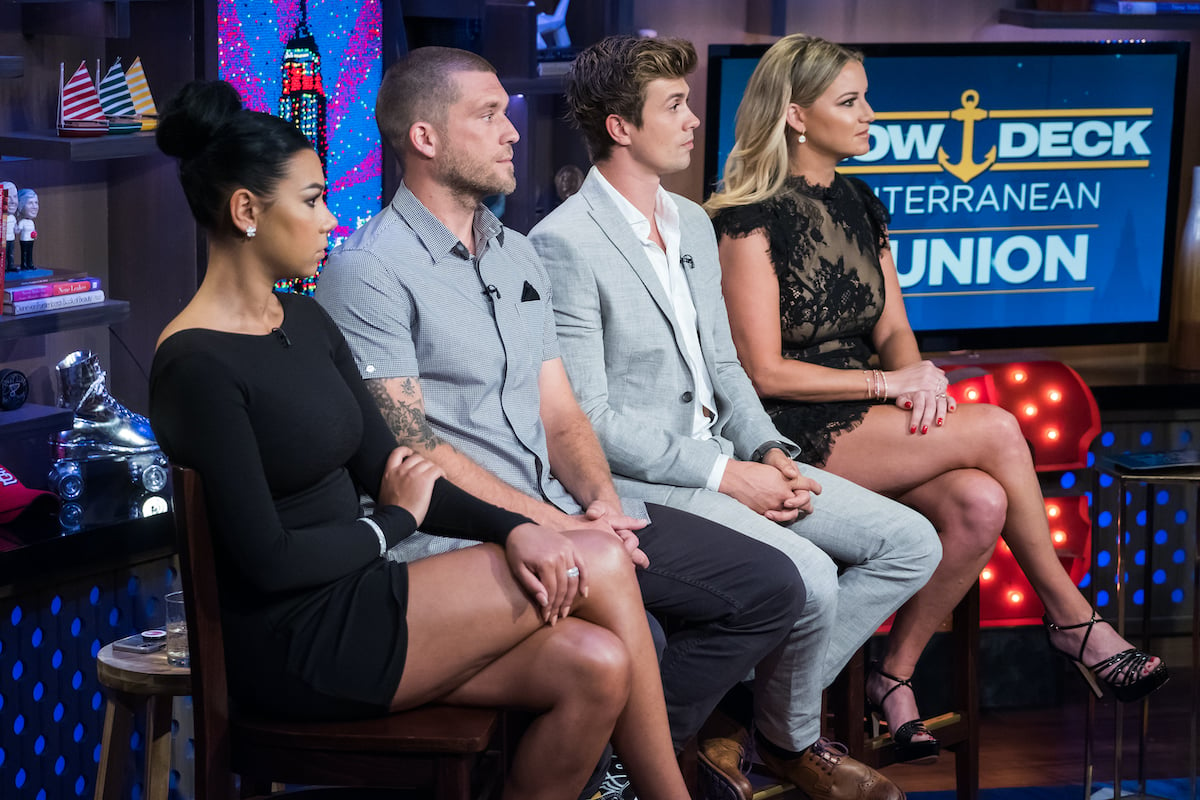 Conrad Empson has a landbased job and a new family
Bosun Conrad Empson, who had a steamy boatmance with Ferrier during season 3 has also become a father. He's shared some photos of his daughter and partner, Hannah Roberts on Instagram. Shortly after season 3 ended, Empson briefly launched a YouTube series about house flipping, He even discussed a career in house flipping on season 3. At the time, Empson told Showbiz Cheat Sheet the YouTube channel was designed to follow his story. "The show is there to just follow my story," he said during a 2018 interview. "Growing up you don't learn how to buy a house in school. So we thought it would be fun to watch. But my main goal is to do the work and sell the house. This is a real business, not just a show. There's real money and everything going into it. Nothing is staged and is 100% real."
Empson suddenly pivoted away from filming his YouTube series, which was shot on Long Island, NY. He returned home to England and went dark on social media. He remained silent and did not share much about his personal life for about a year, but eventually emerged to share some positive life news. He first launched a fitness app during the pandemic.
But he also quietly shared that he's become a family man. He shared a family photo with Roberts and his daughter. "Let's take a nice family photo," he wrote along with a sweet photo. "She's still learning how to smile … this is one for the photo album."  
Some 'Below Deck Med' crew have left yachting
Chef Adam Glick returned for his "redemption" season after he was especially grumpy during season 2. His boatmance with Malia White went south and he lashed out by purposely putting onions in a guest's dish when the guests requested no onions. Thankfully Glick knocked it out of the park during season 3 and become the crossover chef for Below Deck Sailing Yacht Season 1. He's since left yachting and is promoting his outdoor chef brand.
Brooke Laughton has also moved on from yachting. She recently dished with Showbiz Cheat Sheet about a new business she started with her sister. Her company, Acclaimed that allows artists to upload their headshots, reels, and portfolio to a global platform that reaches casting agents, directors, producers, and employers from a wide swath of entertainment fields.
Kasey Cohen has also been busy with her modeling and fashion career too. She suffered from seasickness during her season on the show. Cohen told Showbiz Cheat Sheet she came from a yachting background so she was shocked when she got so sick. "Because I'm always fine," she said. "I get into the Mediterranean and I think it was just the waters because it is so rough compared to the water back here."
Half of the 'Below Deck Med' Season 3 deck team still work in yachting
At least half of the deck team still works in yachting. Jamie Jason still works on deck but has mainly been working as a stew. She worked with Surmava and they became close friends. She is also dating Below Deck bosun Chandler Brooks. "I choose you always," she recently wrote along with a photo of Brooks.
João Franco is also still in yachting and is climbing the career ladder. He returned for Below Deck Med Season 4 as bosun and viewers saw him land his first job as a yacht captain. Since then he's been studying and racking up certifications. "Another milestone," he shared on Instagram along with a photo. "Another accomplishment. FINALLY!!! With so many obstacles, It's taken so long to get this ticket but I'm so effing glad and grateful for the people who believed in me and helped me through this stage of my life."
Franco's close friend and former yachtie, Colin Macy-O'Toole stole viewers' hearts during season 3 and season 4. Macy-O'Toole is no longer working in yachting and has pivoted to a land-based career where he is an influencer and still makes guest appearances on Bravo. He joined Bobby Giancola for the wildly beloved Below Deck Galley Talk during Below Deck Season 8.