'Below Deck Mediterranean' Season 3 Crew Now Has 2 Captains and Yachties Turned Entrepreneurs
The Below Deck Mediterranean Season 3 crew has moved into new careers and higher ranks as former deckhand João Franco has become a yacht captain and five crew members have moved into entirely new careers.
Franco moved from deckhand to bosun during season 4. But cameras captured him scoring his first job as a captain toward the end of the season. He recently completed another certification and has the goal of becoming a superyacht captain. "I've finished my [officer of the watch] courses," he shared with Captain Glenn Shephard on an Instagram Live. "Obviously, Covid had slowed down my progress, which maybe I was running before I could walk. I was captain on a 30-meter yacht for about a year-and-a-half, and it went really well." Franco isn't the only crew member moving into new territory. Other yachties actually left the industry and are striking out on their own.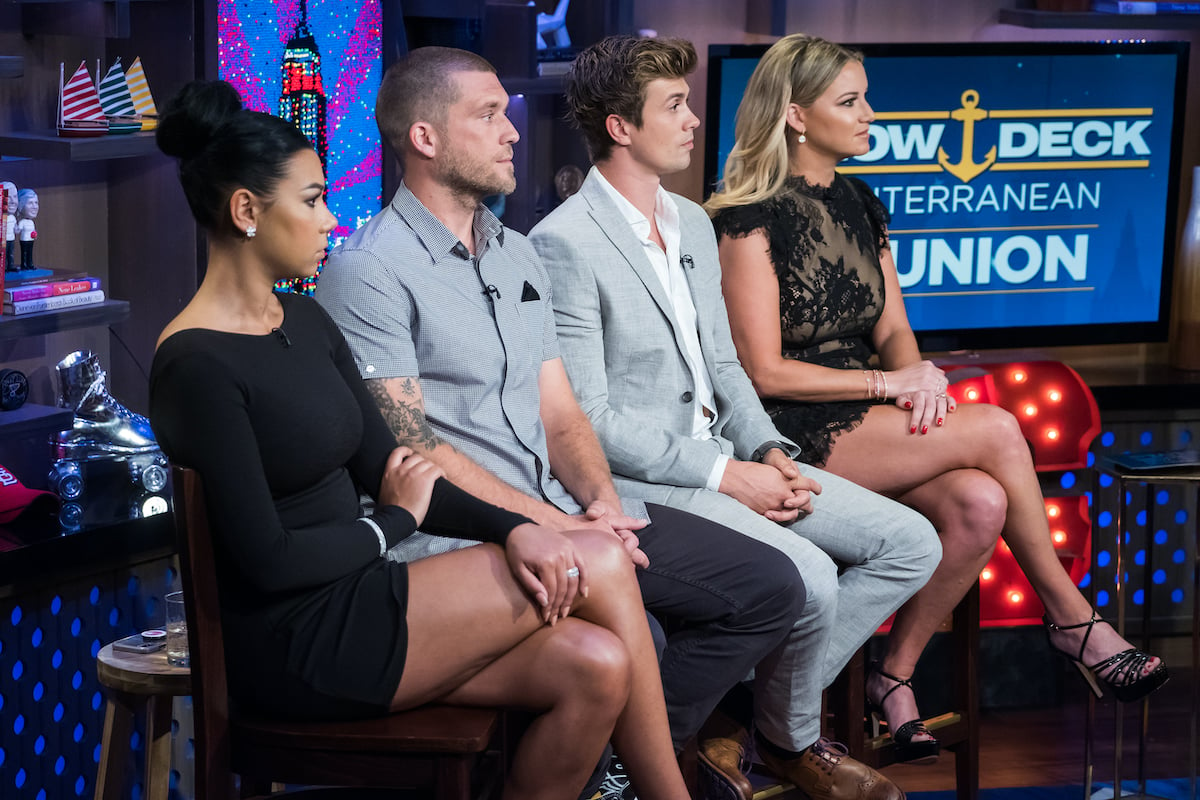 Which 'Below Deck Mediterranean' Season 3 crew left yachting?
They may have had a messy breakup and miscommunications, but bosun Conrad Empson and chief stew Hannah Ferrier both had "business owner" in mind post-yachting. Empson first pivoted to house flipping and even started his own YouTube channel. But he's since returned to England and rolled out a fitness app. He's also a family man and shares sweet photos of his new family on Instagram.
Ferrier remained on the show for two more seasons but also has a family of her own. She started a yacht training academy with season 4 stew Anastasia Surmava. Plus she hosts a podcast. Ferrier recently teased a "home goods store" rollout that she plans to drop soon.
RELATED: 'Below Deck Mediterranean' Season 6 Hasn't Premiered on Bravo but Fans Are Already Hooked
Colin Macy-O'Toole is another crew member who is forging a new path. Macy-O'Toole recently told Showbiz Cheat Sheet he worked as a Below Deck casting producer and looks to move into television production. "I did the casting for some of the other Below Decks," he said. "They asked me to help out, so yeah, I've been a casting producer for Below Deck Down Under and I started [Below Deck] Sailing [Yacht] for next season."
Also, Brooke Laughton has launched into a few business ventures. She opened talent agency Acclaimed and also The Nauti Coach as a superyacht consultant. "You are selling yourself," Laughton recently dished about Acclaimed with Showbiz Cheat Sheet. "Casting directors can view it directly. You can apply to jobs and they get notified when you've applied. Then they can view the profile directly."
Who is still in yachting from 'Below Deck Med' Season 3?
Other crew members have remained on somewhat of the same path but with a small twist. For instance, chef Adam Glick finished the first season of Below Deck Sailing Yacht and then retired from cooking at sea. Instead, he is promoting his outdoor chef brand and continues to travel the country in a van.
Kasey Cohen is now an influencer and model. She recently shared some bikini shots and a photo modeling on a Sea-Doo jetski.
RELATED: Below Deck Mediterranean's Colin Macy-O'Toole Reveals 'Below Deck Sailing Yacht' Boat Malfunctions Are Common (Exclusive)
Jamie Jason is the only crew member, aside from Franco and Captain Sandy Yawn, who is still in yachting. Jason worked on deck during her season of Below Deck but has now shifted to the interior. She recently shared a photo from a boat she worked on in April. "One yachting front cover for ya," she wrote. Jason is also still dating former Below Deck bosun Chandler Brooks.
Yawn, of course, is still in yachting. She returns with a new crew for Below Deck Mediterranean Season 6 which premieres on Monday, June 28 at 9/8c on Bravo.