'Below Deck Mediterranean' Season 5: How Did the Season End and Will Any Crew Return for Season 6?
Below Deck Mediterranean Season 5 ended with fractured romances, departing cast members, and an uncertain future for some crew.
The season also ended with a few new crew members, plus a casting first for producers. Deckhand Pete Hunziker filmed the entire season but producers fired him only weeks after the season aired. Hunziker shared a racist and sexist meme on Instagram and then doubled down on his share. As a result, production company 51 Minds and Bravo terminated his contract and editors removed him from the footage. Also, stew Lara Flumiani only appeared in three episodes before she quit and then later refused to attend the reunion.
The remaining crew members' storylines took so many twists and turns, viewers ended up with whiplash. So how did the season end and who returns for season 6?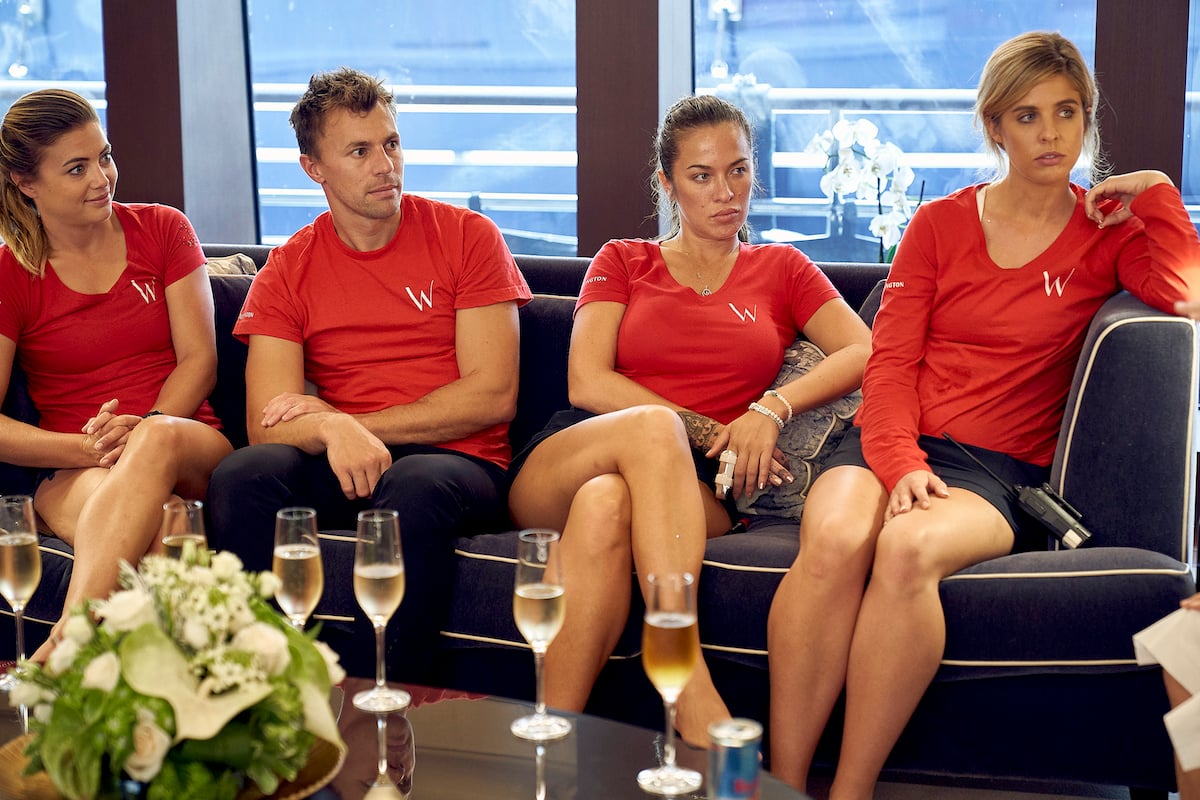 Captain Sandy and Malia White will return for 'Below Deck Mediterranean' Season 6
Captain Sandy Yawn and bosun Malia White will return for Below Deck Mediterranean season 6 after both experienced a tumultuous season 5. Yawn fired two crew members, which became extremely controversial last season. She first fired chef Hindrigo "Kiko" Lorran after it became clear to her that he was in over his head. She claimed to support Lorran in the galley kitchen, cleaning up after him and offering encouragement. But his recollection was different. Lorran remembered Yawn reviewing all the parts of the job he wasn't doing correctly.
"That's not nice," he said during the Spill the Rosé Instagram Live. "And I was already freaking out with the cameras. Am I good enough? So that was the reason that I was already f**ked up. That moment, that exact moment, f**ked my mind."
RELATED: 'Below Deck Mediterranean': Did Chef Natasha From 'Below Deck Sailing Yacht' Change Her Mind About Captain Sandy?
Shortly after Lorran departed, Yawn then fired chief stew, Hannah Ferrier. Malia White, who shared a cabin with Ferrier found Ferrier's vape pen and unregistered Valium during a cabin swap. White snapped a photo of the medication, along with Ferrier's passport, and sent it to Yawn. After Yawn fired Ferrier, she insisted that her dismissal was not only due to the unregistered medication. "I fired Hannah because I don't trust her," Yawn recently told Showbiz Cheat Sheet. "In fact, I met with a manager, a fleet manager that manages crew. And he said he wants to take the clip of the video, how I explained it, and show every captain on yachts that have to deal with crew."
Love did not conquer all on 'Below Deck Mediterranean' Season 5
White swapped cabins with Ferrier because her boyfriend, chef Tom Checketts arrived and ended up stepping in for Lorran. The couple had been together for more than a year and seemed to be very devoted to each other. However, White later admitted she regretted having Checketts join the show, especially after his intensity level reached a boiling point in the galley kitchen. And while the couple remained together during the season, they ultimately broke up later that year.
The combustible couple, Jessica More and Rob Westergaard also left the boat together but the romance fizzled on land. After quickly falling in love during the season, More became suspicious that Westergaard was messaging another woman on the boat. She also didn't appreciate his flirtatiousness with stew Aesha Scott. She later revealed that other women reached out to her post-season after they too had a negative romantic encounter with Westergaard.
RELATED: 'Below Deck Mediterranean' Season 5 Has the Most Crew Still in Yachting and the Only Yachtie Ever Fired by Production
While Christine "Bugsy" Drake and Alex Radcliffe didn't have a dramatic end to their flirting, they aren't together today. Drake and Radcliffe had more of a playful boatmance than anything serious. Instead, they decided to be friends after the season ended.
Some 'Below Deck Med' crew weren't sure if they wanted to stay in yachting
As with many crew in the past, some yachties weren't sure if they wanted to remain in the industry. Scott returned after Ferrier was fired, but quickly got a little homesick. She wanted to sleep in her own bed and have time with her family after the season ended. While she took a break, her Instagram shows she still dips in and out of yachting.
Since the show wrapped, several crew members remain in yachting with the big exception of one crew member. Ferrier was pregnant during the season 5 reunion and gave birth to a daughter in October. She is currently engaged and has a podcast and a yacht training academy.
Below Deck Mediterranean Season 6 sets sail on Monday, June 28 at 9/8c on Bravo.