'Below Deck Mediterranean' Season 6: Does Chef Mathew Quit Before the Season Gets Started?
Trouble is brewing in the Below Deck Mediterranean Season 6 kitchen, which could result in big chef drama.
Chef Mathew Shea seems ready to leave the boat even before the guests arrive as he is seen telling Captain Sandy Yawn that he's "freaking out." Indeed, Shea is seen still awake in his bunk at 2:35 a.m. as the rest of the crew is asleep. He looks agitated and worried, looking at an iPad in bed. Finally, unable to sit still, Shea gets out of bed and heads to the galley kitchen. But what happens in the kitchen may be a game-changer not only for Shea but the entire crew and first charter.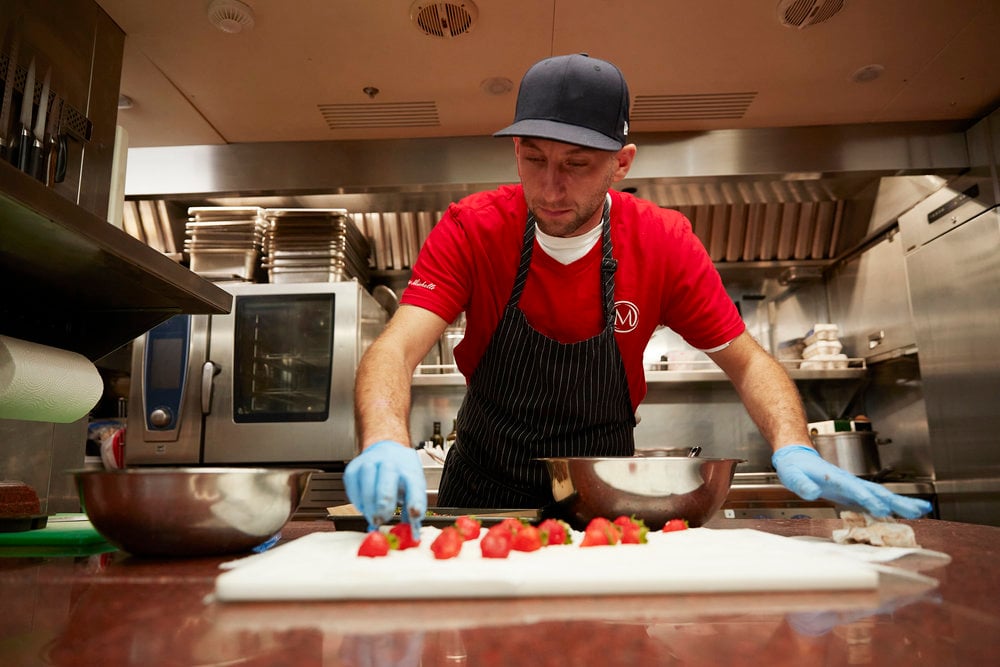 Does Chef Mathew stay up all night before the first 'Below Deck Med' charter?
Shea admits he was so frazzled that he didn't sleep. "I didn't sleep," he shares in a confessional. "Full of nerves, thinking menus, thinking wedding, thinking everything. I'm not prepped at all." He is also seen grabbing his knee and stretching his leg while he scans the bounty of provisions waiting for him in the kitchen.
After rifling through a stack of papers he descends the winding staircase but seems to be walking so gingerly that it appears he's dealing with an injury. "Oh my knee is f—–." Shea stays up all night as cameras capture the sunrise. The crew continues to sleep (hard) in their bunks while Shea drags himself up and down the arduous staircase. He looks pained as he carries a large bowl of produce as the clock hits 6:30 am.
RELATED: 'Below Deck Mediterranean': Has the Crew Ever Had to Make Dinner for Charter Guests?
The rest of the crew wakes, looking refreshed. However, "refreshed" would not be an accurate description of Shea as he's seen hobbling back down the stairs moaning, "Oww, my f—–ing knee!" He looks completely sketched out, scanning the kitchen as he lets the expletives spill.
Does Chef Mathew leave before the first charter?
Shea is clearly struggling with pain in his knee and he finally decides to tell Yawn. Approximately four hours before the crew is about to pick up charter he asks Yawn to meet him in the galley. The deck team and interior get busy prepping the boat as Yawn goes to meet Shea.
"I hurt my knee last night," Shea tells Yawn. His knee is now wrapped with an ACE bandage. "I don't feel like I can do this properly." Stunned by his statement, Yawn asks Shea to repeat what he just said. She then wonders if he could continue even if the crew helped. He shakes his head, "It's not gonna be the same with that. And the fact I didn't sleep and like trying to figure out the kitchen on the first day with that handicap …"
RELATED: Below Deck Mediterranean's Colin Macy-O'Toole Reveals 'Below Deck Sailing Yacht' Boat Malfunctions Are Common (Exclusive)
Yawn appears to be trying to process what Shea is saying. "So what are you saying?"
"I'm freaking out," he admits. "I don't know what to do. I can't do this." Adding, "I can't do this with this. I'm freaked out."
So does Shea make it for the first charter? Or is the crew down a chef before the season even begins?
Below Deck Mediterranean premieres on Monday, June 28 at 9/8c on Bravo.